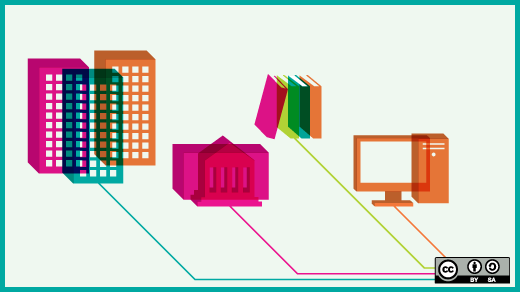 CEO Jeff Walpole of Phase2 helps persuade businesses to consider open source as a viable solution. Particularly, Drupal. Jeff says, "Phase2 invests an estimated $500,000 every year in time, code, and sponsorship to grow this remarkable open source project."
And, in return? Jeff and his team show others how to use Drupal. What sounds simple in this trade-off, in fact is not. Many don't understand open source, or they don't trust it. So, Phase2 makes a business out of being their guide through the murky waters of misperception and into the land of plenty (of open source).
As a guide, the Phase2 team has taken on education and training, speaking gigs and blog posts. The landscape is such that open source guides are much fewer than those looking for guidance—just last year, Phase2 increased their staff by 50% and opened two new offices.
More importantly, we all know the best guides can do more than regurgitate facts and figures. The best guides understand that success, whether using an open source app or climbing Macchu Picchu, is about experience and collaboration.
What challenges do you solve most often?
Our core area of expertise is content technology, where we focus on solving three main types of challenges for our clients.
The first is designing and building large scale Content Management Platforms (CMSs), where our tool of choice is Drupal. We are most often called on to build multi-site content platforms that power anywhere from a couple to literally hundreds of websites, often from many APIs and back-end content sources.
The second challenge we focus on is creating collaboration systems. Here we often use our own Open Atrium, which is a Drupal-based distribution used to build enterprise-level intranets, collaboration platforms, and knowledge management systems. As an open source alternative to proprietary solutions like SharePoint, Open Atrium continues to be improved upon by a dedicated open source community and has been downloaded over 270,000 times.
Finally, we focus on is what we call building interactive experiences, which serves the needs of forward-looking publishers who need to build immersive user experiences, where readers are encouraged to explore the content and discover the publisher's story in new ways using maps, charts, and visual storytelling. Here we use and contribute to open source Javascript frameworks like Angular and node.js to create data intensive front end experiences that are community supported.
What insight and expertise do you provide to clients that centers around the open source way?
We have been using open source solutions since Phase2 started in 2001, and we have always encouraged and helped our clients to become part of the community. This means we help clients plan and create strategies around understanding the lifecycle of an organization's investment in open source, the benefits of working with the open source community and how to get their organizational needs implemented and supported within the community. We also advocate for agile methodologies, which we believe compliment open source. Often, we contribute code developed for clients so the community can expand it upon. Typically, we are also involved upfront in persuading clients' leadership teams to consider open source as a viable digital solution.
How is Phase2 active in the open source community?
At our core, we are an open source company. We believe that technology is more powerful when it is open and community members can freely contribute to it. We've been contributing to various open source communities for more than ten years. Our greatest contributions are to the Drupal community, where Phase2 invests an estimated $500,000 every year in time, code, and sponsorship to grow this remarkable open source project. In 2012 alone, Phase2 contributed more than $300,000 in time building and maintaining three widely used Drupal distributions (Open Atrium, OpenPublic, and OpenPublish), maintaining more than 100 Drupal modules and teaching developers and community members through more than a dozen webinars and trainings. Admittedly, that is a lot and the burden of maintaining our contributions is taking a toll. We have begun to spin off and hand off many of our contributions to worthy maintainers.
There are other important ways you can support open source besides contributing code. Fundamentally, it is a philosophy of sharing knowledge as well as code. We frequently speak and blog to help others understand how to use the technology. Personally, I am serving a three-year term on the board of the Drupal Association. In that role, I attend and speak at many conferences on the merits of open source.
Tell us more about how you use OpenPublic, Open Atrium, and OpenPublish.
All of these distributions of Drupal are open source and can be downloaded on Drupal.org. Each distribution serves a specific use case for a sector or type of organizational need and thus provides either a starting point for building a solution or just a great demo/example of what you can build with Drupal.
For us, distributions in Drupal have provided a way to put our own mark on the project. We find that creating fully customized solutions for our clients can be greatly enhanced by maintaining core functionality in a distribution. For example, we use OpenPublic as a base for many of our client's implementations at the local, state and federal levels including recently both the County of San Mateo, and City and County of San Francisco in California. We don't use OpenPublish as much for publishing sites anymore because most of the sites we build are larger, integrated systems, or custom projects, but others certainly use it to kick-start their publishing sites.
With Open Atrium, most of our larger customers see the need to replace legacy proprietary intranets and portals built with commercial software like Sharepoint. Our customers are looking at Drupal as an alternative to solve their internal collaboration needs because they can leverage the same technologies and expertise they employ on their websites.
Who is your open source mentor or hero?
I am incredibly inspired by the hard work Angie Byron (webchick) has done for the Drupal community over the last few years. In the broader open source world outside Drupal, I have always been amazed by the breadth of open source impact that Brian Behlendorf has had from starting the Apache project to leadership on the Mozilla Foundation, EFF, and OpenStack among many other projects. 
What's new at Phase2? What are your plans for 2014 and beyond?
2013 was a busy year for us: we increased our staff by 50% and opened two new offices on the west coast in San Francisco and Portland. We are very excited about the growth there with education, public sector, and enterprise commercial clients as well as the technology, sports, and healthcare sectors. We also expanded our offerings in design, DevOps, and key open source technologies like Javascript, OpenShift, Alfresco, and Wordpress.
In 2014, we are targeting another 50% growth and have already hired 24 people across our four offices. We recently re-aligned our executive team in order to better scale the organization, a strategic endeavor that included hiring a former client and industry veteran Tom Tague as our COO. We expect to continue serving clients with the help of open source as we grow, and in turn, we will continue to make contributions to the open source community.
Jen leads a team of community managers for the Digital Communities team at Red Hat. She lives in Raleigh with her husband and daughters, June and Jewel.

This work is licensed under a Creative Commons Attribution-Share Alike 4.0 International License.