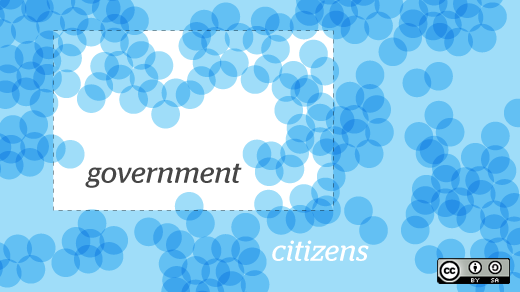 Last post, I discussed how governments, especially state and local, should be thinking differently about the ways they engage online with the people they serve.
A quick recap: governments have a relatively indefinite shelf-life; they have powers and likewise responsibilities that come along with being a monopoly; and given people live within and travel across multiple jurisdictions there's a need and opportunity for reuse of technology and design.
I'm still focused on virtual spaces where there's a requirement to be official or government run. We know, exemplified beautifully through open data initiatives, the notion that government has to be the central point for everything has changed and will continue to transform. Using and facilitating community or nongovernmental channels is another matter.
So, let's say you're just getting into this space. What to do?  I'm not in a position to endorse or shun any specific technology or service—that needs to be a broader community discussion and in many cases will be scenario specific.
Instead, here's a set of guidelines to help you think about your situation.
Develop a consistent identity.
Government can build or tear down its reputation at every interaction, every point of communication, no matter how small it might seem.
Online it's even more important to design a space to clearly mark who owns, runs, and controls it. That's our only indication of where we are and at whom to focus our trust or skepticism.
Take two examples.
Let's say you visit the Utah State Library, then visit another site managed by the Utah State Library. Don't worry, it's not a Rick-Roll, you are going to publications.ning.com. Finally, you might click on one of the 'New Publications' links and head to Blogger this time. You're going to see something like the screenshots below.  Explore the sites for youself later, and see what they communicate to you.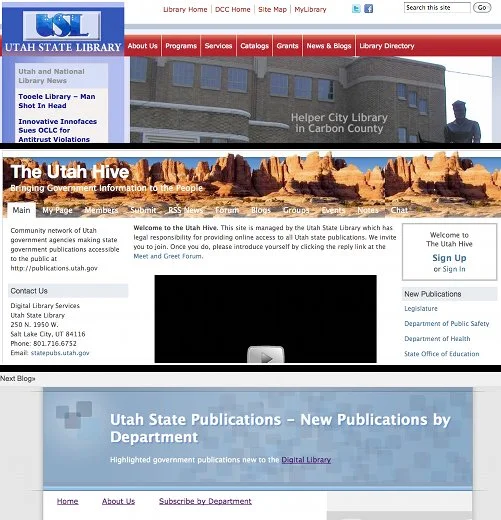 The second example is Federal. It's "a DHS [Department of Homeland Security] managed social network" and "launched...under the leadership of Secretary Janet Napolitano." A privacy impact assessment by DHS outlines the purpose: "...facilitate discussion and event creation, communicate DHS policy... engage users in dialogue..."
In other words, users should probably have a clear idea who they're visiting on this site. To their credit, they did get it, at least in the privacy assessment: "...DHS branding will be across the network so it is clear that DHS is sponsoring the network and not a private organization."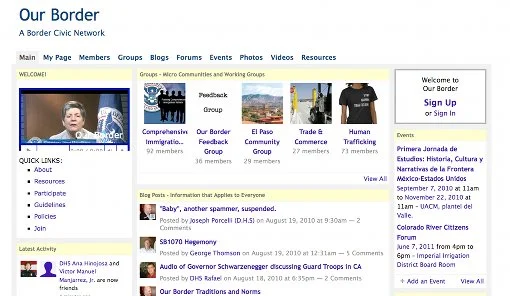 Aside from the greeting video, it's not clear where we are. Again, explore later, and pay close attention to how you interpret it.
I don't mean to pick on these, or lessen their benign intentions. But, they seem to be the norm, not the exception. Your brand, the look, feel, voice, and structure, need to create a consistent and shared experience. If a vendor or technology hinders that, think hard about other options. It's about transparency in a way we easily overlook, because we're not cognizant of the harm it might cause.
Understand who's in control (and do something about it if it's not acceptable).
Below are the terms of service for a different federally "administered" site. In reality, you're in the territory of a private company. I've removed the name, because it's not about this company. We need to stay general and watch for things like this on any space.
"You also agree that these Network Terms of Service inure to the benefit of our online service provider...and that such online service provider may take action (including the removal of your content and disabling of your account) in order to maintain compliance with these Network Terms of Service and their Terms of Service and Privacy Policy."
Some people may say this is practical. My concern is that these terms give free reign for a private company to govern the space, including my very existence, without accountability:
"....by participating on this Network you agree to indemnify and hold harmless our online service provider for all matters related to your use, interaction and participation on this Network."
Free your data.
Similar to being concerned about the freedoms and rights of your people, you should be aware of the freedoms of your content and data. If it's not something directly under your control, there at least better be a way to backup and port that data elsewhere. DLF explains it succinctly here with regard to Google products. It's a simple idea, but often becomes a complicated issue.
All things equal, go with the community.
Use open(er) standards when available to become part of the community and extend the reach of your own space. There's some interesting work worth exploring around identity technologies and Open311.
Following this guideline may, or may not, mean default to open source. But, think about it, who's more likely to have a platform that innovates more frequently and adapts quicker? The service provider with a small contingent of developers, or a platform with wide adoption and the legal and technical framework to facilitate modularity and widespread experimentation?  Which brings us to the final guideline:
You're not alone. Share.
Why shouldn't policy and procurement allow or even encourage a local government implementer to be able to consult with, or better yet, get code from someone in a similar situation across the state or the world?
We're still in need of something like the defunct Government Open Code Collaborative, but, more open. Which is also why efforts like the Open Source Observatory, OpenMuni, and Code for America are so exciting. If you know of anything else worth watching out there, let me know.
There's an even more interesting contingent forming. Check out OpenAustin, Open San Deigo, or OpenPlans. If we really get back to the idea of government by the people, for the people, then it becomes more about facilitating and getting out of the way.  Where things look to be heading is more and more toward an idea of co-production of not just services, but the blurring of lines of responsibilities--a whole shift in the notion of what's "inherently governmental."
But, that's for next time.
Art is the Research Manager for New Kind where he focuses on research and analysis for new methods of community engagement and participation. He's also a Government Fellow at the Center for Advanced Communications Policy at Georgia Tech and the Center for Innovation in Local Government.

This work is licensed under a Creative Commons Attribution-Share Alike 3.0 Unported License.