365 readers like this
365 readers like this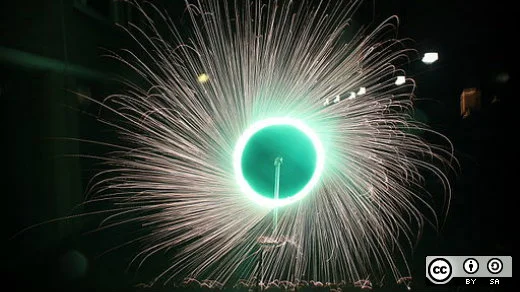 Do you know that wonderful feeling when a tiny little idea becomes a reality? That's what this year's WOOTConf at linux.conf.au 2017 was for me.
It was a full day jam-packed with amazing, deeply technical talks from ten wonderful speakers.
Admit, "I don't know"
Kicking things off, Aurynn Shaw delivered the opening keynote Human-Driven Development, which is the talk accompanyment to her well-renowned Contempt Culture article. She notes how tech culture has a dominion-centric rhetoric, where admitting that you don't know something and asking questions is looked down upon. Our communities use many words like 'dark magic' and 'wizard' that make us think that knowledge is some sort of archane power that is only held by a few. However, by asking questions, by admitting we don't know, we are better prepared and ready to solve our users' problems.
Finding and using open images
Returning KatieConf speaker Kate Andrews took us on a brief tour of how to properly find and attribute images. She's a prolific photographer who has had a lot of her work stolen and used without attribution. She notes that there is a difference between the American concept of 'fair use' and the Australian 'Fair Dealing' law. To find open images for use, she suggests using the Create Commons Search, or dedicated sites like Unsplash, which have catelogs of CC 0 images that are free for use. If you aren't sure of an image's licence, using Google Reverse Image Search or TinEye can help you find the original creator.
Automate all the things with WiFi
Brenda Wallace took the audience on a humourous journey of her home-automation exploits. From ESP8266 to home-assistant.io, Brenda regaled us about how her house is in a constant state of change based on when she is awake or asleep, how warm or cold it is, and how the weather is outside.
Knitting is like programming
After lunch we heard from Kris Howard about her knitting adventures, where she noted that knitting is like programming (also, cross stitch). From her QR-code mittens, which links to the pattern, to KnitML, a markdown language for knitting patterns, she showed us how the art is both practical and full of amazing open source projects.
Personal stories of adventure
Two talks covered the journeys of two new programmers and their adventures in working their way through their programming challenges. Rhiana Heath shared her story of augmenting her role-playing hobby by creating a companion map, and all the things she learned along the way with technology like leaflet.js. Hannah Thompson described her adventures learning go, and how as a new programmer gate-keeping knowledge or making assumptions about their knowledge can adversely effect someone's determination to learn. Also, blinking lights are fun and distracting.
Impostor syndrome
Impostor syndrome is not something only new developers experience. Reprising her PyCon AU 2016 talk, Bianca Gibson shared with the audience research and insights about impostor syndrome and how it effects a large amount of people. As part of her talk, she asked the audience to put up their hands if they related to a number of statements of insecurity and self-perceieved ineptitude, and I don't think a single person didn't feel at least some part of that.
Of particular note, Bianca shared a Steve Furtick quote that resonated with the audience: "The reason we struggle with insecurity is because we compare our behind the scenes with everyone else's highlight reel."
Longest conference talk title
Winning the accommodation of "Longest Conference Talk Title", Amber Brown delivered: "Why Twisted is the best and how it will make your application awesome". The release manager of Twisted, she took us on a whirlwind tour of the wonderous out-of-the-box experience of working on the project, including internals of Twisted and how it's built for concurrency by default. Amber also spoke about klein, which is Twisted's version of Flask. (Yes, pythonic naming is amazing and weird.)
Pick (and lock) of the bunch
One of my favorite talks of the day was Grace Nolan on the condensed history of lockpicking. The room was packed for this talk, which was voted Best Newcomer at Kiwicon last year. It was a comedic history lesson about the time of "perfect security" when security mechanisms that could bite your hand off were used by the rich and powerful as a sign of wealth: "I can afford to secure my valuables, you plebian."
We need more Willie Nelson developers
Rounding out the day was the afternoon keynote presented by Rikki Endsley about how we shouldn't aspire to be rockstar developers, but Willie Nelson developers. She notes that by saying you want a rockstar developer on your project or team, you are asking for someone who parties all night, trashes hotel rooms, and doesn't help others succeed. What we should be aspiring to be and want are developers who help others learn and succeed, and who have a long and varied career and don't burn out.
---
The entire conference can be relived on this YouTube playlist thanks to the amazing recording efforts of Next Day Video. And a massive thanks to linux.conf.au for selecting WOOTConf for the week, and to my co-organizers Jacinta Richardson and Lana Brindley for their mentorship and wisdom.
Katie has worn many different hats over the years. She has previously been a software developer for many languages, systems administrator for multiple operating systems, and speaker on many different topics. When she's not changing the world, she enjoys making cooking, tapestries, and seeing just how well various application stacks handle emoji.

This work is licensed under a Creative Commons Attribution-Share Alike 4.0 International License.