Red Hat's 2018 Women in Open Source Academic Award winner is Zui Dighe. Hear her story.
277 readers like this
277 readers like this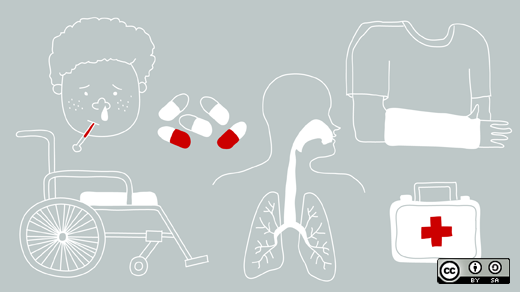 Zui Dighe has the type of resume that makes you question what you've been doing with your life. It's only her third undergraduate year at Duke University, and she has already worked with numerous startups, helped create an open source medical device that won an international award, and succeeded in multiple internships with companies large and small.
Now she can add winner of the Women in Open Source Academic Award, sponsored by Red Hat, to her list of achievements. These accomplishments are impressive and deserving of every accolade, but Zui will be the first to tell you that with the right mindset, anyone is capable of achieving their goals.
"It might seem like 'Ok, I'm getting this award, so I must know so much or be the most amazing person ever.' Maybe I am? Just kidding. But really, anyone can contribute to open source. Anyone can learn how to code and find a space that suits their interests...I think that's really powerful."
In many ways, Zui is like most college students. She tries her best to wake up around 8:30 or 9 am, goes to class, spends time with friends, and watches Netflix. In fact, like many people, she struggled with the transition from high school to college. She found it difficult to stay engaged in class because many of her high-level introductory courses didn't feel applicable to real life.
"I've always wanted to apply what I'm learning, and I don't enjoy sitting in lectures without knowing the context behind it... when I don't understand how concepts are being applied in the real world and how I can make an impact with what I'm doing."
Rather than giving up or disengaging, she started exploring hands-on opportunities with startups as a way to learn outside of the classroom. From there she found her way to a health project and discovered open source.
"It jump-started from there," she said. "I got almost obsessed with learning more about open source and coding and developing those skills."
The project that sparked her passion for open source and the health field, Sana, was a mobile development kit for health applications. Using Sana, she helped build an app to use with a low-cost colposcopy device that a Duke professor created for use in low-income communities. While she played a small role in this project, the experience helped her uncover a personal passion.
"From there I really saw where I fit in within biomedical engineering. I'm really passionate about bringing emerging technology to developing regions where there is a lack of access, and I saw that there's a really big space for open source to be included in this area, bringing new technologies and coding implementations."
Following this passion, she started working on a new project with a team of students from Duke and Makerere University in Kampala, Uganda. Together they remodeled a vaccine carrier and introduced innovations using the Arduino, Particle, and Adafruit open source libraries.
"I knew I wanted to incorporate sensors and having real-time data because I think that's important and unprecedented."
The device uses a temperature sensor paired with a Particle microcontroller that attaches to vaccine carriers and provides data on the environment as the vaccines are transported to their destination. There is also an SD card in the device to save data in case there is no GPS signal available. The microcontroller then connects to a Google Maps API that uses nearby cell towers to get the GPS location of the device and provide data on both the location and temperature, which is then uploaded to the cloud. This real-time data helps researchers and medical providers understand where vaccines are going, at what times, and where temperature irregularities are occurring that damage the vaccines.
"Normally you don't have any data on what happens to a vaccine when it enters the country. You don't have any information on when the cold chain cycle breaks."
This means that instead of playing a game of "he said, she said" when something goes wrong, researchers and medical providers can take action to prevent costly damage to future vaccine shipments. The technology also includes practical features, like the SD card, that account for environmental factors like lack of signal or power.
Following a successful implementation, Zui and a Duke classmate, Ankit Rastogi, saw an opportunity for the technology to be used in the sustainable energy space. Their idea was to use the Arduino system to monitor environmental factors in remote areas to determine the community's energy needs. They entered their idea in Schneider Electric's 2017 Go Green in the City case competition, won the North America championships, and then took third place at the finals in Paris.
"We've also kept our code open source so that other people can learn from it."
She said this competition was another experience that helped show her what her future path could be.
"Normally I'm involved more in the technology side, pitching how the technology works and why it's the best version, but I've never had to pitch the whole idea before and think about the business case. That was a really good experience in terms of getting an overall understanding of how the technology works."
Her research in this area continues to pay dividends. Zui was honored as a National Academy of Engineering (NAE) Grand Challenge scholar for her work. The award comes with a grant, which Zui plans to use, along with her Women in Open Source Award stipend, to return to Uganda and complete a second implementation of the vaccine carrier device.
In addition to working on the vaccine carrier project, Zui has completed multiple internships, including one with a startup called Syapse and another with GE Healthcare. She sought these opportunities because she wanted to see what it was like to work in a small startup and a large corporate setting. With both internships, she worked with emerging technologies in the health space. This is where she sees herself working for the foreseeable future.
"Healthcare is a field that is dynamic and changing, and it's something that everybody needs. It's never going to go away, and there's always room for improvement. I've always liked working with people, and I think there's a lot of room for bringing new technology to this field."
She believes her big-picture thinking and need to see the impact of her work—the same characteristics that caused her to struggle at first in college—are strengths when it comes to working in health technology.
"You want to make sure you're designing for who you are making it for and that it works in the environment that it's supposed to be in. When you're pushing innovation forward, sometimes the cooler thing is not the best thing. It's whatever people actually need."
This perspective also allows her to explain technical concepts in non-technical terms.
"I like to speak of things as they are and look at the broader context and impact. I don't like to use technical terms if I don't need to use them. I'm able to bridge that gap pretty well, and it has been useful when working in interdisciplinary teams."
This is a critical skill for making a project successful because it allows new contributors to get involved. New contributors mean new ideas.
"Sometimes people in tech use very intricate and confusing language, and it may seem intimidating—like, 'What are you even talking about?' But I think we should make it easier to include new people in open source because accessibility to tech is what can drive future leaders and thinkers from all walks of life, and that's what's important. That is the mindset of open source, and that's the mindset of this award as well."
To other students who are trying to find their path, Zui recommends getting involved in an open source project as a way to explore your interests while learning a valuable skill.
"Especially when trying to work in the technology field as a student, it's really helpful to be working on projects on your own. Pick a project that you're passionate about so that it's not a chore. It's something you're really excited about. And at the same time, it's building your resume, and you are learning."
Judging from Zui's resume, this is good advice to follow.
Taylor is an internal communications specialist on the People team at Red Hat. She is interested in using good communication to help create inclusive environments where diverse contributors can thrive.

This work is licensed under a Creative Commons Attribution-Share Alike 4.0 International License.