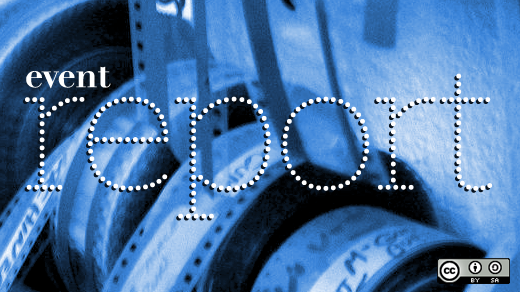 Last week Open Source, Open Standards 2013 took place in London, an event focused on the public sector. Naturally these being two topics we're very keen on here at OSS Watch I went along too.
Overall the key message to take away from the event was just how central to public sector IT strategy these two themes have become, and also how policy is being rapidly turned into practice, everywhere from the NHS to local government.
Tariq Rashid, the Open Source policy lead for the UK government, spoke of the need for IT to be focused on user needs, and to deliver sustained value, by moving from "special" software procured for the public sector, to services delivered using commodified IT.
Even where services are unique to the public sector, Rashid and other speakers at the event made the case that most elements of such services can be delivered by building on commodified IT. For example, the open source CMS, Drupal, is used for delivering increasing numbers of public sector IT services, and the Government Digital Service builds its services from open source components.
The two strategies of open source and Open Standards are necessary as they create the 'competitive tension' needed to drive down cost and improve sustainability.
Mark Bohannon of Red Hat gave an overview of the global landscape of open source in government, in the US and UK, and identified the UK policies as being particularly forward looking. Mark positioned cloud and big data as two key areas where open source and Open Standards were critical, calling out OpenStack and Hadoop as particular cases, and also provided some great case studies on open source from the military and from space exploration.
Mark made the point that open source and Open Standards underpin a more fundamental change in IT, away from big IT projects towards IT that is agile, modular and responsive to user needs.
Ian Levy of CESG dispelled some myths around security and open source ("If anyone in UK government says CESG has banned open source send their name to me and I'll have them killed") and made the case for a common sense approach to security, whether the software or service is open source or closed source.
Mark Taylor from Sirius has long been an advocate for open source in the public sector, and it was good to be at a point where the message has been heeded! He began with a nice Schopenhauer quote:
All truth passes through three stages. First, it is ridiculed. Second, it is violently opposed. Third, it is accepted as being self-evident.
In the talk he provided lots of practical advice for public sector organisations on putting open source into practice, which include calling on those writing tenders to focus on user needs instead of naming technology solutions. Mark also gave a workshop later in the day where he continued this theme, expanding on how public sector organisations and companies had made transitions to open source. Its not very easy to summarise here in a post, but I found the information very practical and useful; for example, when transitioning IT, to start with the systems furthest away from users, such as backend services and infrastructure, to avoid sparking the usual neophobia when you change technologies for users.
Inderjit Singh gave an overview of the NHS standards-based approach to IT, with some nice background on which approaches had been tried and where the current strategy is going. The current approach has been to use a programme of change projects involving SMEs that have engaged 40 new suppliers, and which is accelerating the take up of the standards.
Singh asserted that standards and fundamental for enabling an open architecture, and that open source and open standards go hand in hand in delivering value for users.
After some workshop sessions, we had Alasdair Mangham from the London borough of Camden giving us a look into how they've been building services using open source software in collaboration with SMEs. This involved a major shift in contracting—rather than write an huge set of requirements in a tender document, they disaggregated the project and bought in specialist capabilities (in usability, service design, SOA, etc) as needed in smaller chunks of time using an agile process.
Graham Mellin gave an overview of the Met Office's new space weather system built using open standards and using open source software; for their own specialist systems they decided to go down the route of making it open source rather than the private partner sharing route as result of an exploitation planning process.
I met with a lot of people at the event, from suppliers, local government, NHS, and national government departments, and it was good to get a sense of how the public sector is moving—whatever the pace in individual areas—towards this vision of more affordable, sustainable and user focussed IT, and better utilising the capabilities of UK SMEs and startups.
We pointed out recently in our post in the Guardian, higher education in particular is in a strong position in this area as a result of past investments in open source and Open Standards, and we now need to think about how we take that forwards.
As Mark Taylor pointed out in his talk, the public sector accounts for over half of IT spend in the UK, and we can choose to either unite and use that market power to shape the future, or be divided up and conquered.
Syndicated from the OSS Watch blog. Copyright in the original work is assigned to the University of Oxford.
Scott Wilson has worked in both the software industry and public sector, particularly in the areas of interoperability and open standards. Scott has a great deal of practical experience of open development; he is a committer on several projects at the Apache Software Foundation, and is chair of the Apache Wookie project. He is also co-chair of several W3C groups.

This work is licensed under a Creative Commons Attribution-Share Alike 3.0 Unported License.