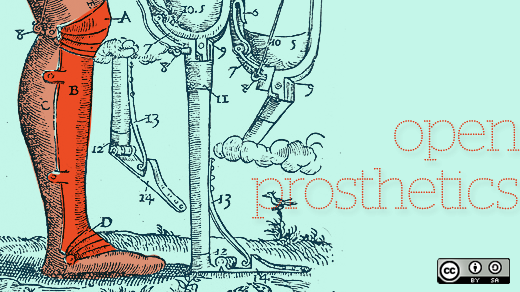 A few months ago, I wondered: Can open source create better prosthetics? I've been meaning to revisit the topic and see what kind of progress the project is making.
While writing that first article, I learned that the leaders of the project were struggling with collaborative tools and multiple projects dispersed around the web. What have they done over the last few months to come together and direct energy and passion in the right direction? Let's find out.


The Open Prosthetics Project (OPP) is now more organized and primed to foster worldwide collaboration for their efforts. They are using their main website as a hub to direct people to the different ways to participate. But that's not all. OPP is also using a wiki to host the different active projects and a customized social network to communicate and share information.

Participation is an important part of any community. One of the best way to get people to participate is to provide a list of things you need done. Focus people's energy on something they are passionate about or request help from those with the particular skills needed to achieve a certain goal. The Open Prosthetics Project has outlined the different ways members of their community can help and ingeniously spelled out how they need help within the list. Whether you're new to their community or returning, it's very clear how to get started. On their website, participation is as easy a being a user, donor, grant writer, service provider, researcher, or helping with their legal team.

I can't end the article without mentioning a project that caught my attention: Pimp my arm. What do you think about a prosthesis that could play music and video, send and receive text messages (SMS), or connect to bluetooth? Pimp my arm is "where volunteers and folks with prosthetic needs can post their ideas and potential solutions."
I think this is a place where the cross-pollination of ideas can take avantage of different expertise and interests and make rapid achievements in open prosthetics. This is the type of project that allows volunteers--not necessarily impacted by the need for a prosthetic--to use their skills and passion to "pimp out" arms and add some cool devices that make them even more useful.

Although you may not be interested in designing prosthetics, I think this project makes it clear how you can grow your community by being transparent about your needs. To extend your community even further, find interesting ways to tap into the existing knowledge base and further connections with groups who can compliment the work you're trying to accomplish.


Resources
Jason Hibbets is a Community Director at Red Hat with the Digital Communities team. He works with the Enable Architect, Enable Sysadmin, Enterprisers Project, and Opensource.com community publications.

This work is licensed under a Creative Commons Attribution-Share Alike 3.0 Unported License.