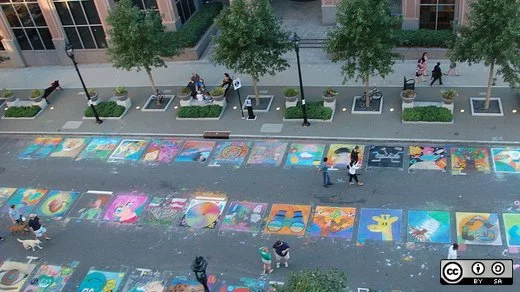 How do you celebrate the creativity of your community without falling into a rigid planning process? You open source it. By tapping into individuals' passions, their willingness to collaborate, and creating a culture of transparency, you can light a spark that will inspire unpredictable--yet reproducible--results.
Founded in 2006 by Beth and Aly Khalifa and Designbox, SPARKcon aims to showcase, celebrate, and influence the creative momentum naturally found in North Carolina's Triangle region. SPARKcon inspires community leaders by using an open source approach to organize. Volunteers gather, plan, and share what they are working on for their individual SPARKS, in order to produce a stellar four-day event.
I hadn't witnessed anything like it before and was impressed when I attended SPARKcon for the first time last year. Think of it as a 'creative potluck' that takes themes like film, music, fashion, geeky topics, art, and more--and displays them through the work of volunteers who showcase their talents.
 
Naturally, the open source approach caught our attention. We caught up with Aly Khalifa, the owner of Gamil Design and recent recipient of a 2012 Eisenhower Fellowship. We wanted to learn more about SPARKcon, his ideas, and his reasons for participating.
If you like creativity mashed-up with open source, then you'll enjoy this interview.
---
Tell us why you think SPARKcon is a success and why it has grown over the last six years.
SPARKcon is an attempt to apply open source principles to create a talent dialogue and showcase. It has been stunning to see how a growing creative community has resonated with this approach. As a result, this all-volunteer event is made up of some of the area's top thinkers who can push the limits of their disciplines. Thus, each year has a fluctuation in which SPARKS come and go, and what they will program that year. SPARKcon is now seen by many as the one time a year to really do their most creative and collaborative work, contributing to an overall mission of fostering and highlighting local talent.
How do you incorporate open source into your planning process?
SPARKcon has been as innovative in its structure as it has been its content. Using a system of networked programming cells, individual teams of volunteers form to create SPARKS for various content interests, like fashionSPARK or geekSPARK. These teams are mentored and coached to develop their vision and to structure their efforts for achieving them. Really, defining a SPARK is analogous to defining a word on Wikipedia: there are norms on how to do it, but the individual focus areas are highly individual and specific to those involved. The key here is to give people enough structure to be creative, but not too much to stifle ideas and predetermine results. This allows SPARKcon to stay fresh and directly reflect those motivated individuals embedded in their creative community.
How do you encourage Creative Commons or sharing of the creative assets from SPARKcon?
While SPARKcon has not yet adopted Creative Commons agreements (though we would welcome a volunteer to help us work through it!), we do have a policy of sharing assets. All talent showcased at SPARKcon requires a talent release agreement. This agreement stipulates a mutual fair-use agreement for all music, images, artwork, etc., that is captured or used at the event. For instance SPARKcon photographers are welcome to use their work commercially, while SPARKcon retains rights to use that same work for all direct SPARKcon needs. Requiring this agreement gives additional incentive for SPARKS to work with each other. For instance, fashionSPARK uses musicSPARK artists during their runway show, knowing those artists are already covered by a SPARKcon release. These cross-pollinations seem to multiply each year, especially with more seasoned organizers who become inspired from these collaborations.
Transparency plays a key role in planning each SPARK. How do newcomers to SPARK planning embrace this level of openness?
Transparency is certainly a key ingredient of SPARKcon planning. Regular meetings are generally held in public venues like restaurants or coffee shops, with meeting schedules and notes published to the public SPARKcon web page. The intent here is to allow any curious newcomer to quickly get up-to-date on what has been said in previous meetings, know who is involved, and where to go. This should give the newcomer a low threshold of stress to show up to a meeting and immediately get involved.
How can others replicate SPARKcon in their city?
We have had interest from various cities about how to replicate SPARKcon. As with other open source efforts, the SPARKcon model is truly a reflection of its community. To properly inject this system, it needs to find the right local catalysts who can open their mind and adopt a system that is not fully controllable. This would be contrary to the top-down working style of most event coordinators. However, given a group of five to seven committed folks who are tied into the creative community, some simple training and sharing of stories would be enough to make use of all of our public tools and get them on their way.
Jason Hibbets is a Community Director at Red Hat with the Digital Communities team. He works with the Enable Architect, Enable Sysadmin, Enterprisers Project, and Opensource.com community publications.

This work is licensed under a Creative Commons Attribution-Share Alike 3.0 Unported License.