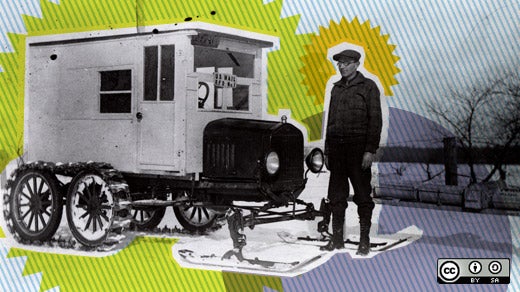 If you're a Linux fan and a car enthusiast, then you might be a little jealous of Rudolf Streif's job. As the director of embedded solutions for The Linux Foundation, Streif is in charge of helping to foster the adoption of Linux and open source in the automotive industry.
Streif and the Linux Foundation (vendor-neutral) want the automotive industry to be successful when developing Linux-based products, which is becoming increasingly common as open source works its way into the auto industry.
Car makers are beginning to incorporate Linux-based operating systems into the in-vehicle infotainment (IVI) systems that power a car's audio and entertainment systems. And Streif is working to link the auto industry to open source communities.
So how do you land a gig like this? Streif spent more than 20 years in embedded software development from individual contributor to engineering director running large R&D (research and development) teams. He's been developing embedded Linux systems since the late 1990s, long before it became mainstream. One day in the summer of 2010 he received an email from a recruiter asking him if he'd consider working with cutting-edge Linux technologies on embedded systems and with the automotive industry. It was an offer he couldn't refuse, and he's been at The Linux Foundation ever since.
In this interview, Streif talks about the automotive industry's shift to open source infotainment systems, mind-blowing technology that may some day be embedded in our cars, and the upcoming Automotive Linux Summit, scheduled October 24-25 in Edinburgh, Scotland.
The automotive industry is in the midst of a major shift, moving from a closed infotainment ecosystem with proprietary technology to open source technologies. What's driving that shift?
Car makers are realizing that when it comes to in-vehicle infotainment their competition is not another car maker but the consumer electronics and mobile communications industries with smartphones and tablets. A $2,000 integrated navigation system with Bluetooth hands-free is a tough sell when you can get the same and much more in a smartphone for a fraction of the price. The automotive industry is realizing that it has to catch up with the way consumer and communications industries are successfully leveraging Linux and open source for product development. Android, the Linux-based mobile OS, is probably the prime example, but many other products such as Sony's Playstation, Samsung's SmartTVs, and many more are leading the way. Even Apple's iPhones and iPads incorporate open source software.
Linux, as the only operating system that can run on virtually any hardware from small embedded systems to mobile phones to desktop PCs to server computers and heavy-iron mainframes, is the ideal operating system foundation for in-vehicle systems. You are essentially leveraging an $11 billion investment which is available at no royalty cost to you.
Why is open source technology a better fit for some car devices than proprietary technologies? Is this now a universal opinion among automobile manufacturers or are there still car makers that have yet to warm up to the idea of open source?
In-vehicle infotainment is a natural fit for Linux and open source as a car's headunit is essentially an information and media hub. Linux and the many additional open source software packages provide 80% or more of the necessary functionality to enable media playback from various sources, real-time video from rear-view and surround-view cameras, contact/address book management, networking/connectivity, telephony, Bluetooth, and much more. 
The majority of the car makers are realizing the potential of Linux and open source. However, there are concerns about quality assurance of software developed and maintained by a loosely-coupled community, open source licensing, and more. An issue is also change management and long term support. With a system that is as rapidly evolving as Linux, how does a company keep up and also continue to be able to support what they are shipping over the life cycle of the product? The latter are real problems for the automotive industry who needs support for their products for ten years and longer. That is where the Linux Foundation is helping the industry overcome the hurdles through our experience with other industries. Successful transformations from closed industry ecosystems with proprietary software solutions to Linux and open source have happened with enterprise computing and communications carrier industries before. The Linux Foundation's experience with managing these transformations through our collaborative projects benefits the automotive industry.
Can you blow our minds a little? Tell us about some of the infotainment, driver assistance, and/or connected car features that haven't hit the market yet but may someday be commonplace in cars.
Virtual reality systems that blend information from sensors in the car with data obtained from the cloud to assist drivers and entertain passengers may one day be standard in cars. Think of head-up displays that extend over the entire windscreen and show turn instructions directly overlaid on the actual lanes of the road. It could also be used to show the distance to the vehicles in front in different colors warning the driver if the distance is unsafe for the current speed. After dark, the entire windshield turns into a night-vision display enhancing visibility and filtering glare from oncoming headlights.
Or screens that are integrated with the side windows in the rear that will show passengers information on landmarks and so on when driving by. One of my favorites would be a valet system built into my car: I get out of the car in front of my favorite restaurant and then my car would autonomously drive off, find a parking spot, and park itself. When I get out of the restaurant, I could call my car back using my smartphone.
But sometimes just getting the basics right goes a long way: how about a voice recognition system that actually works and does not direct my climate control when I want to call my wife's cell phone? Or an integration of address book, calendar, navigation, and messaging systems: when I get into my car, navigation and calendar synchronize the location of my next appointment; while driving real-time traffic updates received by the navigation predict that I will be 15 minutes late for my appointment; the system then suggests to me that I send an e-mail or text message to my contact letting them know I will be late, or asks if I want to be connected via phone.
Tell us what you're most looking forward to hearing more about during the 3rd Annual Automotive Linux Summit?
I am in particular looking forward to the keynote of Elektrobit's Marek Strassenburg-Kleciak on OpenStreetMap – New Ways? Integration of 3D Data and Automation of Data Collection. OpenStreetMap is essentially to map data what Linux is to operating systems.
Another exciting keynote will be by Kenichi Murata of Toyota on their Linux and open source experience. The new 2014 Lexus IS is shipping with an integrated Linux-based IVI systems. It is exciting to hear from the world's largest car maker about lessons learned. 
And, of course, there are many technical sessions that excite the engineer in me.
Ginny Hamilton was a community manager for EnterprisersProject.com, an online publication and community focused on how CIOs and IT leaders create business value through information technology. A former journalist, Ginny is passionate about local politics, journalism, technology, and social media.

This work is licensed under a Creative Commons Attribution-Share Alike 3.0 Unported License.