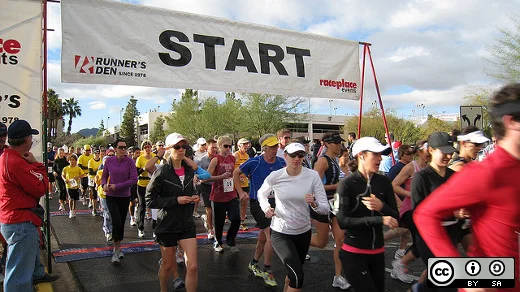 Nothing is more powerful than people coming together for a common cause. This happens every day in open source. We write code, make commits, update Bugzilla's, add new features, design new interfaces, add documentation, promote our projects, and strengthen the open source community with each keystroke.
But what happens in a time of crisis? What is it about our communities, both open source and local, that makes us stronger? Brings us together?
I'm a runner. It took me a while to admit it, but I love lacing up my running shoes and going out for a couple of miles. It's my freedom from Twitter, email, and other digital connections. I think a lot when I run. About all sorts of stuff. And lately, I've been thinking about Boston.
As a runner who has 19 half marathons and one full marathon under my fuel belt, I was horrified when I saw the news about the explosions at the Boston Marathon on Twitter. I had friends and co-workers running in the race. People train for months to reach this kind of milestone. And to deal with a tragedy instead of enjoying an accomplishment is unspeakable.
But something else is happening. And it highlights the strength of our collective communities.
In Raleigh, NC, race organizers from all different running outfits have organized a Boston memorial run. Shop owners who organize races are coming together. While they otherwise compete for our business, they've put that aside to join forces within their collective running community in order to send a message. To unite. To let Boston know we care and we wish this bombing didn't happen.
I've read that other cities and communities are doing similar memorial runs. Massachusetts Governor Deval Patrick and Boston Mayor Tom Menino recently announced the formation of The One Fund Boston to help the people most affected by the tragic events that occurred on April 15, 2013. 
Communities. Coming together. During a time of tragedy.
All this reminds me of the sense of camaraderie inherent in the running community. This camaraderie exists whether we're just out for a jog or training for a big race. It's even more evident during a race; the common goal is: let's cross the finish line.
This sense of community and camaraderie also exists in open source. While we work together every day to advance our open source projects, we also come together in times of crisis. Look no further than Aaron Swartz or Bassel Khartabil.
Even in the business space, particularly in open source technology, companies both partner and compete in a coopetition. Everyone is trying to get their share of the market, but we work together to advance the open source movement. And as much as Wall Street doesn't like it, we often times put community before business.
I think this can all be tied back to human nature and the desire to have a sense of belonging. We want to be a part of something important, something that is going to make a difference. And when tragedy strikes, our communities come together. Not only is this a strength evident in open source communities, but in many of the communities that touch our everyday lives.
Jason Hibbets is a Principal Program Manager at Red Hat with the Digital Communities team. He works with the Enable Architect, Enable Sysadmin, Enterprisers Project, and Opensource.com community publications.

This work is licensed under a Creative Commons Attribution-Share Alike 3.0 Unported License.