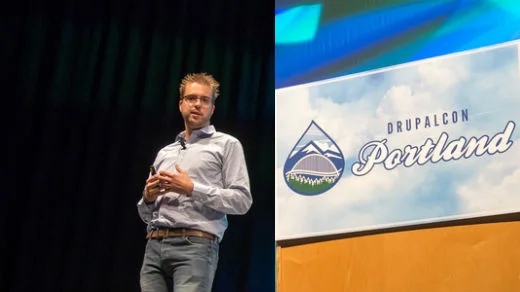 I arrived a few minutes early to the main hall of the Oregon Convention Center in preparation for Drupalcon's opening keynote by Dries Buytaert. A random mix of music chosen by the community via Twitter using the #DrupalRadio hashtag played through the hall as people filed in with anticipation.
This year's Drupalcon Portland has been the biggest yet with a whopping 3300 attendees from around the globe, all gathered for a week in rainy Portland. The motto of this year's conference, Building Bridges, Connecting Community, couldn't be more true with the amount of diversity displayed in the room.
Dries took the stage to roaring applause. He started off by reiterating an ongoing theme he's placed on the community: "Do well, do good." It is pretty powerful to make a living by contributing to a product that has far reaching effects in government and other organizations. Focusing on the good in the world, and doing it well, is a motto that anyone could (and maybe should) live by.
Dries went on to state that the biggest trend that we need to be paying attention to is that "digital is at the heart of every business." Amazon is an example of a disruptive business. They're getting it right by providing useful feedback and results to their users. Recomendations, learning from past behavior, providing users the right content at the right time. This is why they're winning. Context translates into a really great user experience. Geography, past behavior, intent, time of day, etc. are things businesses need to be paying more attention to.
Another great opportunity that Dries would like Drupal to take is to move away from the notion of only being a Content Management System (CMS). For several years now, many people have already been referring to Drupal as a platform, indicating that it is more than just a content manager.
Now we are looking at a new(er) term called WEM (web engagement management). The point is that it's not just about managing content anymore, but managing tools. Polls suggest that users also prefer to use the "best of the breed" tools rather than some big, all in one solution. This requires easy integration, good APIs, and ways to integrate with outside tools and services. So, there's a huge opportunity for Drupal to build better integrations. 
And finally, none of this could become successful without the strength of Drupal's open source community. We are fortunate to have such a passionate and diverse community. In the words of Dries, continue to "do good, do well".
Erik Newby is a Sr. Application Developer specifically focusing on Drupal development at Red Hat. He is the tech lead for the Red Hat Customer Portal Drupal apps. Learn more about Erik here and here.

This work is licensed under a Creative Commons Attribution-Share Alike 3.0 Unported License.