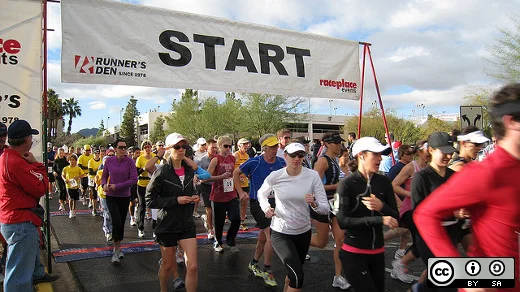 In 490 BC the Greek army defeated the first Persian invasion at the battle of Marathon. Legend says that the courier Pheidippides was dispatched to deliver the news of the victory to Athens, and did so by running 40 km (26 miles), exclaiming upon arrival: "We have won!", to then collapse and die. The legend also says that the same Pheidippides had just run 240 km in two days, to request reinforces from Sparta.
This story motivated the introduction of the Marathon as a sporting event when the Olympics games were revived in 1896.
In the open source world, we have grown acustomed to hackathons and code-a-thons, whose names are indeed inspired by the marathon spirit of working on something for a long length of time.
I had the opportunity to witness the New York City Marathon, whose 44th edition just took place on Sunday, November 2, 2014. It is a very moving and inspiring event, and it reminded me why a marathon is indeed a model that we should aspire to live by in our open source communities.
The New York City Marathon is a very inclusive event. More that 50,000 people, of all colors, shapes, ages, gender, and nationalities get together on a cold and windy morning at the starting line in Staten Island. The event organizers accomodate disabled runners, and they are the ones that actually open the race.
There is a volunteer organization called Achilles that is dedicated to providing assistance to runners in the NYC Marathon. Achiles was founded by Dick Traum, who despite of having lost one knee, trained for the Marathon and became in 1976 the first amputee to run this race. I got to see many of these volunteers running alongside their protegee, providing assistance to make sure that they were safe and could go for the distance.
Just as open source is not only for coders, the NYC Marathon is not only for runners. Half of the energy of the event is spent on the sides of the track, by people coming to see and cheer the runners on, giving them encouragement and support. Last sunday I heard many times, people in Brooklyn calling the runners by their names (that are tagged in their shirts) and yelling encouragements like: "I see you Kate, you can do it." It was inspiring to see how much the runners faces light up when hearing their names called by strangers, who were there to support them. It was common to see people in the crowd high-fiving the runners as they passed by, a moment cherished by both of them.

This work is licensed under a Creative Commons Attribution-Share Alike 4.0 International License.