Open gaming roundup: November 22 - 29, 2014
Valve at the Game Dev Conference, 1000 games on OUYA, and more
Subscribe now
Get the highlights in your inbox every week.
Open gaming roundup
Week of November 22 - 29, 2014
Hello, open gaming fans! In this week's edition, we take a look at Valve at the Game Developer Conference, 1000 games for OUYA console, open source gaming on Kano, and more!
Valve at GDC2015 with large Steam Machine presence
Techradar shared the news that Valve, the company behind Steam OS and the Steam Machine, will attend the Game Developer Conference in San Francisco early next year. Valve is clearly ramping up for next year, to push its Steam Machine, so hopefully we will get to see lots of news on their hardware at GDC2015!
The Steam Machine is powerful new living-room hardware, a gaming machine that runs on SteamOS. SteamOS combines the rock-solid architecture of Linux with a gaming experience built for the big screen.
1000 games and counting on OUYA
OUYA, an open source gaming console, announced on their blog they have hit 1000 games available for the platform. You can play award winning games on OUYA, such as Luxuria Superbia, Whispering Willows, and Mirromoon EP. This open source console runs on Jelly Bean, Android 4.1. You can download their developer kit and make your own game.
Cyber Monday and Steam's fall sale?
It looks like PayPal may have spilled the beans on a sale coming up for Steam this holiday season. There could be thousands of games on sale, with hopefully some good Linux ones as well. So, keep an eye on Vavle's news and grab your favorite game while its on sale!
Open source gaming on Kano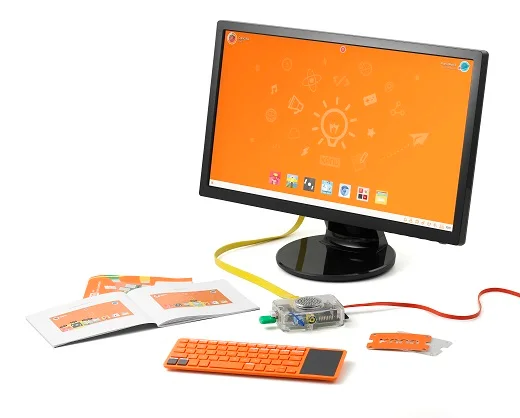 Although Computer Weekly focused this news as "open source Christmas with Kano," it is certainly news about gaming. Kano is "a computer and coding kit for all ages, all over the world. Simple as Lego, powered by Pi. Make games, learn code, create the future." Kano is a win-win for children as they learn how to code and play games the open source way. On Kano World, you can find your fellow Kano coders sharing their code and games.
P.S. The 2014 Opensource.com Holiday Gift Guide includes a Kano this year!
New games out for Linux
Shroud Of The Avatar: Forsaken Virtues has been released on Steam for Linux. Its a third person fantasy RPG which lets you play offline and online. The offline option has 40 hours of gaming for you. More details on GamingOnLinux.com.
6180 the moon is available for Linux on Steam with a unique storyline where the sun has gone, and the moon sets off on a journey to find the sun. It offers a fresh, unseen game play style, a mechanic with delightfully long jumps with no fear of "slipping" into death. Read the announcement on linuxgamingnews.com.