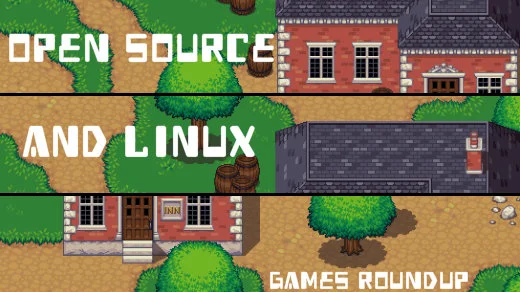 Hello, gaming fans! In this week's edition, we take a look at Halo 4 backend, SuperTuxKart, Godot engine 1.0, and news on Linux game releases!
Open source and Linux games roundup
Week of December 13 - 19, 2014
Halo 4 Orleans framework to be open source
There's been a lot of buzz this week, through several news sites, about Microsoft's opening up of the Orleans framework, which powers Halo 4. The Orleans framework is designed for building cloud services like social graphs. An example of social graphs is your list of Facebook friends or the people you follow on Twitter. Halo uses the framework to keep track of all the game sessions, the players, and the status of each game. Microsoft will open source the project in early 2015, under the MIT license, and the code will be available on GitHub. ComputerWorld covered the news in good detail.
SuperTuxKart beta and new features
It looks like our Linux friend Tux enjoys racing karts! The SuperTuxKart team is wishing its gamers a Merry Christmas by releasing SuperTaxKart 0.8.2 beta. SuperTuxKart is a 3D kart racing game licensed under GPLV3 and available on many platforms, including Linux. This new beta release includes a new graphical engine, Antartica. You should really check out the release post and the screenshots of the improved graphics. Another new feature is online accounts in preparation of networked multiplayer gaming—which is still to come.
Godot open source engine 1.0 released
After 10 months of hard work, and solving many bugs, the Godot engine 1.0 was released as a stable version. The roadmap for Godot has some great things in store, such as improvements to the 2D engine, a much improved interface, better platform support, and much more.
"Godot is an advanced, feature packed, multi-platform 2D and 3D game engine. It provides a huge set of common tools, so you can just focus on making your game without reinventing the wheel." Godot is MIT licensed and available on GitHub.
New games out for Linux
Civilization: Beyond Earth was released for Linux last Thursday. With the release, gamers also get a patch that changes gameplay significantly. The patch is spread across different aspects of the game, but mostly focused on fixing balance issues. The game is also available on Steam.
Linux versions of Metro 2033 Redux and Metro: Last Light Redux were released on Steam this week. Both games are currently avilable as bundle on Steam with a 25% discount!
More on current game releases at Linux Game News.

This work is licensed under a Creative Commons Attribution-Share Alike 4.0 International License.