Open gaming roundup, week of December 8 - 13, 2014
Havoc game engine, HTML5 games on Fire TV, and more
Subscribe now
Get the highlights in your inbox every week.
Hello, open gaming fans! In this week's edition, we take a look at Havoc (a new open source RPG game engine), publishing HTML5 games on the Amazon Fire TV, new Linux releases, and more.
Open source and Linux games roundup
Week of December 6 - 12, 2014
The best game of all time?
It's addictive, and you can play it for years—even decades!—before you even finish it. It's a text-mode game, where characters represent dragons, food rations, and traps. The game is called NetHack!
According to Mike Saunders, who writes about this game on Linux Voice, it is possibly the oldest game around that is still being developed. NetHack is based on an earlier dungeon-exploring game called Hack NetHack, first released in 1987. If you want to run the game on Linux, use NetHack Wikia. NetHack is licensed under GPL.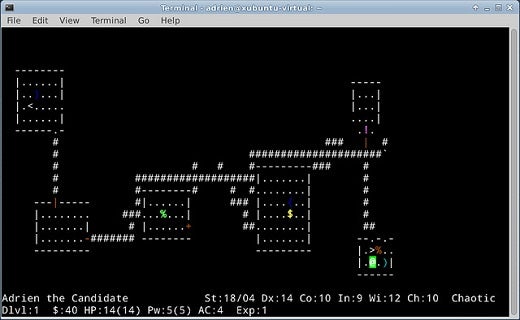 Havoc multiplayer RPG game engine pre-release
On gamedev.net, read about Havoc, a new open source multiplayer RPG game, server-based on Node.js. It is suited for web-based multiplayer games and licensed under GPLv2. Havoc is designed to work out of the box with the web app at cloudgamer.org, but it can easily be adapted to drive any client. Havoc can be found on GitHub.
Publish HTML5 web apps and games on Fire TV
As you can read on VentureBeat, Amazon has made it possible to publish HTML5 web apps on Fire TV and Fire TV Sticks. Amazon has tweaked WebView to make this possible supporting WebGL, GPU optimized CSS3 Transition and more. As Amazon explains, on opening up it's television platform to web and game developers:
This opens up an entirely new world to HTML5 game developers hoping to build console quality games with the tools and frameworks they currently use to reach millions of web and mobile web gamers every day.
New games out for Linux
Empire: Total War Collection has been released for Linux. It's an epic strategy game, set against the turbulent backdrop of the 18th century. The game runs on Ubuntu 14.04.1 and on Valve's SteamOS. You can read more about the game over at Feral Interactive.
Alogy for a Dead World now released for Linux. In this game, you can explore three worlds based on the works of British Romantic Era poets, and each world includes multiple sets of writing challenges.