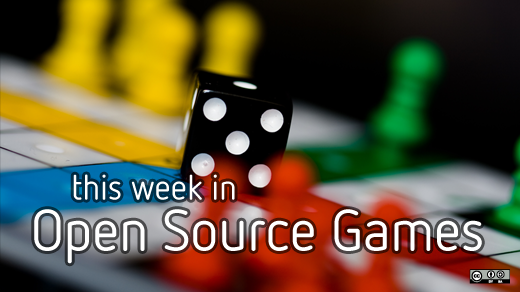 Open source games roundup
Week of September 21 - 27, 2014
In this week's edition of our open source games news roundup, I check out the new Steam Discovery Update, Youth Digital's open source game development classes, and more!
Steam Discovery Update reimagines Valve's digital storefront
If you use Steam, you probably noticed that your homepage changed a bit this week. Valve is pushing more personalized discovery features, including recommendations based on games you already play, reviews from groups and friends, and an overhauled search tool. You may also find that the marketplace has stopped mentioning those games already in your library, because why would they want to sell you on something you've already bought?
One addition to the system is the Steam Curators feature, which allows players and organizations to add their own reviews to their Steam profiles. If you're interested, you could hop over to the Opensource.com Steam Group and check out some of our recommended games. You could also, y'know, join the group, so I'm not so lonely. Just a suggestion.
Support GamingOnLinux's coverage
Liam Dawe has been been writing about Linux games for over five years, and his site, GamingOnLinux, has been kicking some serious butt lately: tons of new content, great game reviews, and even a podcast. Dawe is running a Patreon campaign to support the blog:
I want to write more. I want to write bigger and more interesting articles for you, and to do more gaming videos for our YouTube channel to feature on the website.
But he's a single dad and he works on the site as a labor of love. So if you love his work over at GamingOnLinux, or you've been looking for a good source of news on Linux gaming, check out his campaign.
Youth Digital teaches kids how to make games with open source tools
Last week, I visited the offices of Youth Digital in Chapel Hill, North Carolina. I spoke with company founder Justin Richards about how they're teaching kids all over the world how to create amazing things with open source tools like Blender, Inkscape, and GIMP. From Minecraft mods to mobile phone apps, from games to 3D models, they're a great place for kids interested in going into game development. Check out the full interview and head over to the Youth Digital site for more info.
Play games for charity in the Extra Life marathon
Extra Life is an online charity where games fans can join in on a 24-hour gaming marathon to raise money for the Children's Miracle Network. Play games—video, mobile phone, board, or tabletop—and get your friends and family to chip in for each hour that you play. I'm hoping to participate this year, but we're still banging out the details. In the meantime, Red Hatter Travis Bryant has his page all ready for your donations, and he still has $140 left to raise. Maybe chip in a few tax-deductible bucks?
---
Did we miss something in our roundup? Follow Opensource.com on Twitter for up-to-the-minute news on everything open source. If you have any news you'd like to submit, shoot us an email through our contact form or reach out to me directly on my personal Twitter account. And check out our what is open gaming resource and let me know what we need to add. Yay for collaboration!
Michael an unrepentant geek with a love for games, the social web, and open source projects to share with his kids. He writes about raising geek children at GeekDad and records a podcast about games called The Dice Section. You can follow him on Twitter at @oldbie.

This work is licensed under a Creative Commons Attribution-Share Alike 4.0 International License.