Open gaming roundup for October 10 - 16, 2015
Minecraft Story Mode for Linux, Alienware's Steam Machine, and more open gaming news
Subscribe now
Get the highlights in your inbox every week.
Hello, open gaming fans! In this week's edition, we take a look at Minecraft: Story Mode Linux rumors, a hands-on with the Alienware Steam Machine, and more.
Open gaming roundup for October 10-16, 2015
Minecraft: Story Mode coming to Linux?
Launched this week on Steam, Minecraft: Story Mode might be coming to Linux. Gaming on Linux reported the SteamDB already hints to Linux being on the OS list. In a second report, they covered a forum post by a Telltale Games programmer, who is a Linux fan himself, asking the community about a possible port. If you're interested, check out the thread, where the developer also shares his contact details.
SOOMLA announces three new partnerships
SOOMLA, an in-game data platform I wrote about last month, announced three new partnerships to expand growth of its GROW data network. One of the new partners is gaming giant Chukong. Kai Zhao, general manager of Chukong USA said, "We're happy to expand SDKBOX offerings with SOOMLA, a company that shares our passion for open source technology and developer communities." Read more on the announcement on PR Newswire.
Steam Machine hands-on
Polygon's Philip Kollar and Brian Crecente got their hands on an Alienware's version of the Steam Machine and shared their thoughts. The new hardware launches November 10.
Included in this review are hardware, user interface, the open platform, its controller, games, and finally streaming. Each of these sections are introduced by Valve developers, and the editors will follow up with frank and honest impressions.
New releases for Linux
Wasteland 2: Director's Cut
Wasteland 2: Director's Cut has been upgraded with the new Unity 5 engine for Linux. This upgrade also includes new content, new gameplay mechanics, new voiceovers, added scenes, and much more.
The Wasteland's hellish landscape is waiting for you to make your mark... or die trying. With over 80 hours of gameplay, you will deck out your Desert Ranger squad with the most devastating weaponry this side of the fallout zone, test the limits of your strategy skills, and bring justice to the wasteland.
(PEGI rating: 18)
Rising Tide expansion
An expansion pack for Civilization: Beyond Earth called Rising Tide has been announced by 2K and Firaxis Games. This expansion offers an "array of expansion content, with even more strategic ways to shape humanity's future on an alien planet." Read the full report by Linux Game News.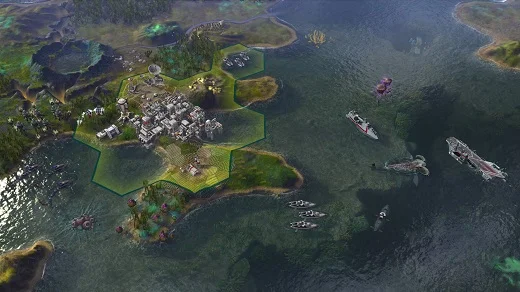 Image from Civilization.com