Open gaming roundup for October 31 - November 6, 2015
SteamOS updated with Linux kernel 4.1, Nvidia adds Vulkan support, and more
Subscribe now
Get the highlights in your inbox every week.
Hello, open gaming fans! In this week's edition, we take a look at a Linux Kernel 4.1 update for SteamOS, Nvidia support for Vulkan, Objects in Space and open hardware, and more.
Open gaming roundup for October 31 - November 6, 2015
Ready for the Steam Machines?
Valve's Steam Machines are hitting the market on November 10. Are you ready? If you get one, tell us about your experience in the comments. And, although I've not seen an active marketing campaign from Valve about the launch, a lot of review videos have hit YouTube. One of them seems to give a pretty honest review with detailed information on the Controller and how you can share its configuration with the community.
SteamOS updated with Linux Kernel 4.1
As Valve prepares for its launch of the Steam Machines on November 10, it has been working hard on SteamOS, the operating system the machines run on. The biggest update so far, is the change to Linux Kernel 4.1 LTS. Read the official announcement and change log here.
Nvidia Driver 358.66 adds Vulkan support
Important GPU driver news this week, as Nvidia has added Vulkan support to its 358.66 driver. Vulkan has cross platform support, including Linux, and has been regarded as the successor to OpenGL. According to Valve's San Ginsburg, "Vulkan is the right way forward." Read the full report on wccftech.com.
Pick of the week: Objects in Space
My pick for this week is a game called Objects in Space, which will be coming to Linux in 2016. What's so great about it? Well, this might be the best game ever to combine gaming with open hardware.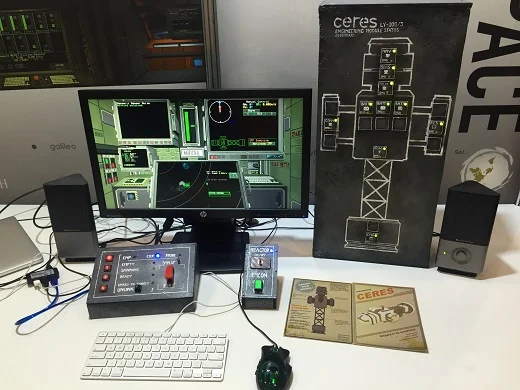 Image credit: Flat Earth Games
It allows you to build your own spaceship command center, with hardware like Arduino or Raspberry Pi, and then, control your spaceship within the game. Read the full report on Linux Game News, and the Objects Game Dev blog.
New games out for Linux
Poncho
Rising Star Games has released Poncho, a pixel art platformer for Linux through Steam. What I love about this platformer, and what distinguishes itself from others, is the 3-dimensional aspect. Watch the video and see for yourself!
A robot, a poncho and a journey of discovery! Make your way through this wonderful world of pixelated parallax platforming to solve the ultimate puzzle: who is Poncho?
Bit Shifter
Bit Shifter, an action/strategy game has come to Linux, and Gaming on Linux has the full report. As Bits, you are fighting to eradicate viruses, flying around and "destroying alien looking virus turrets."
Bit Shifter is a 3D action/strategy game where you fly a hover ship that can pickup and place and heal your robotic soldiers in the war against the virus threatening your PC. It takes place in a futuristic world, inside of your computer, where the viral threat could lead to catastrophic system failure. You play the role of Flash Bios, who pilots a virus fighting vessel called the Scandisc. You must strategically deploy virus fighting robots called Bits, and protect them while they clean up the virus. Where will you put them?