Hello, open gaming fans! In this week's edition, we take a look at updates on Vulkan, an open source emulator for Mac OS X, SparkyLinux GameOver Linux distro, and more!
Open gaming roundup for December 26 - January 1, 2015
Before I give you this week's gaming news, I want to wish a happy new year to all you readers and gamers!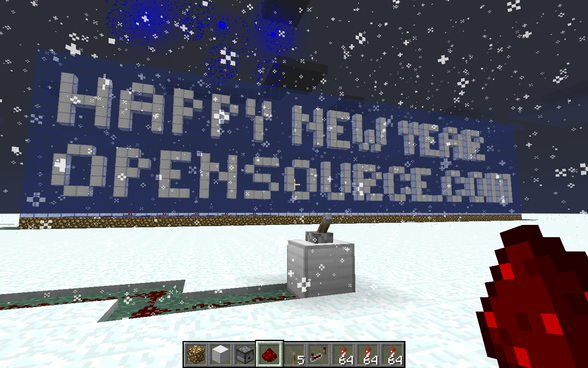 No end-of-year 1.0 release for Vulkan
The Vulkan Working Group did not meet its goal of a Vulkan 1.0 release by year's end. According to the Vulkan homepage, development of the open standard OpenGL successor is "in the home stretch" and a 1.0 release is "imminent."
OS X-based OpenEmu emulator gets updated
OpenEmu, an open source retro and arcade game emulator for OS X, now includes support for Nintendo 64, Playstation 1, and more gaming systems. The latest update also includes a redesigned user interface, real-time gameplay rewinding, and lots more. To see a full list of supported game systems and release features, check the article from Mac Rumors.
FNA first official release
Gaming On Linux had news about FNA, an open source reimplementation of Microsoft's XNA game development platform. FNA has hit its first official release, as you can read in an official announcement. According to developer Ethan Lee, "FNA has enabled critically-acclaimed titles such as Axiom Verge, Dust: An Elysian Tail, Hacknet, Rogue Legacy, Apotheon, Terraria, and more to be deployed across desktop platforms with confidence."
SparkyLinux GameOver released
Softpedia wrote about the release of SparkyLinux 4.2 GameOver Edition. This Linux operating system features 80 games, including 0 A.D., Warzone2100, the Battle for Wesnoth, and more. This distribution also includes Wine 1.8 and PlayOnLinux. Read the full announcement by SparkyLinux.
New games out for Linux
Divinity: Original Sin for Linux
As Linux Game News covers, Divinity: Original Sin now has official Linux support. This release also includes an updated story, Steam Controller support, and more.
Gather your party and get ready for the kick-ass new version of GameSpot's PC Game of the Year 2014. With hours of new content, new game modes, full voiceovers, split-screen multiplayer, and thousands of improvements, there's never been a better time to explore the epic world of Rivellon!
Mighty Switch Force! Academy released for Linux on Steam
WayForward has released its first game for Linux on Steam, called Mighty Switch Force! Academy. The game is built on third-party game engine GameMaker: Studio.
As Academy Cadet Patricia Wagon, grab your pellet gun and take on brain-twisting puzzles so massive they span the entire screen! 20 all new puzzles and some twisted classics stages, all with a hectic cooperative couch-play option for up to 4 players to keep you and your fellow trainees in stitches!

This work is licensed under a Creative Commons Attribution-Share Alike 4.0 International License.