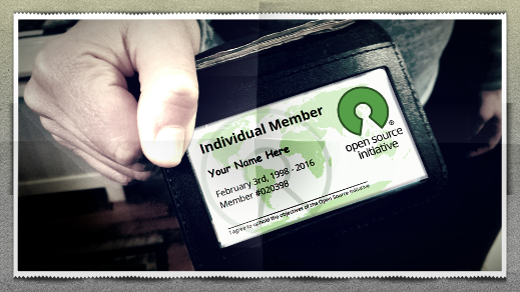 The Open Source Initiative (OSI) serves as an international nexus of trust, protecting and promoting open source software as well as the communities that develop and depend on it. Primarily known for our work in certifying open source software licenses, the OSI's work today has grown—just as open source has—to include a variety of member-driven working groups and incubator projects that help practitioners and communities create and share resources, furthering the open source movement. For 17 years, the OSI has brought together open source developers, organizers, contributors, advocates, and businesses toward the common goal of creation through collaboration. Our membership campaign is dedicated to furthering this vision.
Our goal is to sign up 2,398 new individual members in celebration of the organization's founding on 2/3/98. The "2,398 for 2/3/98" membership drive will also run in parallel with the OSI's annual board elections, which started with nominations opening February 2 and runs through April 1, when the new board directors take their seats. The membership campaign will become an annual event.
Why join?
Membership provides several benefits to individuals, the OSI, and the open source software community. In addition to standard member benefits such as free and discounted books, magazines, conference registrations, and other learning and training materials, as a member-driven organization OSI individual members can vote for OSI board directors and even run for a seat.
In addition to governance, individual members are invited to join or create OSI-sponsored working groups and incubator projects in various areas of open source advocacy and adoption. These working groups and projects serve as resources for the entire open source community.
These projects are just a sample of the work underway in our incubator program. Other projects include "Board election practices within open source projects," "Open source bug bounty," "Cataloging license assessment & recommendation tools," "A government open source manual," and many others.
How does OSI promote open source?
Being an OSI member is also a great way to get directly involved in open source community development and advocacy. Don't think of this as helping just one open source project—think about helping all open source projects!
For example, the OSI regularly provides small grants to OSI members to attend local conferences, not only to represent the organization, but to generally educate others about open source software. This is a great way to not only attend the conference when you may not have otherwise had the financial resources to do so, but also to meet peers working on related projects, software, and technologies from across the community. The OSI has sent representatives to events focusing on open source community management, open source in education, open source legal issues, open source in supercomputing, and others.
While the member benefits and opportunity to create community help to attract open source advocates to join the OSI, as a public benefit organization, we maintain an active constituency—a vibrant community that recognizes the OSI's role and value in the sector, creates trust throughout the open source community, credibility among professional organizations and business, and credibility among policy makers. The OSI is often contacted by individuals, projects, businesses, and even governments to provide opinions on, and best practices for, a variety of issues related to open source licensing, development, and community building, from business and community development to current and proposed law.
The OSI has submitted amici curiae ("friend of the court" briefs) to the U.S. Supreme Court, consulted with industries in the adoption/development/release of open source software, weighed in on government policy, and served as an intermediary among community members to resolve open source related issues.
Why does OSI need my support?
Only with a strong and active member base can we continue in our role as the internationally recognized nexus of trust, the foundation for, and authority in open source software. In brief, the Open Source Initiative needs your support to support open source.
If we can add 2,398 new members to our roster, we'll raise $95,920 to help with operations and community-based initiatives, which is very important. We'll also extend open source software's reach and influence to further the ideals of open source development, the value of open source software, and the impact of open source communities. If you support Creative Commons, Debian, Drupal, FreeBSD, Joomla, KDE, LibreOffice, Linux, Mozilla, Plone, Python, TYPO3, Wikimedia, WordPress, or any of the other affiliate members who support our work, then please consider supporting the OSI as well through membership. The OSI provides support for the projects you support.
If you're not involved with any of these projects, but you use open source software, love it, and want to give back to the community, we'd be honored to help you accomplish that goal through our work and your membership.
You can find out more about the benefits of becoming a Member of the Open Source Initiative and how to join, on our members page. There's an excellent summary of the OSI's 2014 operational and organizational highlights, community engagement, mission and mandate, and sponsorship opportunities in our recently released annual report.
With your help, the first-ever OSI Individual Member drive will provide us with more funds, more voices and more ideas to advance the cause of open source software globally. Become a member today!
Beginners to
Open Source
A collection of articles about how to get started in open source.
Patrick Masson (@massonpj) is currently serving as the General Manager for the Open Source Initiative after working within higher education IT for over twenty years, ranging in roles from Programmer Analyst at UCLA, to Chief Technology Officer in the University of Massachusetts' Office of the President.Patrick also teaches within the College of Computing and Information at the State University

This work is licensed under a Creative Commons Attribution-Share Alike 4.0 International License.