On the final day of LinuxCon North America 2015, Linux Foundation Executive Director Jim Zemlin welcomed a "surprise" guest, Linus Torvalds, to the stage for a brief Q&A session. Zemlin read quotes from a recent article about Torvalds, The creator of Linux on the future without him, which said, "Torvalds may be the most influential individual economic force of the past 20 years." Torvalds jokingly responded, "I love open source and how all the credit goes to me," but then he explained that the power he has over the Linux kernel is just the power to say no—he doesn't actually write the code anymore.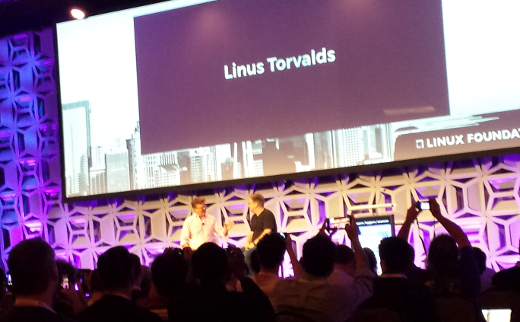 Photo by Rikki Endsley. CC BY-SA 4.0.
Linus Torvalds on stage
Zemlin asked Torvalds about Docker, the current "it" project in open source. Torvalds says that he doesn't really focus on buzzwords or politics because all of his attention goes to the kernel. Zemlin then moved into the topic of the Internet of Things and asked how small the Linux kernel can get. Torvalds says that trying to get the kernel back to being a lean, mean IoT machine is going to be hard. He says that if you want to work on small devices, you'll have to work with some alternatives.
The two then discussed Bruce Schneier's security-focused keynote from the previous day and the state of security on the kernel project and open source projects in general. Torvalds says that he's known for being at odds with the security community because they see security in terms of black and white. Torvalds thinks security boils down to bugs. He says that most kernel security problems have been completely stupid bugs that nobody would have thought of as being a security problem. "You're never going to get rid of bugs," he says. Bugs are inevitable, so security will never be perfect.
When asked where he sees Linux 10 years from now, Torvalds explained that he's a "plodding, pedestrian" kind of person who only looks six months ahead, to the next kernel release. Trying to look 10 years ahead is insane if you consider where Linux was 10 years ago, he adds.
For more on Torvalds' keynote Q&A, see:
Bitcoin and Blockchain
The next speaker, Greg Maxwell, co-founder of Blockstream, talked about Bitcoin and the Blockchain. Then Nithya Ruff, Director of Open Source Strategy at SanDisk, talked about flash storage in the data center. Deepak Singh, general manager of Amazon EC2 Container Services, concluded the morning keynotes.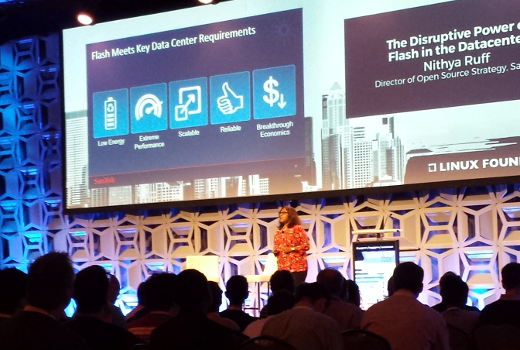 Photo by Rikki Endsley. CC BY-SA 4.0.
Kernel internship report
In the Kernel Internship Report, panel moderator Julia Lawall started by providing an overview of Outreachy and the internship program. She said that back in 2002, the Free/Libre and Open Source Software: Survey and Study stated that, "...women do not play a role in the development of open source and free software; only 1.1% of the FLOSS sample is female." Today she estimates the number to be closer to 11%.
The Outreachy-organized program is open to women (cis and trans), trans men, genderqueer people, and all participants in the Ascend Project. Candidates must be able to work full-time, and they can work remotely. Round 10 projects included Coccinelle, Media Controller Virtual Driver, Modernize Linux Wireless drivers, Full Dynamic Ticks, and IIO dummy driver. Internships were funded by the sponsor projects. The application period for Round 11 will open in early September and close in late October.
In summer 2015, 23 people participated in the application period and 17 submitted eligible applications. Of those, five interns were chosen. The program only accepted five because it's limited by time and available mentors, but at least three other applicants continued participating in the kernel even though they weren't chosen as part of the program.
The 23 participants had 746 patches accepted, and 287 of those were from the five accepted applicants. Intern Aya Mahfouz was the fifth most active contributor to Linux 4.1 in terms of patches, and Outreachy was the eighth most active organization.
Panelist Lidza Louina participated in the June 2013 (Round 6) round of interns and worked with Greg Kroah-Hartman on improving drivers in the staging tree. She now works on the kernel at Oracle. She said that when she applied for the program, her goal was to get a job working on the kernel, and the internship did that for her. "I was intimidated by the kernel before the internship," she says. "If the internship wasn't around, I probably would still be working in retail like I was when I was applying for it, because I didn't have time to learn something new." The internships last three months and provide a $5,500 stipend, in addition to pairing interns with mentors.
Panelist and Round 6 intern Lisa Nguyen now works at Linaro. She says the internship helped her network and meet people in the Linux kernel community. "I wanted to challenge myself to get outside of the box and try something new," she says.
Elena Ufimtseva now works for Oracle and immigrated to the U.S. as a Linux sys admin before applying—and being accepted—for Round 6. Before applying, she told herself, "I don't have to do something that people think I should be doing, so if I want to change my career path, I'm going to do it."
Keep an eye on the Outreachy site for the next application period to open in early September.
Internet Archive
VM Brasseur and Alexis Rossi gave a fascinating talk about the Internet Archive, a nonprofit digital library with millions of free books, movies, software, audio recordings, and more. (For an example of the kind of content the Internet Archive has collected, visit the NASA archive.)
First, Alexis explained where the funding comes from:
40% digitization projects (digitizing books and other media)
20% web archiving projects
40% foundations and donations
She said that the digitization and web archiving projects benefit everybody because they get added to the archive.
Archive.org sites employ about 100-120 employees, and the offices are located in an old church building in San Francisco. Archive.org is in the top 250 websites and gets 2-3 million visitors a day, provides 4 million downloads/streams daily, and doesn't keep any IP addresses. What gets archived is a combination of what the organization gets paid to archive, donated crawled content, and crawling done by the organization.
Do you have a web page you want to save? Visit the Archive.org Wayback Machine homepage, enter the URL in the Save Page Now box and click the Save Page button.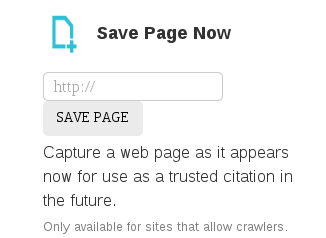 Alexis says that the Internet Archive has about 30 book digitization centers located in eight countries that scan a total of 1,000 books per day. In November 2013, a scanning center burned down, which she said was a good reminder of why they do what they do. "Books burn," she said.
In addition to digitizing content, the Internet Archive also has two warehouses that hold approximate 1.5 million books, films, VHS, and LPs, storing the physical media much like a seed bank. (If you want to check out a digital book, visit the Internet Archive's Open Library.)
After Alexis, VM Brasseur took over and talked about Internet Archive APIs. If you're interested in the development-end of the the projects, visit the Internet Archive and Open Library developer pages.
VM and Alexis will be talking about the Internet Archive in October at All Things Open, so if you missed them in Seattle, you can catch the talk in Raleigh.
Want to see more from LinuxCon North America? Check out the day 1 and day 2 recaps.
LinuxCon NA 2015
This article is part of our LinuxCon, CloudOpen, and ContainerCon North America 2015 series. LinuxCon North America is an event where "developers, sysadmins, architects and all levels of technical talent gather together under one roof for education, collaboration and problem-solving to further the Linux platform."
Rikki Endsley is the Developer Program managing editor at Red Hat, and a former community architect and editor for Opensource.com.

This work is licensed under a Creative Commons Attribution-Share Alike 4.0 International License.