Hello, open gaming fans! In this week's edition, we take a look at Unity on Linux, TuxRacer on Ubuntu Touch, and more open gaming news.
Open gaming roundup for August 22 - 29, 2015
Unity available on Linux
The Unity Editor is available on Linux as an experimental build based on Unity 5.1.0f3. The experimental build means future support is not guaranteed, and depending on the adoption and feedback by game developers, Unity will determine if they can sustain this build alongside Mac and Windows. Read the full announcement by Unity, which includes system requirements and download links. Read more about Unity's plans to release the editor earlier.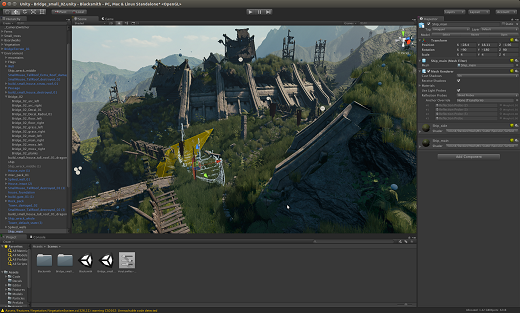 Image credit: Na'Tosha Bard, Unity.
TuxRacer arrives on Ubuntu Touch
From Softpedia, read about TuxRacer (included by default for some distros) being ported to Ubuntu Touch. You can find the game on uApp Explorer.
Tux Racer is a free software 3D computer game starring the Linux mascot, Tux the penguin. In the game, the player controls Tux as he slides down a course of snow and ice.
Pick of the week: What is open gaming?
If you want a quick and easy explanation of what open source games are all about, check out our resource page: What is open gaming? It covers digital and analog games, open game design, and gaming hardware. It's all there waiting for you to share it, remix it, and spread the word.
New games out for Linux
Shadowrun: Hong Kong releases
Shadowrun: Hong Kong, a turn-based RPG built on the Unity engine, making it cross-platform, has been released for all major platforms, including Linux and Steam.
Steam: Shadowrun: Hong Kong is the third standalone game in Harebrained Schemes' critically-acclaimed Shadowrun cRPG series. Experience the most impressive Shadowrun yet with an all new crew, expanded magic and cyberware, a revamped Matrix, an upgraded Shadowrun Editor, and much more!
Teeworlds, 2D battle game on Steam
Teeworlds isn't new, but it was recently launched on Steam. Direct downloads for Linux are also available.
Teeworlds is a free online multiplayer game, available for all major operating systems. Battle with up to 16 players in a variety of game modes, including Team Deathmatch and Capture The Flag. You can even design your own maps!

This work is licensed under a Creative Commons Attribution-Share Alike 4.0 International License.