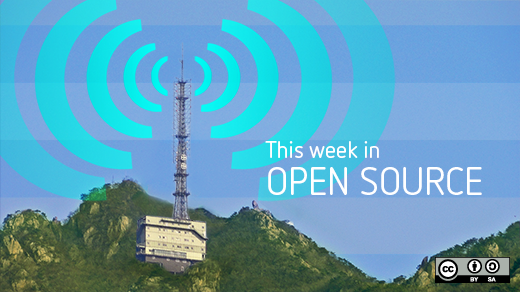 In this week's edition of our open source news roundup, we take a look at Linux coming to more cars, open source firmware on Linksys routers, the push for open access journals in Europe, and more.
Open source news for January 2 - 8, 2016
Open source is coming to a car near you
The Ford Motor Company is getting substantial backing from a rival automaker for its open source Smart Device Link (SDL) middleware framework. Toyota has jumped on the SDL bandwagon and will integrate support for SDL into its cars' infotainment system. SDL is "an open source smartphone app platform that works on both your in-dash infotainment screen as well as your phone." It's already standard in five million Ford vehicles, and Toyota's participation with see that number increase considerably.
If that wasn't enough, the Linux Foundation announced that Ford, Mazda, Mitsubishi, and Subaru are joining the Automotive Grade Linux project. One aim of the project, according to the Linux Foundation's Dan Cauchy, is "unifying the best open-source components into a single software stack" that every automaker can use. The participation of four of the world's largest automakers can't but help.
It won't be long before you see more open source in your vehicle.
Linux firmware comes to (some) Linksys routers
For the longest time, Linksys was known for supporting alternative firmware in it routers. That changed after Cisco bought the company in the early 2000s. When Belkin acquired Linksys a few years ago, it promised to support open source firmware in Linksys routers.
The company is following through on that promise. At this year's Consumer Electronics Show, it announced the the "WRT1900AC, WRT1200AC, and WRT1900ACS dual-band Gigabit Wi-Fi routers" now support the open source DD-WRT firmware. DD-WRT enables you to get more from your router, from "upping transmission power to running an OpenVPN server," according to ZDNet.
Dutch spearheading European push for open access journals
Academic publishing is in many ways the epitome of closed. Most scholarly research is behind a paywall, a wall that's very expensive to scale. The Dutch government is trying to change that. It's taken over the presidency of the European Union Council of Ministers and, according to Nature, "has declared furthering OA (open access) to be one of its top priorities."
According to Nature, "the European Commission is expected to launch an Open Science Policy Platform with a remit that includes investigating how subscription publishers can best transition to OA." Work in that direction has already begun. The Association of Universities in the Netherlands (VSNU) "negotiated several deals with major publishers over the past two years to make more Dutch papers open in subscription journals." The U.K. non-profit organization Jisc negotiated a deal in which granted open access to papers in 1,600 journals issued by publisher Springer.
Paul Ayris, who heads library services at University College London, "if other nations' organizations can make similar deals, publishers will be compelled to release more open papers." This will lead, Ayris suggests, to more journals becoming open access.
Using open source technology to track hunters in Brazil
How do you track the effects that hunters and the dogs they use have on the animals they stalk? By using open source technologies. That's what doctoral student Mark Abrahams is doing in Brazil's Amazon. Abrahams is using Mataki, a "lightweight, open-source tracking platform to monitor movements of wild animals via GPS". According to Abrahams, the system is durable and flexible, and being open source it's easy to customize.
Abrahams told Mongabay Wildtech that Mataki's "settings were flexible enough to be able to fine-tune the programming to optimise the data capture rate."
High schooler receives Linux Foundation scholarship
How would you reward a 15-year-old who not only studies Linux, but also contributes bug reports? How about with a Linux Foundation scholarship. That's what happened to teenager RJ Murdok, who was recently awarded a Teens-in-Training scholarship.
Murdok began using Linux in 2012 and has since contributed a number of bug reports, mainly around accessibility (Murdok is legally blind). Murdok plans to use the scholarship to take the Linux Foundation's Essentials of System Administration course. And in the future? He'd like to become a sys admin or even a kernel developer. He added that due "to the open-source nature of Linux, the options available are limitless."
In other news
A big thanks, as always, to the Opensource.com moderators and staff for their help this week.
I'm a long-time user of free/open source software, and write various things for both fun and profit. I don't take myself all that seriously and I do all of my own stunts.

This work is licensed under a Creative Commons Attribution-Share Alike 4.0 International License.