Creative Commons shares 2016 State of the Commons report, and here are a few highlights.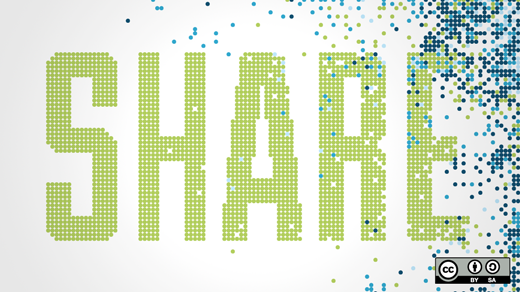 "The state of the commons is strong." The 2016 State of the Commons report, issued by Creative Commons this morning, does not begin with those words, but it could. The report shows an increase in adoption for the suite of licenses, but that is not the whole story. As Creative Commons CEO Ryan Merkley says in the report, "CC's new organizational strategy is focused on increasing the vibrancy and usability of the commons (not just its breadth and volume)." Creative Commons produces and maintains a suite of licenses focused on enabling people to share their knowledge and creative works, as well as developing a community around this idea.
Many of the projects involving the use of Creative Commons licenses have an educational focus.
Many of the projects involving the use of Creative Commons licenses have an educational focus. For example, the
South Asian Journal of Management
, a leading journal according to ScholarOne of Thomson Reuters, uses Creative Commons licenses.
PLOS ONE
, produced by the Public Library of Sciences, is the first multidisciplinary open access journal. Five percent PLOS ONE articles use the CC0 license—a universal dedication to the public domain. At the UCSF School of Medicine, Dr. Amin Azzam's medical students contribute to Wikipedia articles. Wikipedia itself is probably the best-known CC-licensed project in the world. Wikipedia's 42.5 million articles in 294 languages are entirely licensed under the Creative Commons Attribution-ShareAlike (CC BY-SA) license.
In addition to education, cultural and artistic works are highlighted in this year's report. The African Storybook initiative has a collection of thousands of picture books for children provided under an open access model. 264 back issues, spanning 1960-1990, of the Indonesian literary magazine Horison were digitized in cooperation with CC Indonesia. These issues are now being incorporated into school curricula. At the Metropolitan Museum of Art in New York, 375,000 digital works have been released into the public domain via CC0.
User-produced visual media is another strong part of the commons. YouTube has 30-million CC-licensed videos, and Vimeo adds another 5.8 million. Additionally, photo sharing site Flickr has 381,101,415 CC-licensed or public domain images, including 4.5-million public domain images added in the past year. When it comes to the written word, the popular Medium boasts 257,000 CC-licensed posts. (Also worth noting is that Opensource.com is also a participant here, with a default CC BY-SA license on articles.)
Both 3D printing and computer modeling have brought a whole new dimension to creative works.
Traditional media does not have an exclusive claim to membership in the commons. Both 3D printing and computer modeling have brought a whole new dimension to creative works. The British Museum released 128 models to the 3D online and VR sharing platform
Sketchfab
. This allows unprecedented access to the museum's collection. And if you'd like to have a candy dish shaped like a human skull, there's a
design
for that on Thingiverse. Five levels of community-remix produced this thing, one of 1.6-million CC-licensed objects on the popular 3D printing site.
All told, Creative Commons counts 1,204,935,089 CC-licensed works (up from 1.1 billion in 2015). Of those, nearly 93 million are in the public domain. Sixty-five percent of works use a "free culture" license (CC0, CC BY, CC BY-SA, and other public domain tools), which allow remix and commercial uses.
Thirty volunteers worked to translate the 2016 State of the Commons report into 12 languages for today's release. The report is available on the Creative Commons website. Discuss it in the comments below and on social media with the hashtag "#sotc".
Ben Cotton is a meteorologist by training, but weather makes a great hobby. Ben works as the Fedora Program Manager at Red Hat. He is the author of Program Management for Open Source Projects. Find him on Twitter (@FunnelFiasco) or at FunnelFiasco.com.

This work is licensed under a Creative Commons Attribution-Share Alike 4.0 International License.