Endless offers everything teachers and students need to take full advantage of their computers, even where internet access is poor.
I'm always on the lookout for open source software that works well in educational settings. Recently I decided to check out Endless OS, a lightweight, Linux-based operating system with a customized desktop environment forked from GNOME 3.
The operating system was developed by Endless Computer to power its inexpensive computers for developing countries where widespread internet availability isn't a given. In 2016, Endless made the OS available for anyone to use, rather than only on its hardware.
Endless OS uses a read-only root file system managed by OSTree and Flatpak. Many of its applications are available offline, so Endless has everything you need to take full advantage of your computer.
Installing Endless OS
The full install of Endless OS is 16GB, but I opted for the minimal 2.26GB download. I used Etcher to create a bootable USB drive with the ISO, then I booted from USB using a spare laptop.
The install was very easy and straightforward. Endless easily found my Intel wireless card along with the other hardware on my three-year-old laptop. In no time, I was prompted to reboot and given the option of connecting my Google, Facebook, Microsoft, or ownCloud accounts, as well as choosing whether to use password protection for my account.
Applications
The default desktop includes links to Google Chrome, LibreOffice applications, VLC, Facebook, WhatsApp, YouTube, and other popular applications.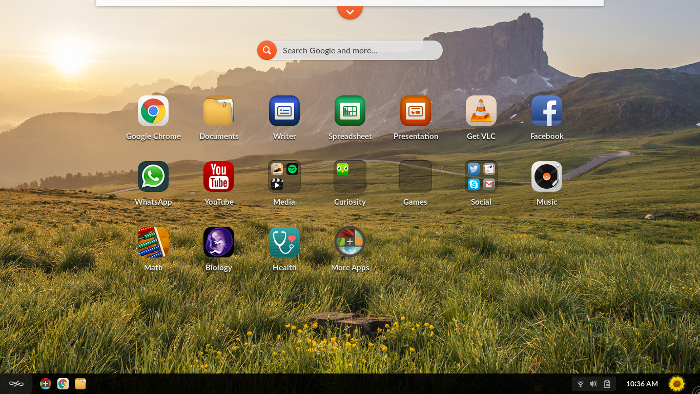 Clicking the More Apps link displays an app store with several hundred other applications, broken out by category, that you can install.
I discovered some old favorites among the 35 educational applications in the Learning category, including GIMP, Audacity, Firefox, and Stellarium. There is Encyclopedia, an offline version of Wikipedia, and I chose to install an app called Math, which has subtopics of Differential Equations, Geometry, Arithmetic, Statistics, and Calculus. I looked at the Statistics subtopic, which contains information about statistical inference and Bayesian inference. I also installed the Biology app and read an article about cholesterol in the Human Biology subtopic. The content, complete with pictures and text, came from Wikipedia.
Next, I explored Reference and News, which contained 25 applications. I looked at the Nutrition guide within the Health category; all the health content comes from Hesperian.
The Games category offers almost 80 options, and the Multimedia section contains 51 applications, including Darktable, Blender, Brasero, and 3D CAD. There are 25 applications in the Work section, including GnuCash and Evince; 69 applications in the Utility section; and 21 Development tools, including Android Studio, Arduino IDE, Scratch, PyCharm, and GitG.
Endless OS also includes a web wrapper to Duolingo, where you can learn Spanish, French, Portuguese, Italian, and other languages. Since it is a web application, it is not available in Endless' offline mode.
Settings
Clicking the sunflower in the lower-right corner of the desktop brings up a menu with settings, accounts, help, and more.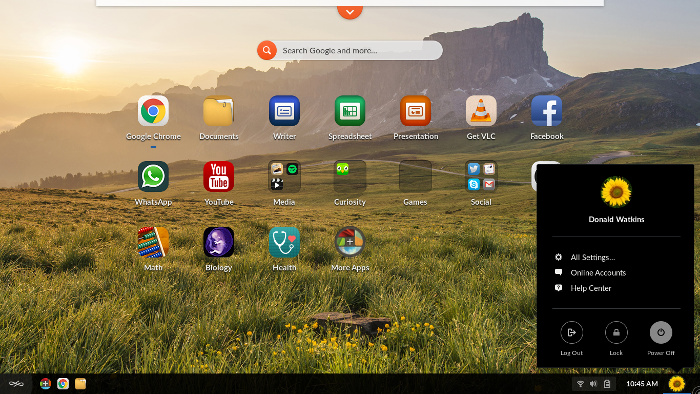 The settings are very straightforward, and it's easy to connect to other services or make changes to accommodate each user's preferences.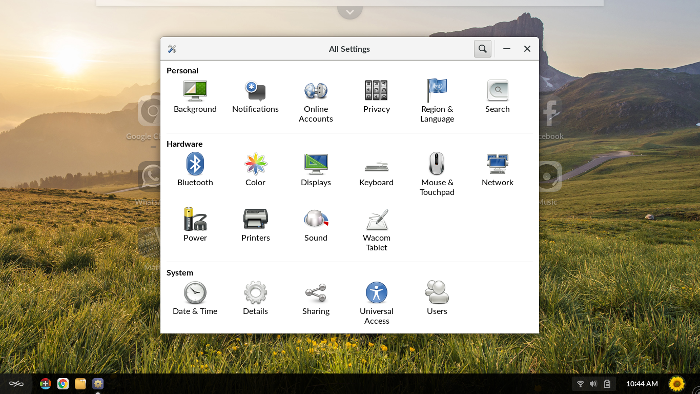 The Help Center, accessible through the sunflower menu, is very thorough.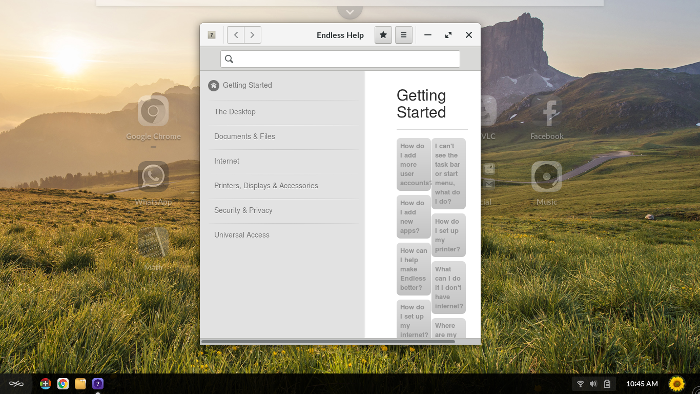 Getting involved
I found Endless easy to use. I think it is a great choice for educational settings, especially those where users are unfamiliar with the wide range of open source software available.
According to Michael Hall, community manager of Endless OS, the operating system "is comprised of many pieces that use different licenses. The majority of them come from Debian and therefore comply with the DFSG. We do include some proprietary hardware drivers and also offer patent-encumbered codecs for purchase (these are prepaid when installed on OEM hardware). The apps and libraries we build specifically for Endless OS are usually GPL or LGPL licensed."
He also said that the project welcomes developers who would like to get involved. "A lot of the work that we need is done in collaboration with upstream GNOME, so anybody who contributes there is also directly helping us. We also want to encourage application developers to target Endless OS specifically, or Flatpak & Flathub more generically."
If you'd like to learn more or contribute, you can access the code for Endless on GitHub.
Educator, entrepreneur, open source advocate, life long learner, Python teacher. M.A. in Educational Psychology, MSED in Educational Leadership, Linux system administrator, Follow me at @Don_Watkins . Mastodon ID

This work is licensed under a Creative Commons Attribution-Share Alike 4.0 International License.