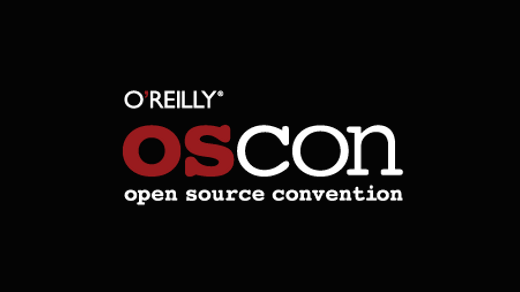 Reading some stories recently, it would be easy to conclude that there was some sort of a decline in open source. I'll not pretend to have new and objective data on the subject, but having just returned from OSCON in the USA I have to say rumours of the death of open source are premature.
About OSCON
OSCON (the O'Reilly Open Source Convention) is not the largest software freedom conference in the world (that's probably FOSDEM, held annually in Brussels, or FISL, held annually in Brazil). But it's an important annual event that draws many of the most influential figures from across the free and open source software spectrum. Just as the term "open source" represents a pragmatic convergence point of software freedom with the dynamics of business, so OSCON serves the centre ground of open source, a meeting point for entrepreneurs and programmers with a vision for business yet a passion for software freedom.
Growing out of the Perl conference that preceded it and which remains embedded in OSCON, it has been the venue for crucial developments including the launch of the Open Source Initiative, the open source liberation of OpenOffice.org by Sun in 2000 and many others including the launch of OpenStack last year and the Open Cloud Initiative this year (which I wrote about at the time). It has been through a variety of venues but is today mainly associated with Portland in Oregon, USA. I've been attending it annually since the OpenOffice.org launch in 2000. This year the event was co-located with two new events, OSCON Data and OSCON Java, and by all accounts was the largest OSCON ever with nearly 3,500 attendees.
As well as O'Reilly's market testing, OSCON has become a magnet for other events too. The preceding weekend saw the third Community Leadership Summit, attended by community managers from both open communities and corporate-controlled - sorry, -sponsored communities. A wide range of topics were covered, including how to handle disruptive members, how to raise funds, how to engage in mentoring and the session I facilitated - "The Death Star User Group" - for corporate community managers wondering how to cope with the community perception their employers are evil. OSCON also attracted a number of other meetups by various groups, with the result that there was a mini-conference or un-conference on my calendar every day.
Corporate Evolution
It has also been the nexus for the evolution of open source policy and wisdom by a number of large corporations. Sun used OSCON as a venue to work out how to open both Solaris and Java, for example. This year, Microsoft continued its slow and faltering maturation towards being a responsible and trustworthy member of the open source community, sponsoring the conference and attempting moves it hoped would show good faith.
The result was a keynote speech by a non-executive representative that tried to redefine open source in a way that fit their existing policy. It was a familiar waymark on the journey that I and others who have walked that path before recognised. It showed they have a way to go yet and have still not faced the crucial realisation that true open source communities cannot be controlled. But it's a well-trodden path that others have cleared before them and maybe eventually, when their executives buy in to the vision of software freedom, we'll see them complete the journey.
Cloud computing was a constant theme this year, with many people grappling with the question of how to express the principles behind software freedom in the new world of cloud computing. While folk at the BSD-ish end of the software freedom spectrum don't see cloud computing as a special case, the lack of a mechanism to compel publication of the full source code corresponding to a cloud software offering presents folk at the GPL-ish end of the spectrum with a dilemma.
Various solutions are in play. Some denounce the whole concept of cloud computing; others propose use of the GNU AGPL. One new and creative approach at OSCON this year was the announcement of an Open Cloud Initiative. Just as OSI took the principles of software freedom and mapped them into a form that allowed otherwise amoral corporations to be steered into supporting software freedom under the label "open source", so OCI hopes to map software freedom principles into guidance for cloud computing. It's a tough job, and I wish them well.
Cloud Front
Following up from last year's announcement of the OpenStack project to create a fully open cloud computing software system usable by anyone, OSCON this year saw the launch of Nebula. The glitzy launch was rather over-the-top for the dress-down pragmatism of OSCON, but the concept - a hardware controller for huge racks of bare-bones processor boards allowing any company to have their own Google-style data centre - is clearly compelling given the huge funding they have evidently garnered from venture capitalists and the stellar line up for their launch video (which included Bill Joy and Al Gore waxing lyrical).
Most notable for me was the promise to keep the entire system - including the hardware - open source so anyone can implement and hack it. That promise was not anchored on any tangible guarantee, such as a non-profit foundation owning the design copyrights and patents, so I remain sceptical in my hope. After all, OpenStack has boiled down into a RackSpace-run technology project following their refusal to anchor their governance on anything independently open. Subsequently they seem to have lost all the staff there who I knew to be committed to open community and software freedom. We really need the Open Cloud Initiative to work.
Nebula is run by former NASA CTO Chris Kemp - the same one who gave OpenStack NASA's blessing - and is definitely an initiative to watch; I hope they make their openness promise concrete, though. Nebula also had the mother of all launch parties that stood out in a week of so many evening events that I felt I was back in the 90s bubble. The Nebula party included geek art (read: big flames and stuff) provided by friends of the organiser from Burning Man at modest cost, so it was able to go way, way OTT without breaking the (presumably ample) budget.
Every other night also had multiple options for both public socialising (such as the ForgeRock party I organised) and private debt-settling and creation. The result was a completely exhausting week with no recovery time built in. No sign of the death of open source there either, except perhaps through exhaustion or alcohol poisoning.
Post-Bubble
O'Reilly's advance publicity spoke of open source as having moved "From Disruption to Default":
Once considered a radical upstart, open source has moved from disruption to default. The language of open is spoken in increasingly larger spheres, and OSCON's program encompasses 20 tracks to explore all things open source.
The OSCON I saw this year was a strong, maturing community at a diverse conference where the issues have risen far above acceptance. The changes in use of the term "open source" which others have described recently are a reflection of that maturity rather than of decline. Today there are more companies than ever relying on collaboratively developed software for their success.
The "bubble" of new companies starting and gaining funding based on business models that subvert open source by "dual licensing" and "open core" are effectively over. The branding of hot startups can no longer rely on smoke-and-mirrors tricks of terminology because too many people are familiar with the every-day reality of software freedom.
Today's snake-oil salesmen are gaining and spending their VC funding using different terminology. Open source is now the default assumption for the people building tomorrow. If you're not leveraging and protecting software freedom, you'd better have a really good explanation why not. Especially at OSCON.
Computer industry and open source veteran Simon Phipps started Public Software, a European host for open source projects, and volunteers as President at OSI and a director at The Document Foundation. His posts are sponsored by Patreon patrons - become one if you'd like to see more!

This work is licensed under a Creative Commons Attribution-Share Alike 3.0 Unported License.