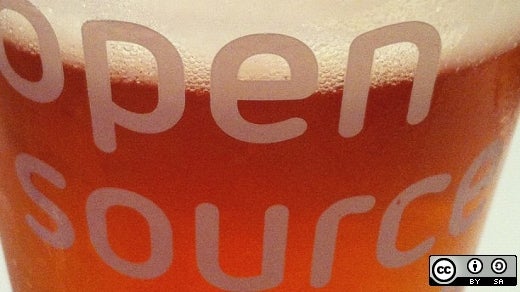 If there's one business that values secrecy it's brewing beer. Most breweries hold their cards very close to their chests. They keep their recipes and techniques away from the prying eyes of competitors to retain a competitive advantage.
One outfit trying to buck that trend is the Tin Whiskers Brewing Company. Based in Saint Paul, Minnesota, Tin Whiskers is a...
...local open source craft brewery on a mission to make technically excellent beer. Tin Whiskers is opening the book on everything we do. Our goal is to engage and give back to the community by sharing an inside look at opening and operating a craft brewery.
The company was founded in 2011 by a trio of electrical engineers—Jake Johnson, Jeff Moriarty, and George Kellerman—who are also craft beer drinkers, homebrewers, and people afflicted with the entrepreneurial spirit. I recently talked to George Kellerman, and he shared some insights into the founding of Tin Whiskers and of the open source approach he and his partners have adopted.
Genesis of an idea
A few years ago, Kellerman, Johnson, and Moriarty were working at the same company. "Between frequent happy hours and a few brewery tours we convinced ourselves opening a brewery might be a great idea," Kellerman told me, "so we just sort of decided to tackle it head on."
The trio did extensive market research and a lot of networking, all of which culminated in a 100+ page business plan. Eventually, Kellerman said, "we had a full plan and the investment to launch a brewery."
A techie take on brewing
A bit of techiness informed the creation of Tin Whiskers Brewing Company. The company's name comes from an engineering term describing a failed solder that causes a short circuit on a circuit board. Even the way they come up with recipes reflects their technical background. "We love to take advantage of our pilot system," Kellerman said. "For most beers, we will iterate it a number of times, tweaking and re-tweaking until we get the right balance and flavor." Sounds a lot like developing software, doesn't it?
Going open source
The decision to take the brewery the open source way was based on a number of factors. The first, Kellerman told me, "as engineers we're highly influenced by the software open source movement."
When the trio were hobbyists walking the path to becoming professional brewers, "the brewery community was extremely helpful and open, so being open ourselves seemed like a great way to honor that," Kellerman said.
Finally, Kellerman pointed out that "it's a great policy to be able to share and collaborate with our customers and supporters."
Brewing beer is easy…
But going open source is tough. Kellerman told me that Tin Whiskers is "still in the process of navigating what it means to be an open source brewery." Still, he and his partners are making a strong effort to achieve that goal.
Tin Whiskers posts its recipes on the brewery website, along with brewing information. There's also placeholder on the company's website for a wiki. The content of that wiki is still to be determined, but Kellerman and his partners are open to suggestions.
The brewery accepts feedback from customers and other beer enthusiasts because, as Kellerman told me, "feedback is central to making our beer better."
Tin Whiskers also has a Community Sourced Recipe program. "We are giving free beer away, and a chance to co-develop a beer with us for any homebrewer that brings in their own unique creation to the taproom," Kellerman said. "We want to get inspired by our community and leverage the power of all the experimentation that homebrewers can do, and hopefully give something back to them that makes it worth their while to share with us."
As with any open source project, the key is building a community around it. And, as with any open source project, that's the challenge. When it comes to community, Kellerman thinks "we will just end up trying out all kinds of ideas and see what sticks.
"As long as we listen, the community that forms will let us know what they like and don't like and the best we can do is keep them happy and excited. It's also likely to be very diverse. Some will be crazy interested in one-off big beers that we do, some will want to know the second our seasonal come around, and some will want to keep close tabs on what we are doing to move the whole industry forward."
Looking to the future, Kellerman noted that "right now we are focused on making sure new and interesting brews are constantly coming down the pipeline, while working on some really big ideas in our spare time."
I'm a long-time user of free/open source software, and write various things for both fun and profit. I don't take myself all that seriously and I do all of my own stunts.

This work is licensed under a Creative Commons Attribution-Share Alike 4.0 International License.