The SparkFun Inventor's Kit for Photon will have you building cool projects in no time.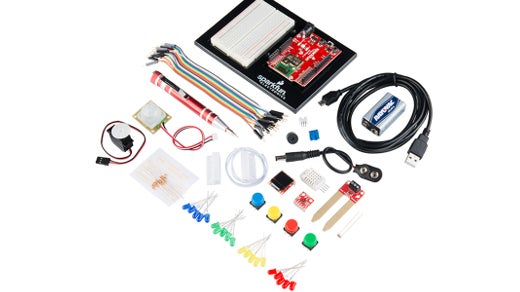 Congratulations to our winner, Ross Lambersky! Sign up for our email newsletter to find out about future giveaways.
Looking for a fun summer project? We've got you covered. We're giving away a SparkFun Inventor's Kit for Photon, an electronics kit that's perfect for anyone looking to learn about the Internet of Things firsthand.
This $114.95 kit comes with everything you need to start making cool stuff, including:
Humidity, temperature, motion, and light sensors
Magnetic door switch
Small servo
Speaker
Solderless breadboard, resistors, LEDs, and buttons
And more!
So, what are you waiting for? Enter by Sunday, July 1 at 11:59 p.m. Eastern Time for your chance to win.
Want more great electronics from SparkFun? Every weekday in June, SparkFun will have a flash sale for a different one of its products. Visit the SparkFun homepage to see today's pick.
Outside the office, you'll find me running, trying out new recipes, dominating in Sid Meier's Civilization, or catching up on my favorite movies, TV shows, and podcasts.

This work is licensed under a Creative Commons Attribution-Share Alike 4.0 International License.