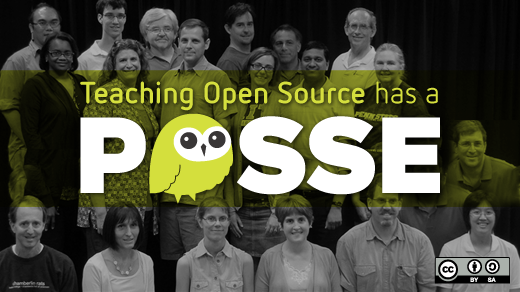 (This post is the second in the "Voices of POSSE" series, a collection of interviews conducted at this year's Professors' Open Source Summer Experience, held in Raleigh, NC, July 23-24.)
In a conference room bubbling with excited conversations between professors of computer science, software development, and information systems, Dr. Andrea Hickerson glimpsed journalism's future—one in which reporters will be more important than they've ever been.
Navigating this new frontier will require gathering, synthesizing, weighing, and reporting information in new ways and with new tools, said Hickerson, who'll teach newswriting this fall at Rochester Institute of Technology in Rochester, MA. But, she said, tomorrow's journalists will embrace a core set of values that has persisted for generations—one that resonates sharply with open source communities.
"The values that underlie open source, like transparency and open communication, are the same values that underlie journalism and democracy," Hickerson said. "It seems like a natural marriage to me."
At this year's Professors' Open Source Summer Experience in Raleigh, NC, Hickerson met 15 other professors just as passionate about cultivating these principles in the classroom. POSSE is a two-day conference designed to help professors discover ways in which open tools—and open values—impact not only their respective fields, but also their pedagogy.
That impact is already apparent in journalism, Hickerson said.
"Journalism is really struggling with opening up to many people," she said, "but that's going to happen. Tools are becoming available to many more people."
Hickerson said newswriting students must begin practicing what she calls "data storytelling," or the art of constructing narratives from increasingly dense (and increasingly open) data sets. Instead of reporting news in a traditional prose style, journalists must begin representing information in other ways—through tag clouds, for instance.
But these new tools aren't just imposing new challenges for journalists; their distributed nature alters the very act of news gathering itself.
"What if you had 100 people reporting on the same story?" Hickerson said.
Widespread availability of open tools and platforms may be challenging the image of the lone journalist. But these tools are altering students' impressions of research in other areas, too.
The value of sharing
By introducing open technologies to his undergraduate research group in speech, Dr. Michael Jonas of the University of New Hampshire in Manchester, NH, said he is able to dispell the myth that laboratory research is the province of isolated individuals toiling on solitary pursuits. Jonas designed his capstone seminar to mirror the kind of collaborative environments students are likely to encounter as professional researchers.
The class will conduct research using Sphinx, an open source speech recognizer with an active developer community. Unlike other speech recognition software packages, Jonas said, every part of Sphinx has been open sourced—meaning students can not only use the software but also make modifications to it as they imagine potential experiements for which the software may not have been initially designed.
"It lets anyone do speech research. Without it, I wouldn't even be able to do this," Jonas said. "If it weren't for Sphinx, you'd have to spend a lot of money buying software, and you wouldn't even get the most important parts."
Jonas' students bring a critical eye to the Spinx project. As novices, they encounter difficulties with implementing and utilizing the software that more experienced users might not perceive. So they're chronicling their struggles with Sphinx in order to improve its documentation.
"We can contribute an experienced description of using the system by novices," Jonas said. "Perhaps they can improve documentation mechanisms from the perspective of students who aren't computer scientists."
Students of Dr. Kristina Striegnitz, who teaches courses in natural language processing at Union College in Schenectady, NY, are also discovering the benefits of using open tools to study speech. Striegnitz relies on the open source Natural Lanugage Toolkit to ensure that her students are using the most powerful software for translating non-linguistic information into texts.
"There really isn't anything comparable," Striegnitz said.
Because current students work with and contribute to this open source project, they can share their work with future classes, meaning the value of their coursework extends beyond the artificial boundaries of the semester calendar.
"And I think that's really motivating for students," Striegnitz said.
The value of transparency
Among most college students, motivation is in no short supply—and open source projects help channel an enthusiasm for humanitarian causes, said Dr. Gregory Hislop of Drexel Univeristy in Philadelphia, PA.
Students in Hislop's courses benefit from participating in various HFOSS projects, open source initiatives with an overtly humanitarian purpose. Such projects might include Sahana, which aims to improve disaster response in communities struck by tragedies, or similar initiatives to improve information management in microfinance and at local food pantries.
"Open source offers the opportunity to observe and meaningfully participate in a real project with scale, complexity, with history, with future, with all the moving parts," Hislop said. "There's no other way you have continuous, large-scale access to stuff like that."
Because open source communities embrance transparency, Hislop said, they make available to students materials associated with each and every aspect of their projects, so students can view design documents, code bases, build databases, roadmap documents—everything typically kept closely guarded in closed-source projects.
"With open source, this whole universe opens," he said. "From an educator's perspective, that's a big deal."
His students might be learning everything there is to know about software development, but by working on humanitarian open source projects, they're learning a much more valuable lesson, Hislop said: "If you have computing knowledge, you can do good things."
Bryan formerly managed the Open Organization section of Opensource.com, which features stories about the ways open values and principles are changing how we think about organizational culture and design. He's worked on Opensource.com since 2011. Find him online as semioticrobotic.

This work is licensed under a Creative Commons Attribution-Share Alike 3.0 Unported License.