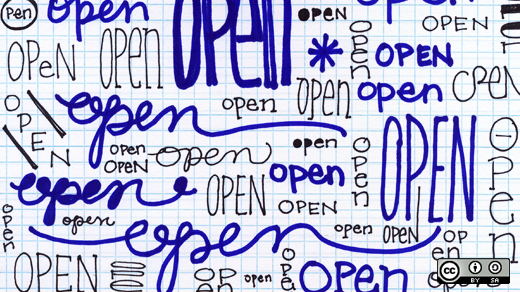 I am a community moderator for opensource.com as well as a mother, a librarian, and a former public school teacher. When I began writing for this site over two years ago, it was due to my son's education and how both private and public schools were largely neglecting digital technology, global citizenship, and digital literacy.
What I have discovered since exploring open source materials for children and teens is astonishing. The amount of open source materials is simply breathtaking. Every day more and more open source materials become available and accessible to all. 
Open source materials: where?
A. The first step is to explore open source materials for children and teens. How many resources are there? And where are these resources located and how to retrieve them?
Use the key search terms: teacher AND free AND resources
1. For-profit companies from Intel to Scholastic have created free teacher resources, lesson plans, and tools. Companies, such as Raytheon and Verizon, have created foundations and/or partnered with educational organizations to provide free materials.
2. Non-profit organizations from the television Discovery channel to Annenberg's Explore and Nobel Prize have free resources. Some, such as PBS, even have dedicated specialized free educational resources for STEM or certain subjects.
3. Libraries, archives, museums, and cultural institutions have created free educational materials too. Project Gutenberg and the British Museum are just two examples.
4. Governmental agencies, states, teaching organizations, and professional associations have also created free educational materials. There are national councils and standards for every subject and field in education. English, math, social studies, science, and so on have their own dedicated sites today.
5. Numerous universities and colleges have created open source materials for children and teens as well. MIT's Scratch and Radix Endeavor are two better known examples, but there are many others.
Expand your search outside your local area, state, province, or country and the amount of free and open educational materials only increases.
Note the line between what is considered open source and what is not is often gray for non open source purists.
B. Next, try playing around with key search terms: open source AND children or free AND resources. Most likely, you will retrieve many more educational resources or lists of them. Here are some examples (i.e. this is hardly an exhaustive list!):
http://oedb.org/ilibrarian/80-oer-tools/
 http://www.openculture.com/free_k-12_educational_resources
http://www.datamation.com/open-source/65-open-source-apps-that-replace-popular-education-software-1.html
http://www.educationoasis.com/resources/sitesforteachers.htm
For more open education resources, read my Guide to free and open education.
Open source materials: Now what?
C. If you take a brief glance, you will notice that there are numerous open educational materials for children from preschoolers through to high school and beyond. And numerous places where these free or open educational materials can be found. Books, videos, films, games, lesson plans, entire libraries or collections are online today. Many freely available and accessible 24/7. At this point, your head might explode with the amount of limitedless options and possibilities. It can be a little overwhelming, but here are some points to remember:
1. Every child is unique. Every child has their own interests, learning styles, attention spans, growth and developmental rates, and preferences. Digital technology presents a wealth of possibilities and options that are not otherwise possible in print or type. What works for one child, may not work for another. A child who learns best visually might have an easier time grasping concepts if the material is presented in video format.
2. Likewise, a reluctant reader may have an easier time with Professor Garfield and/or Blender than with a more traditional English assignment. A math phobe, by comparison, may find something on Good Sites for Kids or from the National Library of Virtual Manipulatives that makes learning math less daunting for them and enjoyable too.
3. Gifted, twice exceptional (gifted with special needs) and particular special needs often have sites dedicated to them. A diagnosis or symptoms can be helpful to give you some guidance and/or direction with your search. Hoagies' Gifted Education Page, for instance, is aimed at gifted and twice exceptional students and does have some open educational resources listed. 
D. Another way approach to open source is to use a creative model or a project-based learning approach. Find open source tools like Matterhorn or from a site like Web 2.0 Guru or Edjudo that would allow a child to demonstrate what they learn and let them engage more with a subject or topic. Project-based learning lets a child engage in a way emotionally and socially that is not possible with print or type. It can be an empowering way to learn.
E. Evaluate the chaff from the wheat. Use your research and basic library skills digitally. Some sites may be more appropriate than others. Some sites may be more educational or rigorous than others. Assess your needs and go from there. And don't forget to have fun learning too!
Carolyn Fox is an educator, librarian, historian, and an un/homeschooling mother. She lives in Massachusetts with her UK husband and son.

This work is licensed under a Creative Commons Attribution-Share Alike 3.0 Unported License.