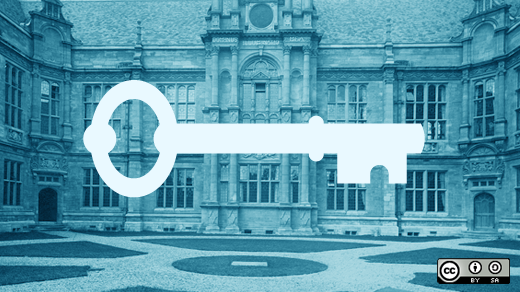 This year Arianna Huffington delivered the commencement address at Smith College and dared the female graduates (it's still a female college) to change how society has been defining success for women from money and power to wonder, wisdom, giving back, and community. 
She didn't specifically mention open source or the power of lifelong learning, but she might well have done. Huffington encouraged the female graduates to lead a third women's revolution. She cautioned how America's workplace culture is practically fueled by stress, sleep-deprivation, and burnout and how the female graduates needed to dig deep for another metric to fulfill and sustain their lives.
While Huffington referred to women's rights leaders such as Susan B. Anthony and Elizabeth Cady Stanton as well as Smith alumnae, Betty Friedan, and Gloria  Steinem, she did not mention Elizabeth Palmer Peabody (1804-1894) or her ideas about women and children, an open education, or lifelong learning, though Smith College holds some of Peabody's papers.
Elizabeth Palmer Peabody was a trailblazer. She played a large role in the Transcendentalist Movement. She studied Greek with Ralph Waldo Emerson. She was friends with the Alcott family and taught with Bronson Alcott. She was sister-in-law to both the author Nathaniel Hawthorne and education reformist Horace Mann. Too often, her contributions to the women's movement and education, or an open education, are often slighted or ignored in the face of Horace Mann's.      
While Horace Mann argued that universal public education was the best method to turn the nation's children into disciplined, orderly republican citizens, Elizabeth Peabody believed that the premise of children's play had intrinsic merit and educational value. She helped to establish the kindergarten system in the US based on German educator Friedrich Froebel's original ideas and principles. Froebel had rejected fear-based discipline in favor of fostering a child's curiosity and senses, which Peabody supported.  
Peabody believed that each child should receive an education appropriate to their innate capabilities. She believed in the intuitive nature of knowledge and that such knowledge had to be drawn out rather than imposed in children. These were radical ideas in the 19th century and some would continue to find them as radical ideas today.
For Peabody, education was not an accumulation of facts but rather a life-long discovery process, which she embodied. She was a gifted linguist, a prolific writer in education, reform, language, history and art. She opened a bookstore in 1839 and a circulating library in Boston when it  was socially unacceptable for women to do so and when she received meager compensation for doing so. She became the first female publisher in Boston. In 1855, she got involved with women's suffrage and women's rights and occasionally lectured on them. In 1867 and 1868 she traveled to Europe to study and better understand Froebel's kindergarten ideas and practices. In 1870 she created the first free English-speaking public kindergarten in the US. In 1880 she became involved with world peace and Native American rights. She even raised money for Princess Sarah Winnemucca, a Native American Paiute woman, to build schools for her people.
Her accomplishments would be breathtaking today, never mind in the 19th century; yet Peabody herself was not motivated to succeed or ambitious based on money or power.
As a prominent transcendentalist, Peabody saw and recognized the inherent goodness of both man and nature. To her, the environment played a large role in corrupting the purity of the individual and she sought to rectify those corrupting environments. She prided herself in being self-reliant and independent and expected those same qualities in others. For Peabody, she viewed kindergarten as a means of helping humanity and her faith in it was "so deep and so abiding that she was ready to go anywhere to speak on this theme."
Peabody helped to start the process of moving women out of their narrowly defined role whether she was aware of it during her lifetime or not. As a young female, Peabody had attended lectures at Harvard, but as a woman she could not formally enroll there. This fact, however, never deterred her from learning. She often taught with her sister, Mary, and they collaborated on many publications. She wrote and talked to people in positions of power, including members of Congress. She created an early form of lifelong learning or continuing education both with her missionary zeal and lifelong passion towards promoting free public kindergarten throughout the country. Even earlier in her life, though, she had created an early form of lifelong learning or continuing education with her bookstore, which she had used as a meeting place for intellects, authors, and readers to circulate ideas.
Arianna Huffington may have not been familiar with Elizabeth Peabody's life or story but it should cause educators and open source advocates to take heed. Unlike her two sisters, Elizabeth Peabody never married. She never had money either; many times she was forced to live with family due to financial constraints. As for any "power," it's debatable what power she actually possessed living in the the 19th century under her circumstances. She had, however, wisdom and an ability to wonder and an unshakable instinct to always give back.
Peabody remained almost childlike or naïvely altruistic in life. Throughout her life, she was filled with ideas and had unflagging enthusiasm for her various projects.
Huffington may declare that success is no longer defined or sustainable by money or power, but some like Elizabeth Peabody had already accepted that metric and had redefined what success meant for themselves many years ago. But here, Huffington might pause and see her own mother's life and resemblance in Elizabeth Peabody. Both Huffington's mother and Elizabeth Peabody remained in a state of wonder and cut through hierarchies while delighting in the mysteries of the universe and everyday life. Both embraced wisdom, real connections, and a sense of community.
What's remarkable is how much Elizabeth Peabody's life and Huffington's speech touch upon the cornerstones of open education and the open source way and how much we can learn from them.
Carolyn Fox is an educator, librarian, historian, and an un/homeschooling mother. She lives in Massachusetts with her UK husband and son.

This work is licensed under a Creative Commons Attribution-Share Alike 3.0 Unported License.