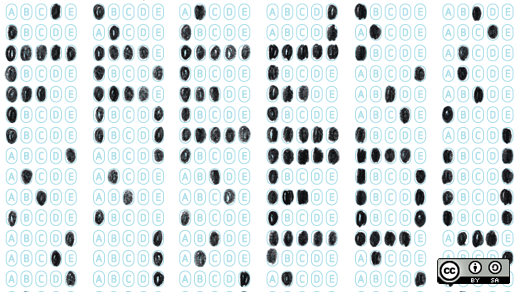 Shai Reshef dreams of making quality education affordable and accessible to everyone, and he sees the Internet as the road to get there. Reshef is the founder of University of the People (UoPeople), which bills itself as the world's first tuition-free, degree-granting, non-profit online university.

Reshef spent more than 20 years in for-profit education, but he explains in his TEDx talk that he felt uncomfortable with the idea that many people couldn't afford a high-quality education. So he set out to build a tuition-free online school that provids quality classes to anyone in the world who has an Internet connection, even a rudimentary one.

The result is University of the People, which offers degrees in computer science and business administration. And while the school is not yet accredited, Reshef says the school is working on it. In the meantime, the school is providing educational opportunities to students who may not otherwise have access to these types of courses.




Reshef talks with us about what the school is setting out to achieve and how UoPeople is using open education to meet the  growing demand for higher education.

How does UoPeople use sharing and collaboration and/or open source technology in its learning model?
UoPeople uses collaborative peer-to-peer learning with the guidance of instructors. We believe this model provides a more enhanced and empowering experience—creating a truly global classroom where students from around the world can discuss not only course materials but also learn about different cultures.
Open Educational Resources (OER) as well as the open source technology Moodle are adapted by our volunteer course developers and redesigned to fit into the curriculum for our four degree options (B.S. and A.S. in Computer Science and Business Administration). UoPeople tries to make sure that a student with any Internet connection, even the most rudimentary one, is able to access our courses and study at our university. For this reason, we do not use video or audio in our assigned coursework; these items require a broadband connection. Additionally, in our effort to provide access to higher education for all students worldwide, we have kept our course material asynchronous to accommodate students from various time zones.
We have seen that our model is successful and meets the needs of our students. Over 95% of UoPeople students recommend our program to their peers and cite UoPeople as a great place to study.
UoPeople only offers Associates and Bachelors degree programs in Business Administration and Computer Science. Why is the University focused on these two fields?
These two fields are the degrees which are most in demand around the world. Our students come to us in order to get an education and have a chance at a better future. Thus, we have chosen to focus our efforts and offer academic degrees that are most likely to help our graduates find good jobs and be better able to support themselves and their families. Additionally, having many educated graduates in these fields will improve the economic situation of the students' home countries. 
What are the classes like? How are they run?
Each course is nine weeks long, with a final exam in the ninth week. Classes consist of 20-30 students, from 20-30 different countries. UoPeople has adapted the Moodle online learning management system and runs its courses through this platform. The class structure is highly interactive—each week is guided by a discussion question posted by the instructor. Students are required to provide at least one original answer to the discussion question and comment on a peer's answer at least three times. 
All learning is asynchronous to accommodate students in different time zones around the world. As the week develops, the discussion forum develops as well with students from different countries interacting with one another, under the guidance of the instructor. Students have a weekly reading and homework assignment. Many of the courses include some sort of mid-course quiz, and all have a final exam. All mandatory course material is text based with no audio or video, so students without broadband internet will be able to access the course. 
Integral to the UoPeople model is the idea that our courses go beyond the class curriculum and actively help to foster relationships between students from diverse backgrounds. Our students interact with peers from 20-30 different countries, each course. Often, students are with individuals from other countries, sometimes even from countries which are considered enemies. Often these students are interacting with individuals from other countries who they may otherwise have never met. 
What are some of the schools and businesses you've partnered with? How have these partnerships helped UoPeople students and the program itself?
UoPeople has partnered with Yale Law School ISP for research, New York University to accept students, and Hewlett-Packard, as part of their Catalyst Initiative, for internships.
We are supported by The Gates Foundation, Carnegie Corporation, Hewlett Foundation, and companies such as HP, Google, Western Union, Estee Lauder, and many more.
What does the future look like for UoPeople?
UoPeople will continue to grow and serve as many students as needed who are denied access to higher education due to financial, social, or geographic constraints; until the point where there will no longer be a need for us.
University of the People was created to open the gates of higher education for all individuals, worldwide. We believe that education is a right for all, and not a privilege for a few. Tuition costs worldwide are skyrocketing, and many potential students cannot afford an education. Even for those who can still afford to go to university, there may soon not be room.
UNESCO estimates that by 2025 there will be 100 million students who simply do not have a seat in the existing universities. Reducing tuition costs and utilizing the Internet is a way to open the gates of higher education and provide access to universities for students all over the world. Online learning is an excellent way to reach this incredible and growing demand for higher education—not just on an individual level, but to also make the world a better, more educated setting for all.
D
o you need more volunteer instructors or course developers? If so, how can people get involved?
University of the People is committed to our mission to democratize education and ensures that no qualified individual is denied access to higher education. As such, we rely on a vast global network of volunteers for a variety of university functions, including the development and delivery of our courses.
Our volunteer instructors and course developers possess at least a Master's degree in their respective fields and have previous experience with course developing, instructing, or academic advising. University of the People has a continual need for additional volunteer instructor and course developers. Individuals interested in helping to make the dream of attainable academic education anywhere come true are invited to view the volunteer section of our website.
Ginny Hamilton was a community manager for EnterprisersProject.com, an online publication and community focused on how CIOs and IT leaders create business value through information technology. A former journalist, Ginny is passionate about local politics, journalism, technology, and social media.

This work is licensed under a Creative Commons Attribution-Share Alike 3.0 Unported License.