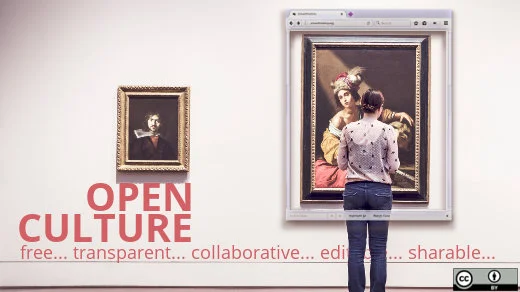 For many, open initiatives within higher education may have begun when The New York Times declared 2012 as "The Year of the MOOC." According to the article, "Traditional online courses charge tuition, carry credit and limit enrollment to a few dozen to ensure interaction with instructors. The MOOC, on the other hand, is usually free, credit-less and, well, massive." Today MOOCs may not be living up to the hopes (or hype) of many of their original proponents, but the concept of developing and delivering educational content online is now certainly common practice.
Perhaps your history with open educational resources is a bit longer? Before MOOCs, increasing awareness of the costs associated with college texts spawned the open textbook movement. Founded in 1999 at Rice University, OpenStax (then Connexions) began its mission to create open textbooks as freely available educational resources with nonrestrictive licenses, where faculty, researchers, and even students could share and freely adapt educational materials such as courses, books, and reports. While the open textbook movement never really enjoyed the flare of popularity of MOOCs, they too have found advocates and an audience within higher education.
Realizing both the value of openly licensed textbooks—not just cost-savings to students, but also content collaboration—and the reach of MOOCs, is Smarthistory, a leading resource for the study of art and cultural heritage. Without a historical perspective, one might assume Smarthistory is simply an extension of the open textbook movement, or perhaps a reaction to the trendy MOOC mayhem.
Yet, several years before the enamour of MOOCs first captured the attention of college presidents—hoping to increase profile and prestige, or academic deans interested in cultivating applicants, or provosts seeking to extend the reach of academic programs, or even campus business officers's hoping to raise additional revenue—in 2005 while at SUNY's Fashion Institute of Technology, Art Historians Dr. Beth Harris and Dr. Steven Zucker started Smarthistory, to extend educational access to students: the simplest, yet noblest, of educational pursuits.
Smarthistory's growing collection of videos and essays are designed to be engaging and conversational (if you have to, this is where you'd think, "MOOC") and cover art that ranges from the paleolithic to the present. Everything on Smarthistory is completely free (no cost), with content from (and this is the open textbook part) more than 200 art historians, archaeologists, curators, and other specialists who want to make the highest-quality art history learning content openly available to a global audience.
Dr. Harris and Dr. Zucker will be panelists at the upcoming Open Summit on Monday, May 23, 2016 at NYU's Kimmel Center for University Life. Considering Smarthistory's fantastic success as an open educational resource, Beth and Steven's insights on how to form, develop and manage an open project and community of practice should provide valuable lessons for other open initiatives of all types throughout higher education.
I spoke with both Beth and Steven to get a preview of their work, and their thoughts on the current state of open in higher education.
Please tell us a little about yourself and your background.
Beth Harris (BH): I'm an art historian, who, in graduate school, specialized in Victorian art, a topic that was somewhat popular at the time because of Feminist art history (the Victorians were very transparent about their thoughts about gender). This left me hugely unprepared for teaching my first course—the first part of the Survey of Art History (caves to cathedrals). In the 25 years since then, because of teaching the Survey course to students who were not art history majors, and because of my work with Smarthistory, I've become a generalist. As a result, I've become a much better art historian, with a significantly broader understanding of how different art histories—across cultures and time—fit together. These days, I spend most of my time making videos about global art history and editing and publishing essays on global art history by a wide range of scholars. I believe the work we are doing at Smarthistory is critically important for engaging a new generation of high school students and undergraduates in the discipline of art history (and visual culture). Smarthistory is the go-to site for AP art history students, many undergraduate courses, graduate students and even professors. Smarthistory content comes up high on google searches, and so even when students are not assigned this content, when they google, they find it. There are also so many people who want to learn more about art, before they travel for example, and Smarthistory is also serving that important audience.
Steven Zucker (SZ): I am also an art historian. My initial area of focus was the intersection of art and the Existenzphilosophie of Hannah Arendt, Heidegger, and Jaspers. I was interested in whether philosophic responses to the cultural and political developments of the early-mid 20th century might function as an interpretive model for mid 20th century abstraction, particularly in the U.S. I remain interested in art as an expression of the political/economic/cultural forces at work at a particular place and time. This interest has made me a generalist. For many years generalists were discounted in art history, though this has begun to change in part because access to the collections in museums, libraries and archives has exploded in recent years. Given these changes, the deep, narrow research that characterized advanced humanities studies in the late 20th century looks increasingly, well, narrow, in part because so much work continues to focus on the most canonical artists and monuments. My work with Dr. Beth Harris at Smarthistory has sought to create learning resources on the canon—since it remains broadly studied—but also to expand this narrow, historically-determined core. This strategy seems to be working. Instructors and students have made Smarthistory the leading resource on the web for the study of art history.
Can you share a sneak peek of some of the topics and experiences you'll be covering at the Open Summit? What insights will attendees be taking away from your session?
BH and SZ: We will be speaking (separately) about Smarthistory's success as the premier Creative Commons licensed art and cultural history resource (with more than 13 million page views last year and more YouTube subscribers than every US museum—save one). Smarthistory is unique in that it is collaboratively authored by the academic community—for the teaching and learning of art history. As far as we know Smarthistory is the only resource of its kind. Smarthistory uses inexpensive production technology and open source tools for publishing essays and videos. We'll talk about the tools we use to manage our community, and the importance of open access images (this includes museums and their open access policies and broader efforts, such as Europeana and Wikimedia). We will speak to subtler aspects of access that go beyond platforms, tools, and collections—we will discuss our efforts to design and deliver content that is engaging and that has as few barriers to use as possible. We will also discuss how our lack of grand strategy has served us well. From the beginning we moved iteratively, one step at a time, always keeping the priorities of our users in the foreground.
Hmm, that's interesting, the lack of grand strategy has served you well? How did Smarthistory get started then? I had heard this grew out of a university environment. Don't colleges and universities expect "grand strategies" to get initiatives going?
BH and SZ: Fortunately, though we started Smarthistory while we were professors, the administration didn't pay much attention and so no "grand strategy" was required. We simply followed our teacher-instincts. We started Smarthistory in 2005 when we made our first podcast about a painting in The Metropolitan Museum of Art. Our goal was to create engaging content for our students at the Fashion Institute of Technology (SUNY). Soon after we began to produce short videos based on unscripted conversations that we recorded as we stood in front of a work of art. Early on we received a small but critical grant from the Kress Foundation that enabled us to create our first website. As we have grown we have worked with many extraordinary academics who share our belief that those of us with extensive experience in the study of art and cultural heritage should make our knowledge available for free to learners around the world. We hope that other humanities disciplines such as Literature and History adopt a similar model. Most of the world's people have little or no access to the elite educations that are too often taken for granted by academics. At the same time, more than three billion people have access to the web via mobile devices and this number is growing with amazing speed. We ask, instead of writing one more journal article that will be read only by a few specialists, perhaps we should make a video or write a short essay for the general public and give it away for free. If you aren't familiar with our work, have a look at our new site at Smarthistory.org.
Your work emerged at the same time MOOCs, and perhaps to a lesser extent open textbooks, grew in interest. Do you feel Smarthistory fits those models?
BH and SZ: While Smarthistory's content reaches a huge global audience with its conversational and experiential style—Smarthistory is not a MOOC. We suspect that MOOCs drew the huge attention that they did because they closely mirror the structure of a traditional course and were thus easily understood and then seen as a direct threat to traditional universities. Smarthistory does not mirror a course. Our content is available 24/7/365 and does not become inaccessible after the class is over, students do not move in sync through the material, and we do not follow a single syllabus. Related to open textbooks, while the content is developed through community, we give the learner far more freedom and opportunities to learn, making it a very different experience from reading a typical textbook. Yes, numerous courses are taught using our content: the first half of the Western Survey, the 2nd half, global survey, Ancient Greece and Rome, Medieval, etc. (And soon we hope to have enough content for courses on African, Islamic, and PreHispanic America/Latin America). The result though is that we are not like a course, a MOOC, a text, or a museum.
So, where is Smarthistory today?
BH and SZ: Smarthistory is now a small non-profit organization based in New York, and the leading producer and distributor of free, high-quality videos and essays on art and cultural heritage–we currently offer approximately 1500 videos and essays. Over the years, we've won numerous awards (a Webby, The Technical Innovation Award for OpenCourseWare Excellence, Time Magazine's 50 Best Websites) with an audience of undergraduate and graduate students, high school students, instructors, and informal learners (13.5 million views in 2015). We have worked with the World Monuments Fund, major museums and cultural initiatives (The British Museum, MoMA, The Met, Getty, Tate, OER Commons, Wikipedia/GLAM, etc.), Khan Academy—and more than 200 academics, curators, and archaeologists contribute to Smarthistory.org. We have received support from The Andrew W. Mellon Foundation, the Samuel H. Kress Foundation, John and Ann Doerr, The College Board, and the Google Cultural Institute.
How can Smarthistory as a resource, and your work in developing a community around it, inform similar works in higher education, or even the broader set of open initiatives within higher ed, e.g. open access, open courses, open research, open source software.
BH and SZ: Well, the first thing that needs to happen, at least in the Humanities, is that scholars learn to collaborate with one another. Too often academia and department politics can be fiercely competitive. I also think the lack of a grand strategy worked well at the beginning and continues to work well for us. We can be responsive since we're not adhering to a master plan. That said, I think our collaborative approach has helped us to be true to who we are—we make a specific kind of art history video content (assembled from audio and still images) for a broad audience. We don't make videos with especially high production values, we don't make edu-tainment-type videos. Keeping the needs of our students in mind has been key to our success. We've seen time and again how projects don't launch because there is an immediate need for funding. We started Smarthistory with a $30 microphone, and free software. Start small, try things, see what works, and what doesn't. Don't be afraid of being embarrassed. We made a lot of bad videos for the first few years but that meant that we eventually we got quite good at making them! Things don't need to be perfect in the beginning. You can do a lot with very little.
What do you hope to get out of participating in the Open Summit?
BH and SZ: Pretty simple: meeting like-minded colleagues, being inspired, perhaps discussing ways to collaborate... no real "grand strategies."
Beth and Steven will be speaking on two different panels at the Open Summit, "Extending Openness: Cultivating collaboration, co-creation and community," and "The Open Start-up: Introducing, implementing and integrating open initiatives on campus," respectively. If you're currently exploring or have initiated an open initiative on your campus, their experiences should be a valuable resource for you. Hope you can join us.
Patrick Masson (@massonpj) is currently serving as the General Manager for the Open Source Initiative after working within higher education IT for over twenty years, ranging in roles from Programmer Analyst at UCLA, to Chief Technology Officer in the University of Massachusetts' Office of the President.Patrick also teaches within the College of Computing and Information at the State University

This work is licensed under a Creative Commons Attribution-Share Alike 4.0 International License.