Your old phone could make a big difference to a health worker in Africa.
IntraHealth International, a public health nonprofit, is launching a partnership with Hope Phones and FrontlineSMS:Medic to provide mobile phones to African health workers who offer maternal and child health services, including obstetric consultations, safe deliveries, family planning, and malaria and HIV prevention and treatment.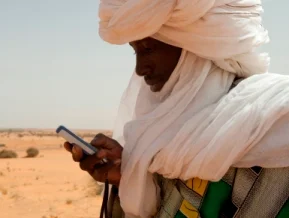 IntraHealth and the Senegalese Ministry of Health are using a simple mobile information system based on FrontlineSMS:Medic, a free, open-source software platform that enables large-scale, two-way text messaging. The software was customized for the project in partnership with RAES, the African Network for Health Education. Providers send health data via cell phones to a centrally supported automated response server in Dakar, where it is analyzed by Ministry of Health staff.

Hope Phones is the brainchild of FrontlineSMS:Medic co-founder Josh Nesbit who launched the initiative after witnessing the growing impact of cell phones in global health work. "Every cell phone given to health workers connects patients to a medical clinic. A $10 cell phone will give 50 families access to emergency medical care, health information, transport services, and clinic resources,"  said Nesbit. "One used Blackberry will allow us to purchase three to five cell phones for health workers, bringing more families onto the health grid via SMS."

The critical global shortage of more than four million health workers means those health workers in place are playing an increasingly important role in meeting the health needs of their communities. Health workers, especially those in remote areas, equipped with mobile phones can transmit and receive up-to-the-minute health information that can mean the difference between life and death in an emergency, improving the overall quality, effectiveness and impact of health care in underserved locations.

Phones collected during the course of this campaign are processed by Hope Phone's recycling partner, The Wireless Source. Hope Phones receives hardware credit for every phone you send in. They will then purchase new, low-cost phones that will be made available at no cost to health centers participating in the initiative. Local community-based health committees have agreed to cover the costs of airtime.

100% of the value of your donated phones is used to acquire the right phones for the project. Because we can use simple phones, this process multiplies the impact of your donated phone--if you send in a used smartphone, for example, we will be able to purchase 5-7 phones for healthcare workers, but any phone in any condition contributes to the credits.

Learn more about IntraHealth, this project, and donate your used phones:
> www.intrahealth.org/page/hope-phones1
> Twitter: IntraHealthInt
> Facebook: IntraHealth
IntraHealth OPEN is an initiative aimed at building technological fluency and local innovation in open source systems for health in Africa. Help change the way people think about health, technology and the developing world. Support African Health Workers and local innovation in open source technology to solve the most critical global health issues of our day.
except images, courtesy of IntraHealth