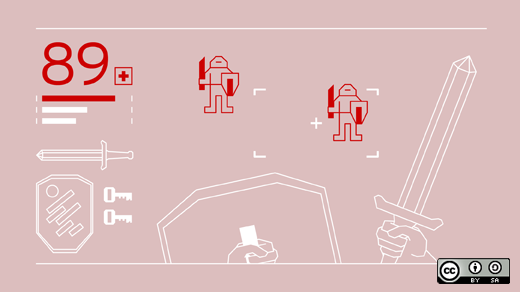 Not long after Nintendo announced its newest handheld, the Nintendo 3DS, gamers began asking the perennial question: Would the device be region locked? And much to the dismay of would-be importers, the answer was an unambiguous "yes": Nintendo does indeed prohibit consoles sold in one geographic territory (like Japan) from playing video games purchased in another (say, the United States, Europe, or Australia).
Region locking is just one mechanism in a frustrating array of others (think expensive licensing agreements, proprietary software developer kits, exclusive digital distribution channels, software strapped with digital rights management tools, games that discourage resale) that demonstrate the mainstream video game industry's distaste for openness. Thankfully, several alternative video game projects allow gamers to play the open source way.
Uzebox
In a recent interview with Computerworld, Alec Bourque described his open source gaming console for hobbyists--the Uzebox--as "retro minimalist." The 8-bit microcontroller at its heart captures that aesthetic perfectly, and the system's support for NES and Super NES controllers makes the nostalgia tangible. The Uzebox is a completely open project; both its design documents and the source code for its development tools, its emulators, and its games are available for download under the GNU GPL 3.0 Public License. There's no doubt that the Uzebox's vibrant developer community is a result of Bourque's decision to open all these resources.
Numerous vendors are peddling homebrew Uzebox kits. Some of these, like the Fuzebox Kit from Adafruit, come unassembled, so handy gamers can fire up their soldering irons and fashion their own consoles. Others, such as the Uzebox AVCore, come preassembled, ready to pump indie games from an SD card straight to a compatible television. And of course, the official Uzebox store is stocked with all kinds of accessories for crafting customized units.
Caanoo
When South Korea's GamePark Holdings discontinued production of the GP32X Wiz, its open source handheld gaming device, the indie gaming scene went into mourning. But the company redeemed itself last year with the Caanoo, a $150 portable gaming system suited for both commercial and homebrew development. It features a 533mhz processor, 128MB of RAM, a 3.5 inch touch display with a 320X240 resolution, and a g-sensor with vibration motor. And its open source Linux-based operating system also allows for multimedia playback.
The community these GamePark consoles have spawned is extraordinarily active, and new games appear frequently. But GamePark also runs an official app and game store, so this open console benefits from an ecosystem swarming with both commercial and homebrew software.
Gamers stateside are in luck; ThinkGeek keeps the Caanoo in stock. And who says handheld gaming is dead?
Pandora
Calling the Pandora a handheld video gaming console would be short-selling it. Big time. The device is actually more like a full-featured, pocket-sized PC with dedicated gaming controls. At $500, it's pricey. But gamers get what they pay for: a 600mhz CPU, 256MB of DDR3 RAM, 515MB of internal flash storage, both wifi and bluetooth capability, a touch screen with a resolution of 800X480, two SDHC card slots, two USB ports, and television output--all in a package not much bigger than a Nintendo DS.
The Pandora's custom software is a modified distribution of Ångström-Linux, whose source code is, naturally, open. It features two operating environments: a scaled-down "MiniMenu" designed to get anxious gamers into the action as quickly and easily as possible, and a full XFCE desktop, which turns the Pandora into a more traditional personal computer.
Emulation is the Pandora's killer app. The tiny black box can act as nearly any console a retro gamer's heart might desire. And because it features an Open GL-compatible 3D chip, it can even mimic some newer systems as well.
The story of the Pandora is a tale of community-driven innovation. Nearly five years ago, a group of enthusiastic gamers tapped the GP32X forums to gather suggestions on creating an open handheld game console more versatile than any contemporary commercial offering. To fund design and development of the device, they asked interested customers to purchase units far in advance of a nebulous 2007 release date. Pre-orders actually began in September 2008. Several tense years of uncertainty followed, but the Pandora finally shipped in May 2010 to those enthusiastic backers who stuck by the project despite the turmoil.
nD
The nD (short for "inDie") handheld gaming console is an independent game developer's dream. Unfortunately, at the moment it's pure vaporware.
While no one has actually spotted a working prototype of the recently-announced device, its website boasts some pretty impressive specs: a 400mhz ARM CPU; wifi capability; a 16-bit, backlit display with a 320x240 resolution; and at least 16MB of RAM. But even more impressive is the project's vision for a bold new economics of video game production, distribution, and consumption. nD developers imagine a world in which a handheld console can be manufactured from inexpensive components and sold at cost (in this case, for a projected $20). Because the nD will purportedly rely on open frameworks--an operating environment embedded in customized Linux firmware that utilizes an open SDK, SDL--developers are free to create software for the platform without having to negotiate complex licensing deals or purchase proprietary tools. And the nD team believes those developers should be amply compensated for their work; it's proposing a 90/10 split of revenue generated by an online market built on the "app store" model. If only the groundwork for such an ambitious and refreshing idea--any of it--were actually in place. For now, hopeful indie gamers can but sigh wistfully while reading the project's manifesto.
Spearheading nD development is Robert Pelloni, author of the infamous Bob's Game, whose well-known clash with Nintendo makes him a likely champion of open gaming. But his exploits are enough to make anyone skeptical about the nD pipe dream becoming reality.
Played any of these open systems? Know of any others? Leave a comment, and let us know.
Bryan formerly managed the Open Organization section of Opensource.com, which features stories about the ways open values and principles are changing how we think about organizational culture and design. He's worked on Opensource.com since 2011. Find him online as semioticrobotic.

This work is licensed under a Creative Commons Attribution-Share Alike 3.0 Unported License.