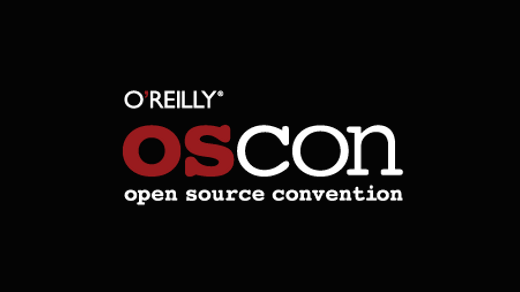 The theme of OSCON 2011 is "From disruption to default." While that certainly captures the status of open source these days, it isn't exactly news to anyone attending the conference. But the welcoming keynote addresses and early sessions devoted to data scalability and Java seem to be giving attendees fuel for thought and grist for some real soul-searching as the era of open source ubiquity (if not outright dominance) begins.
If there is any doubt that open source technology is at an inflection point, keynote speaker Gianugo Rabellino of Microsoft put it to rest just by being there.
Open source and Microsoft in the same job
Rabellino has credibility, and he handled his peace-making assignment with charm and aplomb. In addition to working at Microsoft, he is Vice President of the Apache XML Project Management Committee. Microsoft has been making concilliatory sounds towards the open source community for some time, but it was nice to have a friendly, credible human being standing on a stage in front of several hundred open source zealots saying the words: Open source is "important" to Microsoft's "future."
He described Microsoft's attitude towards open source as evolving and "growing." There is certainly some quibbling to be done over the depth of their commitment, and there are still some patent and IP issues that need addressing, and it did not go completely unnoticed that he used the term "commercial" software instead of "proprietary,"  but this is all a long way from the days when our friends in Redmond talked about open source as a cancer.
The future of community from the guy who wrote the book on it
Jono Bacon, the Ubuntu community manager at Cannonical delivered another keynote address about the Future of Community. In years past a talk with that title might have been about how to build a community, or how development communities were growing beyond Linux and apache, or how to set up governance for a project, this year it was about the professionalization of Community Management as a career. Because, as we all know, technology companies (in fact, every kind of company) now understands the value in building community of purpose around their products. It's not new or novel anymore, it's necessary.
The remaining frontiers
Both talks illustrate the now-we-are-the-grown-ups zeitgeist at OSCON this year, but lest the mainstreaming of open source becomes boring, Ariel Waldman of spacehack.org used her keynote to remind everyone that there are still some frontiers. While the first Aarpanet message was sent the same year that we put man on the moon, only 500 people have been to space, while 2.5 billion people have internet access. She gave a fun talk about the possibilities of hacking space travel that dovetailed nicely with the other two.
But it was Googles Steve Yegge speaking at an earlier OSCON data session who stole the show. In his talk, "What Would You Do With Your Own Google?," Yegge pointed out that the computing power (cloud, data mining, scaling data storage, etc) developed by Google, Amazon, and facebook to serve up ads, sell things and disseminate cute cat pictures could now be harnessed to solve some of the worlds biggest problems. He told the audience they were superheroes, and that while cat pictures made the world a better place, so would mapping the human genome and curing devastating diseases. He then announced, on stage, that he was quitting his job at Google to do just that.
A lot of people were talking about Yegge's address on the opening day of OSCON proper. It was daring, bold, and inspiring. And it showed that the spirit of improving things, and using mass collaboration to do it, is alive and well in the hearts of open source technologists.
Now go forth and be open
Another propaganda banner at OSCON reads, "What do you do after you change the world? Change it again." Open source has changed the world, and OSCON attendees this year appear to be searching for meaningful ways to build on their achievements.

This work is licensed under a Creative Commons Attribution-Share Alike 3.0 Unported License.