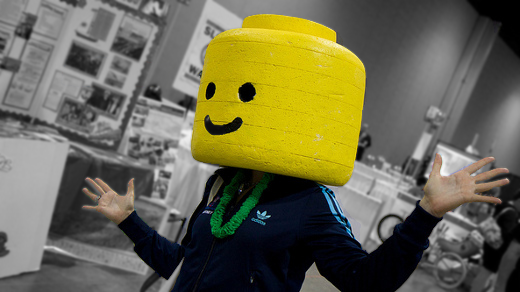 There's been some outrage over the new Lego Friends line, intended to bring more girls into the addictive world of Lego building. Initially, I felt it was a fair extension of the Lego product family. Now I'm concerned about the messages Lego is sending to our future builders and innovators--both boys and girls.
---
Update 1/30: People who have called or emailed Lego to ask about the new magazine described below have heard changing stories since Impeus first blogged about it. Their current message is that the photos in the magazines will feature both boys and girls.
---
It's not the first time Lego has tried to appeal more to girls. Way back in 1959, they advertised the Lego Doll House, and in the early 60s, they began offering instructions for building dollhouse furniture. In the 1970s, it was the Homemaker series, which included human characters, pre-dating the now popular "minifigs." From 1992-1998 they offered the Paradisa System, which included pink parts and "feminine" themes. In 1995, the Freestyle basic-brick sets came in a pink suitcase. (Thinking Brickly further explores the history of gender and Lego, the good and the bad.)
The new Friends line includes Olivia's Invention Workshop, a pastel science lab with a pet robot and math on the blackboard. It's not exactly super-accurate--Olivia wears OSHA-offending flip-flops in her lab--but it's better than if the line had shown women only as toenail-painting, shopping-crazy beachgoers. And thus the sets themselves didn't concern me much. There will be boys who want to play with the sets as well, and in my opinion, Lego doesn't have a history of girl-bashing, or necessarily even girl-avoiding. Then came a blog post from the UK.
In it, "impeus" explains that her daughter, a subscriber to the Lego Club Jr. quarterly magazine, had this month automatically received Lego Club Girls instead. This new version features the Friends line, of course. What it doesn't feature is any building instructions, which the magazine usually does, including the current edition. An accompanying letter allows you to opt out of Lego Club Girls for the "regular" one instead. Impeus writes:
Ah. Well. There we go. It's not boys and girls. It's girls and 'regular'. You can be a normal child, or you could be one of those others. You know, the girls.
Further, she notes that the old version of the magazine included pictures of kids playing with their Lego bricks. She asked the company whether girls would still be shown in the "regular" magazine and was told that no, photos of girls will be in Lego Club Girls only from now on, regardless of which magazine they choose to subscribe to. Now not only are the girls told they should be separated, but the boys won't even see that they exist. And if a girl should prefer to keep the "regular" edition that includes build instructions instead of just pretty pictures? She'll never see anyone who looks like her.
---
(Edit 1/27: Impeus' blog now notes that people who call Lego are getting a different story--early callers were told the above. Those who call now are told a different story about photos as well as that the Girls magazine may be scrapped. No word on the other content, like whether those who get Lego Club Girls will be seeing build instructions.)
---
STEM education is suffering, especially in the US. Even worse is the way we approach girls in STEM education. But the kids who love playing with Lego bricks--building, creating, seeing how things fit together--are precisely the ones we should be encouraging to pursue STEM careers. By building this separation between boys and girls (or girls and "regular"!), Lego is only discouraging half the population, and precisely the half that needs more support in these fields.
It's worth noting that Friends was not cooked up in a marketing meeting in which someone shouted, "Girls like pink and purple!", giving birth to shapely minifigs and beach sets. It was the result of significant observational research with families around the world. Lego CEO Jorgen Knudstorp called it "the most significant strategic launch we've done in a decade."
Knudstorp also said that with Friends, Lego hoped to "reach the other 50 percent of the world's children."
If Lego genuinely wants to reach that 50 percent and make progress for the future of science and technology, Friends is the wrong approach. The company's research showed something significant beyond the fact that girls prefer the new, shaplier minifigs to the familiar squarish ones. It showed that although boys like to assemble kits start-to-finish, girls play more along the way. The girls are applying creativity to the toys.
Olivia and her science lab are a nice nod to the fact that girls enjoy science too. But what if they took their research observation--that girls play creatively rather than plowing through kit instructions--and applied it to the Mindstorms line of programmable robots?
Maybe in addition to their research, Lego should have looked more to the FIRST Lego League, in which 9-16 year-olds use Lego Mindstorms to solve real-world problems. The winner of last year's inaugural FLL Global Innovation Award, given to a team of innovators ages 6-14 who created an original solution to a real biomedical engineering problem, was an all-girl group from Iowa called The Flying Monkeys. They created a prosthetic hand to help those born with hand abnormalities, such as a toddler born without fingers who was able to hold a pencil for the first time. Two other teams were also honored, and one of them was all-girls as well. They developed a glucose monitoring system with a watch and implantable microchip. That seems to be evidence enough that girls can do more with Lego products than play beauty parlor.
Push the Lego girl focus to science and away from just pink, and then not only do the girls win--our future wins.
Ruth Suehle is the community leadership manager for Red Hat's Open Source and Standards team. She's co-author of Raspberry Pi Hacks (O'Reilly, December 2013) and a senior editor at GeekMom, a site for those who find their joy in both geekery and parenting.

This work is licensed under a Creative Commons Attribution-Share Alike 3.0 Unported License.