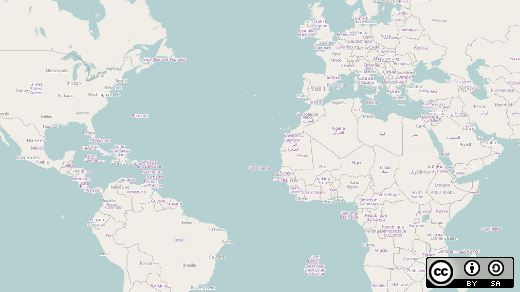 Everyone is talking about maps lately. Google maps are no longer on the iPhone. Apple maps have some serious bugs. Luckily, open source maps are making a move.

MapBox contributes to the open source project, OpenStreetMap, and just announced a $575,000 grant from the Knight Foundation. OpenStreetMap has been called a "Wikipedia-like project" that is creating the only editable map of the world (according to MapBox's blog). It was also built on open platforms, like GitHub. They plan to use the grant to help improve the core infrastructure by making it easier to add data and implementing social networking features.
MapBox is a cloud-based map publishing platform launched in 2010. They allow you to overlay your data with publicly available maps, or you can design your own (according to CrunchBase).
"It has been fantastic working with Knight Foundation over the past few months—their team really understands the value of open data. This grant is a key investment at a critical time in the geo data and web mapping space, and Knight Foundation is being smart by moving quickly and investing in much needed infrastructure in an open and sustainable way. This is our third Knight grant over the past five years, and we think the work it allows will make our biggest impact yet," said Alex Barth, leader of the MapBox data team on their blog.

OpenStreetMap and MapBox are growing rapidly. Apple recently used OpenStreetMap for location data in iPhoto for the iPhone, and MapBox is used by Foursquare and NPR.

If you're interested in keeping tabs on OpenStreetMap and MapBox, you can follow @ericg on Twitter. They plan to start delivering code in November and December.
Casey is a recent graduate of the University of North Carolina at Chapel Hill with a degree in journalism. She spends too much time perusing social media sites, and she's especially fascinated by open source startups. twitter: @caseybrown_

This work is licensed under a Creative Commons Attribution-Share Alike 3.0 Unported License.