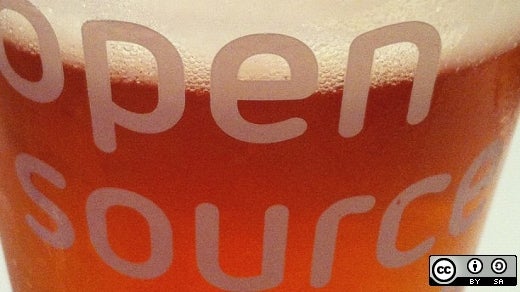 Beer is truly the most democratic, egalitarian, and open source of all beverages. It is for both common folk and connoisseurs. It is for the masses. And, from my experience as a homebrewer and beer geek, you will rarely find a beverage that can be so liberating (in more ways than one).
There's a beer for that
Beer goes with everything. There really is a beer for every type of food, and sometimes there are multiple options, depending on whether you want to enhance or balance out the flavor of the food. This fact excites both beer snobs and pub patrons all the same.
Think about it. When you're watching your favorite football team play, do you grab a glass of wine or a cold beer? Could you pick a better soulmate for your nachos and chili cheese fries than a malty brown ale or refreshing lager? Or maybe you're an IPA fan and the bite of those American hops cutting through the salty and greasy game-day food is your own personal heaven.
This Thanksgiving, put that Côtes du Rhône aside and try a bottle of a malt forward Bière de Garde, like La Choulette Ambrée. There's something special about popping the cork on a beautifully effervescent and rustic beer to celebrate what we're thankful for, and it will complement the turkey, stuffing, and hearty fall vegetables on your plate. Or you could always go with a can of Miller High Life, if that's how you roll. After all, it's the "Champagne of beers."
There's a beer for every type of cheese and meat. And there's a beer for every type of flavor. Some of them are simple and expected pairings. But what about more unusual ones?
Say you're eating a rich, dense, flourless chocolate cake with tangy tomatillo sauce. Try a silky chocolate stout to embolden your little chocolate heaven. Or cut the richness with an acidic lambic. Or complement it with a malty Oktoberfest/Märzen-style beer.
The point is, there is not just one possible pairing—you have choices.
Branching out
If the world of beer were a tree (or Git repo), there would be many, many branches. Check out the latest beer poster from Pop Chart Lab.
Throughout history, almost every culture on the planet Earth has had a variation of fermented grain and water, including chicha, kvass, and other forms of "beer." This is one of the reasons why there are more varieties of beer and more possible pairings with food than any other kind of drink, even wine.
Did you know that there are over 23 different categories of beer—28 if you count mead and cider? And within the 23 main categories, there are 84 subcategories. These include styles ranging from the crisp American pilsner to bold German doppelbocks, from refreshing Belgian saisons to the pleasantly sour lambics.
All of these styles have wide ranges of complexity, mostly due to the variety of ingredients that are used in brewing. There are over 50 hop varieties, and that is just one ingredient! Many different types of grain can be used, including barley malt, roasted barley, rye malt, wheat malt, flaked wheat, sorghum, maize, and quinoa. In addition, the multiple varieties of ale and lager yeast cultures each lend their own flavor profiles to the beer. You can also leverage the endless combinations of spices, fruits, and other adjuncts. Homebrewers, like me, enjoy the challenge of crafting something that is unique, imaginative, and sometimes downright unusual. Even within the same subcategory of beer, there will be a noticeable difference in tastes. And, as you might guess, these differences are usually easy for the average beer drinker to discern.
All beer nerds are created equal
This is why the best beers in the world are rated by the community. Beer is for the people, by the people. Whenever I'm in the beer store staring at something new, I take advantage of this active community by visiting sites like Beer Advocate, where I can make informed decisions by reading average people's comments about the aroma, color, and taste of each beer. Then I choose the bottle that strikes my fancy.
Conversely, if you're looking for the best wines in the world, you have to check the latest Wine Spectator ratings, which are determined by a panel of socalled "experts." You're subjected to some critic's opinion, not the community's! There's also a stigma that comes with wine and a developed (or underdeveloped) palate. Ever heard this when you're out with your friends?
"Give the wine list to Michael. Let him decide. He's the expert on wine."
This is called authoritarianism.
Now, I'm not knocking wine because I do enjoy a glass every now and then. It has its place. But good wine is often too expensive and unapproachable for most people. For this reason, beer is the more democratic option.
Sharing is caring
Another amazing thing about the members of the beer community is their desire to share. There are multiple homebrewing forums where new and experienced brewers can share recipes, offer tips, and geek out over each other's brewing equipment. President Obama even shared his recipe for the White House Honey Ale.
The fact is, brewers love sharing.
The other day, I brewed my own rendition of the highly sought after Pliny the Elder. I've never had the original before because they don't distribute it to North Carolina, but my version, at least, was excellent. It was only possible because Vinnie Cilurzo, the owner and head brewer of Russian River Brewing Company, made his recipe public. Likewise, I've made clones of other reputable brews, which is all part of learning and improving the craft of brewing. As the community and craft-brew culture improves and grows, we all benefit.
Have a brew
Whether Budweiser or Rochefort 10 is your beer of choice, you're entitled to your opinion, and that opinion is valid in the world of beer. So, raise your mug or tulip glass and salute to the freedoms we have in beer. And, if you're interested in taking part in the community, I've included one of my award winning recipes: Method Brewery's Quadrupel Ale.
Feel free to brew, remix, and share with the masses. Cheers!
Mark is a UX Web Designer at Red Hat by day. And, an artist, home brewer, soccer fanatic and coach by night. He also loves to spend most of his free time with his 3 beautiful girls and wife.

This work is licensed under a Creative Commons Attribution-Share Alike 3.0 Unported License.