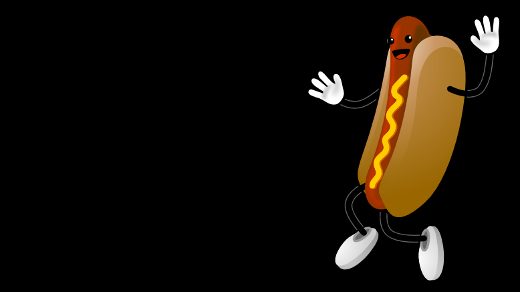 Last October, I received a message via Twitter from a hot dog. This hot dog, calling itself The Beefy Miracle, informed me that the latest version of the Fedora operating system, Fedora 17, was going to be named after it. The voting was close, but Beefy Miracle ended up winning by almost 150 votes, and it was released yesterday.
Now, I wasn't involved in the naming or voting, but I was deeply involved in the original creation of this hot dog, so I thought I'd fill in some of the blanks regarding how it came to be in the first place. And for those of you who were also involved, if you remember additional details, please pass them on and I'll share them here.
Way, way back in the pre-Fedora days, soon after the turn of the century, we were working on the release of a new version of Red Hat Linux (I'm guessing it was version 7.1, 7.2 or 7.3, but let me know if you remember the exact version…). At the time, most companies were beginning to fill up their software installer screens with advertisements for their other products and services. The hope was that, while you were sitting there bored waiting for the software to install, you'd see one of these ads and instantly make the decision to buy something else. Instant revenues! Instant riches!
I'm not sure how well this sort of installer advertising actually worked, but Red Hat was on the bandwagon too, and this sort of corporate stuff was beginning to sneak in to the company. Mind you, Red Hat also had a history of installer hijinks, dating back to the original option to set up "redneck" as your language of choice in the install process (which I think stayed in there until Red Hat Linux 5.1, but was gone by the time I started working there).
Faced with an increasingly corporate installation experience, we decided to bring some of the fun back into the installer and had our designer at the time, Kyle Hoyt, a brilliant illustrator, create some installer screens that evoked the experience of the interstitials at the movie theater. Here is the result: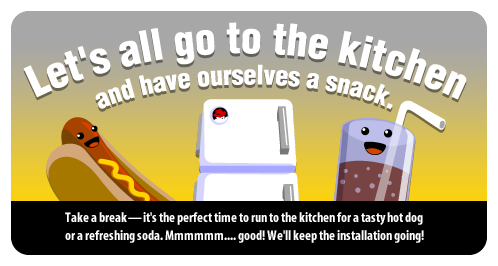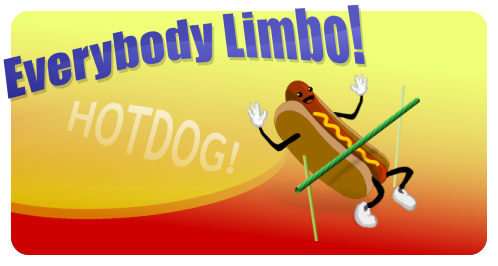 For us, they were love at first sight, and they actually made it into the installer. But as you can imagine, not everyone inside Red Hat loved them. Some thought the images were not "enterprise enough" for our rapidly growing company (it is hard to argue that a dancing hot dog is "enterprise," but we tried). I remember more than one heated conversation about turning the Shadowman logo into a comic book character, about dancing hot dogs, and about what we were "doing" to the product with this strategy.
By the next release, the dancing refreshments were gone--I thought forever--until I received that tweet from a hot dog. It was nice to see them again; it had a been a long time.
And to know that Kyle's dancing hot dog was the inspiration for the name of Fedora 17? It truly is a beefy miracle.
Thanks to those of you who played a part in bringing these images back to life. And my congratulations to The Beefy Miracle on your new job!
Chris Grams is the Head of Marketing at Tidelift and author of The Ad-Free Brand: Secrets to Building Successful Brands in a Digital World. Twitter LinkedIn Email: chris(at)tidelift.com

This work is licensed under a Creative Commons Attribution-Share Alike 3.0 Unported License.