Recipes from Chris Aniszczyk, Erica Brescia, Simon Phipps, & Jim Whitehurst
Recipes from open source thought leaders
Subscribe now
Get the highlights in your inbox every week.
We like to use the analogy that open source is like a recipe. It's a great way to explain what open source is to non-technical folks. Last year, this pumpkin spice latte recipe was popular with our community. So, we thought it would be fun to share more recipes with you this year.
We collected some great ones from a few of our open source friends: Chris Aniszczyk, Erica Brescia, Simon Phipps, and Jim Whitehurst. Share yours with us in the comments!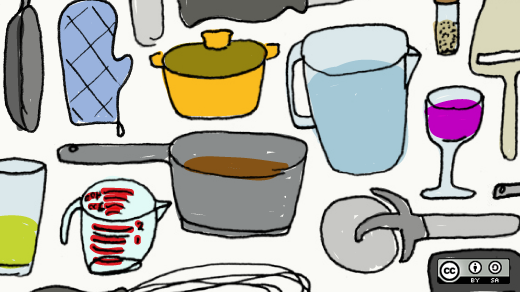 Chris Aniszczyk, Open Source Manager at Twitter
Chris shared a chocolate chip cookie recipe during an interview he did with us a few months ago. The source code for the recipe is online at Blackbird Bakery.
Perfect chocolate chip cookies
¾ cup light brown sugar, packed
1/3 cup granulated sugar
80 g. glutinous rice flour
58 g. tapioca flour
52 g. non-gmo cornstarch
50 g. sorghum flour
20 g. freshly ground gluten-free quick oats, Bob's Red Mill
2 teaspoons guar gum
½ teaspoon kosher salt
1 ¼ teaspoon baking powder
1 teaspoon baking soda
7 tablespoons unsalted butter, cold and diced
1 egg
2 egg yolks
¼ cup milk
1 tablespoon pure vanilla extract
2 cups 55% semi-sweet chocolate chips, like Guittard

In a stand mixer with the paddle attachment, combine all the dry ingredients, including the sugars and mix on low. With the mixer still running, add the cold, diced butter. Mix on the lowest setting for 5 minutes and the ingredients look like damp cornmeal.

Add the egg, egg yolks, milk and vanilla. Mix on high until the dough coats the sides of the bowl.

Scrape down the sides of the bowl and add the chocolate chips. Mix just until combined.

Transfer to a glass bowl, cover with cellophane. Place in refrigerator and chill for 36 hours. Use a piece of masking tape to note the time you put the dough in the fridge and stick it to the door.

Preheat oven to 350°F.

Using a retractable ice cream scoop, spoon out the dough. Stagger the dough on a sheet pan lined with a silpat, with at least 2 inches in between.

Bake for exactly 14 minutes; set and golden. If you prefer a crunchier over all cookie, bake for up to 20 minutes but not any longer lest they burn.

Makes 1 ½ dozen cookies.
---
Erica Brescia, COO at BitNami
Erica loves to get in the kitchen, and food is one of her favorite topics to chat about. She's shared a savory dish with us that is popular with her family at dinnertime.
Crab Cakes with Red Pepper-Chive Aioli
Crab cakes:

1 lb lump crab meat (Costco's is pretty good and reasonably priced)
1 egg, beaten
3/4 cup  mayonnaise (I often use lowfat mayo)
1/3 cup finely chopped celery
1/4 cup finally chopped green onions
1 Tbsp each of: Old Bay or Seafood Magic seasoning, minced parsley, lemon juice
1 tsp each of: dijon mustard / sriracha or other hot sauce
About 1.5 cups of Panko bread crumbs, separated

Combine 2/3 of a cup of panko with all of the ingredients other than the crab meat and mix thoroughly. Then, add in the crab meat and stir gently to avoid breaking up the lumps. Then, form the crab mixture into patties in the size of your choosing (mini crab cakes for appetizers or larger ones for entrees). Roll the patties in the remaining panko to coat (you can dip patties in beaten egg prior to this if you want the crumbs to stick better). Fry in oil in a frying pan or place on a greased baking sheet, spray lightly with oil and bake at 450 for about 10 minutes (you may need to broil after to brown the panko.)
Red Pepper-Chive Aioli:

1/3 cup mayonnaise
1/4 cup drained jarred roasted red peppers
1 Tbsp minced chives
2 tsp lemon juice
1 tsp minced garlic
Dash of sriracha (optional)

In a small bowl, mix all of the ingredients. You may use a food processor, but be careful not to over-chop the peppers. For parties, place mixture in a zip-lock bag, cut a small piece off of the corner, and dollop on each crab cake. Top with a few longer pieces of chive.
---
Simon Phipps, President of the Open Source Initiative
Simon shared a Chocolate Martini recipe with us. He says he gets a lot of hits on the photo of these delicious drinks via his Flickr page.
Image credits: webmink, CC-BY-NC-ND 2.0 license.
Chocolate martini redux
Gather these ingredients, then follow all the details from Simon on his blog, Wild Webmink.
1 bar high cocoa ratio chocolate (150g)
Grated chocolate for garnish
Chocolate truffle per glass (optional)
200 ml vodka
100 ml curaçao or other triple sec/orange liqueur
50 ml single (pouring) cream
75 ml coconut cream (not coconut milk or coconut water)
---
Jim Whitehurst, President & CEO at Red Hat
"The recipe below is truly a collaboration," said Whitehurst. He shared with us an original recipe that includes has edits from himself, his family, and his friends. Recently, no-sugar-added chocolate chips were substituted to give the recipe a healthier kick!
Sugar free oatmeal cookies
1 cup organic rolled oats
1 cup whole wheat flour (or white whole wheat flour)
1 cup ground almonds or almond meal
1/2 cup shredded coconut
1/2 tsp salt
1/2 cup dried cranberries
12 packets Truvia
1/2 water
1/2 cup canola oil
1/2 tsp vanilla

Preheat oven to 350 degrees.
Mix all the dry ingredients together in a large bowl.
Mix the wet ingredients and stir directly into the dry ingredients with a wooden spoon.
Form 1" (inch) balls and place on an oiled cookie sheet, pressing the balls down with your fingers.
Bake for 12 minutes or until crispy.

Pro-tip: Add in some no-sugar-added chocolate chips.
Try them! Share them! Modify them! Leave us your feedback in the comments and share your own recipes this season.
Contributors