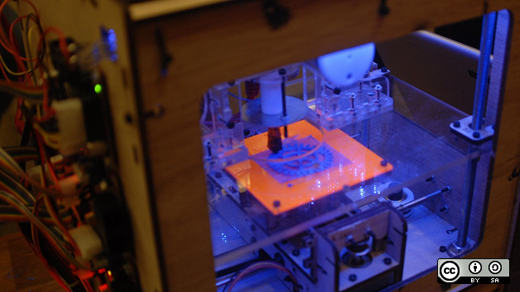 3D printing is set to disrupt multiple industries thanks to its unique position at the intersection of three important trends in technology: the Internet of Things, our growing desire to personalize our things, and the coming revolution in the way things get delivered to us.
Operating at this unique trifecta, 3D printing promises to democratize the design and build process, allowing consumers to create their own stuff from scratch and take the concept of mass customization to an entirely new level. As modern consumers have come to expect very custom experiences, it's no longer enough for manufacturers and merchants to offer products in a wide range of colors and styles. The ability to customize nearly everything is now commonplace, even expected, in products ranging from T-shirts to tennis shoes and iPods to M&Ms. 3D printing delivers the ability to customize quickly and inexpensively without worrying about minimum production runs.
3D printing also provides a one-of-a-kind way to distribute goods—that is, to print them on demand. It's no secret that manufacturers and distributors are looking for ways to disrupt the way goods are delivered: Amazon plans to use drones and Google wants to use self-driving cars. But even these may not be necessary. After all, why ship a toaster around the world if you can just "beam it" there instead? Amazon already ships to its secure Amazon lockers—why not print to these lockers as well?
The commercial OSS inspiration
As 3D printing begins to disrupt business as usual regarding the way we personalize and distribute goods, entrepreneurs must rethink common business notions like "build goods to sell for money." Durable goods manufacturers may want to take a page from the commercial open source software (OSS) playbook and (gasp!) give their products away free.
If 3D printing does for physical goods what the Internet did for bits and bytes, we know that when friction decreases, commerce tends to increase. Because exchanging money for goods just adds friction to the equation, many manufacturers may conclude that giving their goods away might enable them to eventually sell more… of something else.
In fact, this idea is nothing new. Razors, printers, and Kindles may not be free, but those manufacturers certainly do not make money (or at least not much) building and selling them. Those chassis are just vehicles for making the real money on razor blades, printer cartridges, and eBooks. 3D printing enthusiasts could develop even more creative monetization strategies to build a potentially lucrative business model.
The value of data
As the Internet of Things and Big Data come into play, data could become more valuable than the products themselves. At an open source conference a few years ago, Tim O'Reilly proclaimed that open source was dead or at least irrelevant—data is what matters now. O'Reilly explained that even if Google or Yelp open sourced their code, it would be worthless without all of the user-generated data. It is the Big Data that is valuable, not the code.
If we extend that idea to goods, we have the same effect. The goods become worthless while their connectivity in the Internet of Things could become priceless. At this year's Dreamforce, SalesForce CEO Marc Benioff highlighted how his Philips Sonicare toothbrush of the future will be a connected, data-gathering machine with Wi-Fi and GPS. "When I go into the dentist he won't ask if I brushed. He will ask, 'what's the login to your Philips account?' There will be a whole new level of transparency with my dentist," explained Benioff.
In this case, it would make more sense for Philips to give away a 3D printable download for its new Sonicare Smart Toothbrush, let users print their own and monetize by creating a subscription platform where dentists and consumers can access brushing data in the cloud. That is an opportunity for disruption if I ever saw one.
3D: Driving down difficulty
Just as Larry Augustin and VA Software created Sourceforge as the first web-based source code repository, I also expect to see 3D print design marketplaces emerge to support the new ecosystem. Shapeways.com is one such marketplace that's already giving designers an outlet for their creations.
As these marketplaces develop, 3D print designers may find it challenging to protect designs and monetize their IP. However, I expect monetization to continue following known commercial OSS models. Here's how:
Upsell opportunities
3D print designers will offer free or low-cost templates, monetizing advanced features, support, custom design solutions, etc. For example, designers could sell an entire kit to build your own phone, watch, e-reader, computer, or other electronics complete with a customizable 3D printable chassis design and pre-configured component electronics. A company I am involved with, Spotless, is already preparing to do just that with its product the Spotlesslight. This interactive projection system may be the first entertainment lighting device whose printable designs will be freely available for download. The company plans to reinvent its business model around the sale of advanced tracking algorithms and effects. The idea is to deliver an innovative product cheaper and to more people than would otherwise be able to buy the product.

Lower production, distribution friction
3D printing could also overcome production and distribution hurdles to lower the go-to-market cost on a wide range of everyday products. For example, the plastic chassis on your standard 2D printer is a significant cost center for most manufacturers. Why not let customers 3D print their own with manufacturer-provided designs (to ensure quality and compatibility) and just sell the internal functional components?

Packagings avings
As part of eliminating distribution hurdles, 3D printing could significantly reduce end-to-end packaging costs. Instead of shipping millions of large boxes filled with bubble wrap, formed foam and packing peanuts, the vast majority of which end up in landfills, manufacturers, suppliers and retailers could ship smaller packages, allowing consumers to 3D print the bulkiest portions of most products at home or at the neighborhood 3D print facility (hint: Kinkos/FedEx Offices will soon be in a cutthroat battle against Amazon.com). The reduction in packaging alone could significantly reduce the cost of many products and lower shipping costs, not to mention have a major positive environmental impact.
A profitable industry is born
The notion of 3D printing is even driving new job creation. As companies come to rely more heavily on 3D printing for prototyping and product development, this will create a growing demand for skilled individuals capable of converting conventional 2D drawings to 3D-ready designs. Add in the potential growth of local neighborhood 3D "print shops," plus the sale of DIY machines for home use, and the monetization potential of the 3D printing business becomes quite clear—especially for advocates and disciples of the commercial open source software strategies, who have blazed the trail of democratizing design.
Brian Reale, CEO & Co-founder of ProcessMaker, has more than 20 years of experience managing high tech companies. Prior to founding ProcessMaker in 2000, Brian was the General Manager of Unete Telecomunicaciones Ltda., a long distance voice and data carrier in South America that he founded in 1997 and sold to a publicly traded US Telecom company in 2000.

This work is licensed under a Creative Commons Attribution-Share Alike 3.0 Unported License.