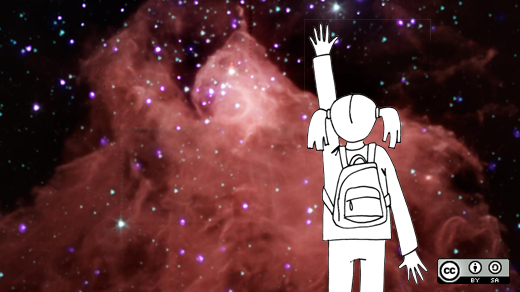 Lune van Ewijk is ten years old and already a role model for kids and adults alike. Last year, she won the Digital Girl of the Year 2013 award from the European Commision, who had this to say about her:
Lune develops her own games and interactive movies, designs robots, and dreams of becoming an engineer. At ten years of age, she is already a true digital visionary and already has a track-record of getting girls her age excited about digital endeavour.
Her message to the world: be you and don't give up.
Lune is part of CoderDojo Belgium, where she has learned and practiced a variety of open source digital skills like programming in Scratch. In this interview find out more about CoderDojos, the work she's done, the award she's won, and what she sees in her future.
Tell us a little bit about yourself.
I'm Lune. I'm 10 years old. I love skating and I play drums in my own band with school friends (we write and sing our own songs). I want to create a ramp for my miniature skateboards with my little brother so we can make them move faster. I like break-dancing and drawing. And, over the holidays, I started writing a book. I'm inspired by Diary of a wimpy kid, and I want to create my own Diary of Lune. In this diary, I write stories about my family, like stuff my little brothers and sisters do, and I try to find solutions for daily life.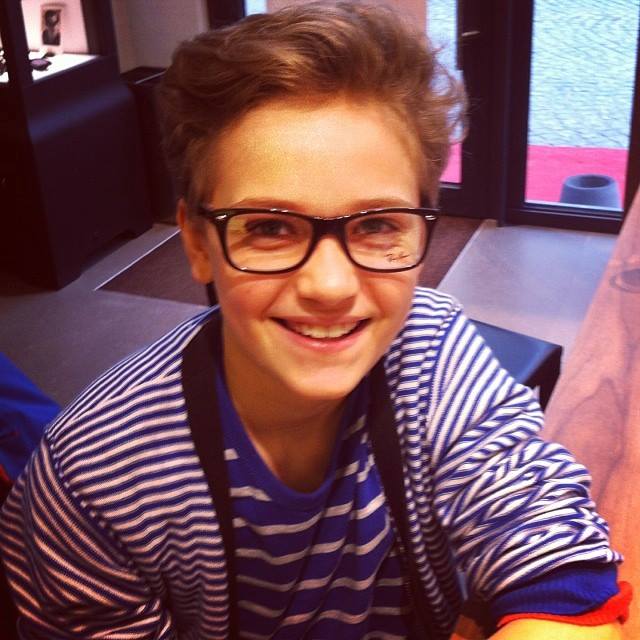 I'll give you an example: If my mum asks me to clean up my room, I dream about a robot that does it instead of me :-). Sometimes, I make conceptual drawings about how that robot should look and how it works. Or, when I'm bored during a traffic jam, I brainstorm with my stepfather about possible solutions. He's a pilot, so we came up with flying cars.
I love to give performances for my family: dancing, singing, and with my robots. It's funny to dance with them. Once a month, I attend a workshop at CoderDojo Belgium at the Belgian Science Center Technopolis.
My parents are great role models for me. My mum is a member of Brussels Girl Geek Dinners, and sometimes I go with her to meet other girls with a passion for electronic gadgets. She works as a digital communication consultant, advising clients about websites, social media, and blogging. And, she is a volunteer for CoderDojo Belgium and a member of The Scientific Committee of Technopolis. My stepfather studied biology and is a pilot. He's passionate about Information Communications Technology (ICT) and created my website on Wordpress. My father is an artist and my stepmom is a director for TV-reportages for Woestijnvis (National Belgian TV).
My grandpa got his certificate for OneHourOfCode. Hoera! (Hurray!)
What got you into programming, robotics, and attending CoderDojos?
My mum signed me up for CoderDojo Belgium, and I loved it. The first workshop I attended was a special dojo for girls only. During the meetups, I learned to create my own movies and computer games. I learned how to teach a robot how to write my name and the name of my friends and family. It felt so great when it worked!
My best friend also goes also to CoderDojo meetups as well as my nephews.
My uncle is an engineer who has his own 3D printer at home. He creates small planes with remote control. When I saw that, I wanted to create something by myself. I like to work with different materials and invent tools that make life easier.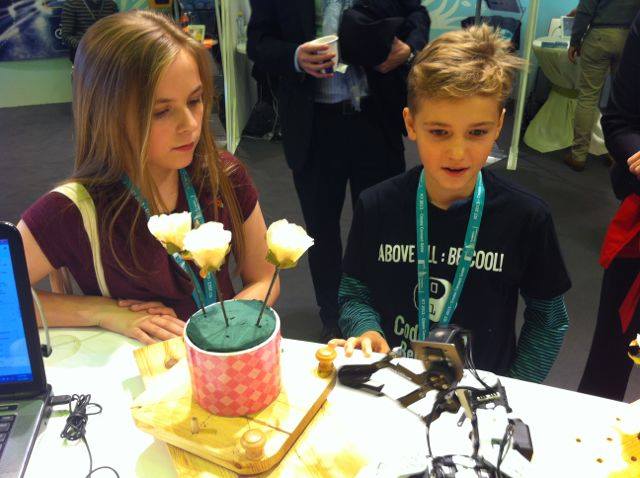 At the CoderDojo meetups, the coaches are great and cool. Jasper, the lead coach in Mechelen, helps me with robotics. And Martine Tempels is a role model for me. She works in ICT and Telecom; she founded Coderdojo Belgium. On science day, Chiara Faes, ICT-student at Thomas More University Belgium and skatergirl, explained soldering to me and helped me create my own micro-controller.
We use Scratch and RoboMind to create movies and games. Scratch helps to learn about coding, but it's not the same as a real programming language. Scratch works with coding blocks and for programming an Arduino in C++. Sometimes, we make funky stuff with MakeyMakey or do web design with coffeecup. When I work with the older kids, I use the Arduino board (which, I think is difficult!). Our group has also participated in Hour Of Code.
I was invited to fly to Vilnius with my mum after I shared some of my projects with Ada Awards and Zen Digital Europe. I showed them my Scratch projects, my pictures of robots that I wanted to create, and made a video to promote myself. I also told the organization about my press conference with Neelie Kroes and Androulla Vassiliou in September about digital education.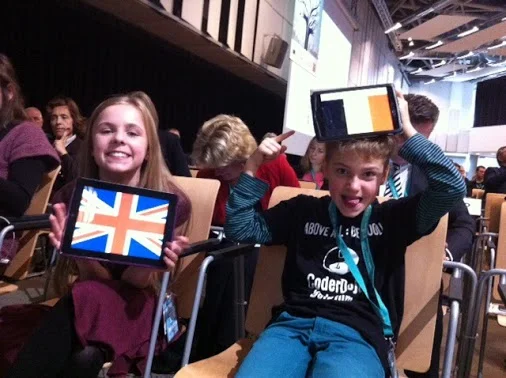 In Vilnius, I met Neelie at an early breakfast meeting, together with the other candidates. We discussed digital education in the world and in Europe. My mum and I spent most of our time at the conference and discovered so many cool robots and 3D printing projects. I got to know the other finalists, and they were pretty cool. I'm not good at English (yet) but with tablets and Google Translate, we found a way to communicate.
What do you want to do in the future?
When I grow up, I want to give dance and music performances with robots. I will program them myself and write my own music, but the musicians will be real people.
I also want to create robots that help me with domestic work like cleaning up my room and setting the table for breakfast. 

Maybe I'll learn more about MakeyMakey and Arduino. Or create my own computer, I don't know yet. We'll see.
---
See the full list of Youth in Open Source Week articles.

This work is licensed under a Creative Commons Attribution-Share Alike 3.0 Unported License.