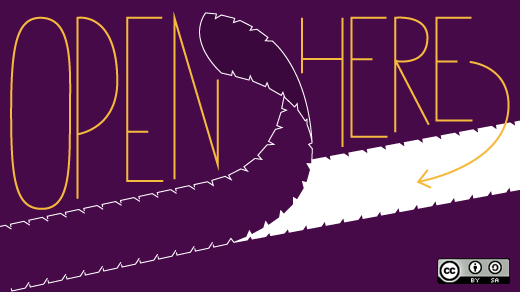 The holiday season is upon us and that means family, friends, fond memories, and food. I thought I would reminisce and revisit of some classic computer adventure games that I played with family and friends when I was younger. These classic games are playable on modern operating systems, including Linux, by using open source tools: DOSBox, ResidualVM, and ScummVM.
And since it is Open Food Week here on Opensource.com, I will be pairing each game with a recipe from Mystery Manor, a site that covers computer adventure games! It's been a family favorite for many years.
Grim Fandango
Visit the land of the dead in this iconic adventure game from LucasArts. If you have not played Grim Fandango before, you really should track down a copy and play it. Memorable characters and excellent puzzles make this game worth playing and replaying. Because of the Day of the Dead theme, I usually pull this game out every Halloween for a trip down memory lane. And people who can't track down a copy of the original game are in luck—a remastered version of Grim Fandango is coming soon.
To play the original release of Grim Fandango on a modern computer, you need ResidualVM and the original Grim Fandango discs. Simply download and install ResidualVM, follow the instructions for setting up Grim Fandango, and you are all set. Despite being a fairly early example of a game that uses 3D character models (instead of 2D sprite-based animation), Grim Fandango's graphics have aged very well, and ResidualVM makes the game work wonderfully with modern graphic cards.
And what's an adventure game session without a nice snack to go with it? Grim Fandango's Salsa is a nice recipe that goes great with plain tortilla chips or chips and cheese.
Monkey Island
This classic LucasArts series follows the misadventures of Guybrush Threepwood, wannabe mighty pirate. Solve puzzles, explore the Caribbean, and master Insult Sword Fighting (yes, Insult Sword Fighting) in a series that is one of the mainstays of the genre. The Monkey Island series is so popular that a few years ago Telltales Games released an episodic sequel, Tales of Monkey Island, and LucasArts released remastered special editions of the first two games in the series.
The first three Monkey Island games (The Secret of Monkey Island, Monkey Island 2: LeChuck's Revenge, and The Curse of Money Island) can be run using ScummVM. Download and install ScummVM, copy the game data from the original discs to a directory on your hard drive, and add the game in ScummVM by pointing it to the directory with the data files for the game. You will need to use ResidualVM to play the fourth game, Escape from Monkey Island. The process for setting up Escape from Monkey Island is very similar to the one for Grim Fandango.
The Real Curse of Monkey Island: El Pollo Diablo Enchiladas is one of my favorite recipes ever. The recipe can be easily tweaked for spiciness and the recipe does not suffer if some of the ingredients are omitted or changed. Don't like black beans or red pepper? Omit them or substitute something different. The recipe will make enough to feed a crowd, so it is perfect for potlucks or parties or gaming sessions with friends.
Tex Murphy
Equal parts film noir and cyberpunk, the Tex Murphy series by Access Software places the player in the role of the eponymous detective as he solves cases in a post World War III dystopic future. The first four games in the series (Mean Streets, Martian Memorandum, Under a Killing Moon, and The Pandora Directive) ran under DOS, while the last of the classic Tex Murphy games (Overseer) was released for Microsoft Windows. After a long hiatus, a six game, Tesla Effect: A Tex Murphy Adventure, was released this year, with a native Linux version supposedly forthcoming.
DOSBox is what you will need to play the first four Tex Murphy games on a modern computer. In fact, DOSBox is what GOG.com uses to make their releases of the Tex Murphy games run on a modern computer. So if you have the original game discs, you can easily set up the games to run on your computer as easily as the GOG.com editions. Just download and install DOSBox and follow the instructions on how to setup a game in DOSBox to get started. It is a little more complicated than using ScummVM or ResidualVM, but just remembering how DOS works is a nostalgia trip in itself! Tex Murphy: Overseer might be runnable on Linux using Wine, but the results seem to be mixed.
Quick and easy meals are the staple diet of the hard-boiled detective. Tex Murphy's Sloppy Joes are not as quick and easy as the canned Sloppy Joe sauces, but they are so much better. (And still pretty quick and easy.) This is the recipe my family uses everytime we have sloppy joes. So, the next time you are stuck in an adventure game, whip up a batch and mull over your problem while dining just like a real, hard-boiled detective would.
What are some of your favorite computer games and recipes? Share them with me in the comments below.

This work is licensed under a Creative Commons Attribution-Share Alike 4.0 International License.