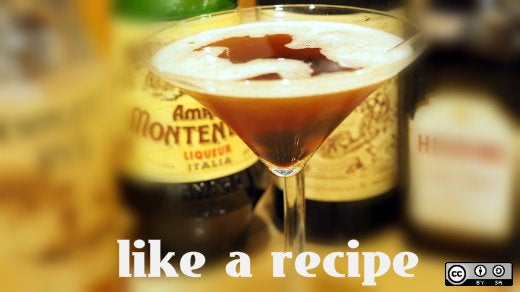 In celebration of Open Food Week, we share a cocktail recipe with readers from Opensource.com contributor, frequent traveler, and OpenNMS CEO Tarus Balog. Stay tuned next week for more from Open Food Week as we cover open source in our food and on the farm.

---
We often say that open source is like a recipe. The source code, or "code recipe," is available for others to go by, modify, and change to their liking and to fit their preferences.
In my travels with our open source project, I often find myself in Chicago. When in Chicago a must visit place for us is the bar of the Florentine restaurant in the JW Marriott hotel. I'm a bit of a cocktail snob (don't call "rum and coke" a cocktail), and I prefer cocktails that include specific ingredients or unusual combinations of them. My favorite cocktail from the Florentine is called "Life is Beautiful."
While you can find a number of cocktail recipes on the Internet with that name, here is the original:
1.5 oz of Templeton Rye
1.0 oz Carpano Anitica Formula
0.5 oz Montenegro Amaro
0.5 oz Heering Cherry Liquor

Shake well with ice and pour into a martini glass. I usually garnish with a couple Luxardo cherries.
Carpano Antica Formula was the original vermouth and can be found in high end wine stores. Amaro is a bitter Italian liquor that my friend Antonio from Naples (who I also met through open source) introduced me to, and it is an herbal liquor that is somewhat bitter. It adds a nice counterpoint to the sweetness of the rest of the drink. It was the hardest ingredient to find and I had to order it, but depending on where you live you might have an easier time of it.
What twist do you have on this cocktail? Share your cocktail recipe with us.

This work is licensed under a Creative Commons Attribution-Share Alike 4.0 International License.