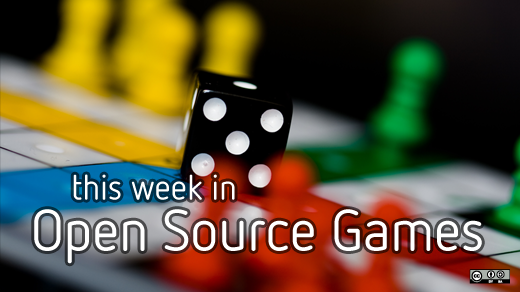 Open source games roundup
Week of July 27 - August 2, 2014
It's that time again. In this week's edition of our open source games news roundup, we take a look at a WWI shooter for Linux where trench foot is conspicuously, blessedly missing from the feature list, as well as a remake of one of my favorite Dreamcast joints, ChuChu Rocket!
Squad-based online WW1 FPS releases updates
Verdun, the multiplayer shooter set in World War I and available on Linux platforms through Steam Early Access, is commemorating the centenary of the war upon which it's based. The developers, M2H and BlackMill, have announced a final release date in September, as well as new improvements to the game. The full features of the game are discussed in that press release. There are lots of reasons why shooters tend to steer clear of the First World War—it's hard to make trench warfare, chlorine gas, and dysentery fun—but Verdun looks promising. (via RootGamer.com)
The FOSS ChuChu Rocket clone we've all been waiting for
I don't know about you, but I played the hell out of some Team Sonic's ChuChu Rocket! back in the day. Playing the game online with the Dreamcast's state-of-the-art, ahead-of-its-time 56 kbit modem felt so... weirdly futuristic. If you're looking to relive those glory days, you might want to check out Tangram Games Duck Marines, a free and open cross-platform remake of ChuChu Rocket!.
If you've never had the pleasure of herding mice into rockets, or in this version, shuffling ducks in submarines, there's nothing stopping you from downloading the game from Tangram's itch.io or pulling the source from their GitHub. It captures the local multiplayer version of the game pretty faithfully, plus the assets are licensed with Creative Commons and the source code is licensed under zlib.
Reskins, clones, variants, and (gasp!) original games
Speaking of clones, Raph Koster, a game designer who worked on Ultima Online and Star Wars Galaxies and wrote A Theory of Fun for Game Design, posted a great treatise on what differentiates a clone from an original game. One tip for developing an entirely new game? Just add an additional dimension:
The commonest way to find a major variant is to add a dimension. Move from 1d to 2d to 3d to 4d, or back. This has been the evolution of shooters, of racers, etc. Adding time as a dimension is also a common tactic.
In our open source world of copyleft and designing games in public, we're used to the idea of remixing existing ideas into new creations. But most people don't generally think of games—or "ludic artifacts" as Koster calls them—and their mechanics as mutable, evolving entities. Koster indicates that clones are normal and are usually the first steps toward new variants, families, and even genres of games. (via BoingBoing)
What's the deal with open source games?
Last week, we put a new resource page on the site that answers the question: What is open gaming? It covers everything from video games and computer gaming hardware to board and card games. Head over to the page, read it, and let us know in the comments below if we left anything out.
Got something to add to our open source games coverage? Follow Opensource.com on Twitter for up-to-the-minute news and to let us know what we've missed. If you have any news you'd like to submit, shoot us an email through our contact form or reach out to me directly on my personal Twitter account.
Michael an unrepentant geek with a love for games, the social web, and open source projects to share with his kids. He writes about raising geek children at GeekDad and records a podcast about games called The Dice Section. You can follow him on Twitter at @oldbie.

This work is licensed under a Creative Commons Attribution-Share Alike 4.0 International License.