Almost everyone has a recipe to share, don't they? You don't have to be a cook or an enlightened foodie to know a recipe or two.
Maybe it's a week-day meal that makes your family say "Mmmm" like Chris Hermansen's pasta dish in our recipe collection below. Or a whatever's-in-the-fridge smoothie, but with one special ingredient. Or, you might have a family recipe tucked away in a drawer for safe-keeping that's been passed down through the generations.
That's what our 2015 Open Recipe Collection is all about: recipes for food and beverages that contain people's stories, hints of their lifestyles and preferences. And, by their very nature, recipes are made for modifying, remixing, and sharing with others—just like open source.
Enjoy these recipes from contributors and the team at Opensource.com. Share your favorite recipe with us, on Twitter @opensourceway or by leaving a comment below.
Open Recipe Collection 2015

Table of Contents
Groatuit (Green Oat Fruit) Smoothie
Shibby's Four Pepper-Pineapple Salsa
Veg Out Sauce for Roasted Veggies
Connetori di peperoni / Pepper Connectors Pasta
---
Groatuit (Green Oat Fruit) Smoothie
by Laura Hilliger
If I know I'm going to be pushing to GitHub all day, I start my day with this smoothie.
As I'm drinking it, I imagine the nutrients from the raw vegetables flowing into my brain cells like spinach flowed into Popeye the Sailor Man's muscles. I imagine this keeps me from making mistakes (like pushing to the wrong branch or breaking a build). The great thing about this recipe too is you can use any vegetables you have on hand or want to use up, except Mangold! It tastes HORRIBLE in smoothies. And, the amounts here are approximates. Make it to taste and use your best judgement.
Ingredients
1 banana
1 apple
1 handful of baby spinach leaves, broccoli, or any green vegetable
1-2 carrots
1/2 cup oats
1 cup yogurt (I like mango vanilla or lemon vanilla)
1 cup of juice (I prefer Passionfruit)
Prep
Blend it all together. Add more yogurt to make it smoother if needed. Add more juice to make it more liquidity.
---
Big Day Eggs Benedict
by Seth Kenlon
I love a hearty breakfast on Saturday morning, especially when me and my partner are off to teach open source robotics at an event like Hour of Code or a Mozilla Maker Party.
My partner doesn't like Eggs Benedict, so this recipe serves one, but it scales well, aside from having to poach more eggs. This is a lavish breakfast that is usually considered to take a lot of work to make. And, in fact, it does take a lot of work. However, I when I find myself with a lemon freshly picked from the garden, freshly-made bread, really good New Zealand eggs and butter, there's just no excuse not to make it.
I've found that yes, it can be done, and it can be done really well if you take a few shortcuts here and there, and also if you don't let the thought of making hollandaise sauce from scratch scare you (because it's not as scary as it seems).
This is a [lacto/ovo] vegetarian version of the classic.
Ingredients
Hollandaise Sauce:
1 egg yolk
1/2 tsp cold water
salt and pepper to taste
1/2 small lemon (about the size of a lime, and freshly picked if possible)
24g butter
Eggs Benedict:
2 eggs
2 slices of bread
2 slices of a vine-ripe tomato parsley (fresh if possible)
salt (kosher or rock) to taste
Garnish (optional):
Potatoes, roasted in a pan or oven + rosemary, salt, pepper
Irish Soda Bread
To make Irish Soda Bread:
170g flour
170g self-rising flour
1 teaspoon salt
1/2 teaspoon + pinch bicarbonate of soda
275ml buttermilk (or plain milk + 1 tbsp vinegar)
Prep
Poaching pouch
First of all, go out and get the most brilliant egg poach cheat ever invented. Hide them away in your kitchen, don't admit that you have them, but get them. They make the scariest and most detrimental part of this recipe absolutely trivial: it's the silicone egg poaching pouch. You should be able to find them at kitchen specialty shoppes. You just drop the egg in, plate the silicone pouch into boiling water, and the egg comes out perfectly....well, boiled, really. But that's close enough.
Irish Soda Bread
It's quick and easy, rustic and delicious. You can make this the evening prior; it's a great dinner bread, just remember to save some slices for this breakfast.
Preheat oven to 150C
Mix all dry Irish Soda Bread ingredients together in a bowl.
Pour in buttermilk and mix with a fork until blended.
Knead and form into a loaf (you don't want it too thick, or the middle will not cook thoroughly; optionally, you can make two loaves)
Cook for 30 minutes.
Eggs Benedict
Carefully crack one egg, pouring the egg white into a bowl. Once the yolk is isolated, place the yolk into a mixing bowl.
Add water and lemon juice and whisk to combine.
Melt butter on low heat in a saucepan.
While the butter melts, start water boiling in a large pot.
In the meantime, split the left-over egg white between your egg poachers, and then crack one egg into each poacher.
When the water starts to boil, reduce the heat by half and place the egg poachers into the pot. Cover.
Once the butter has melted, reduce heat to the lowest setting, and slowly whisk in the yolk mix. Caution: the lemon juice will want to curdle the butter. You must keep whisking, briskly, as you add the yolk mixture. If your sauce starts to curdle, remove it from the heat and add just a dash of cold water and continue to whisk quickly.
Your end result should be a creamy and smooth sauce. Add salt to taste, and a sprinkle of pepper for good measure.
Keep the sauce warm with the lowest heat setting.
Take two slices of tomato and toast them on high heat in a skillet. Just enough to sear the surface; shouldn't take long at all.
Slice and lightly toast two slices of irish soda bread.
Place toast on a plate, top with the tomato slices. Make sure the poached eggs are drained of any condensation, and then place the eggs on the toast and tomato. Cover with hollandaise sauce, and top with parsley.
Enjoy!
---
Shibby's Four Pepper-Pineapple Salsa
by Jason Hibbets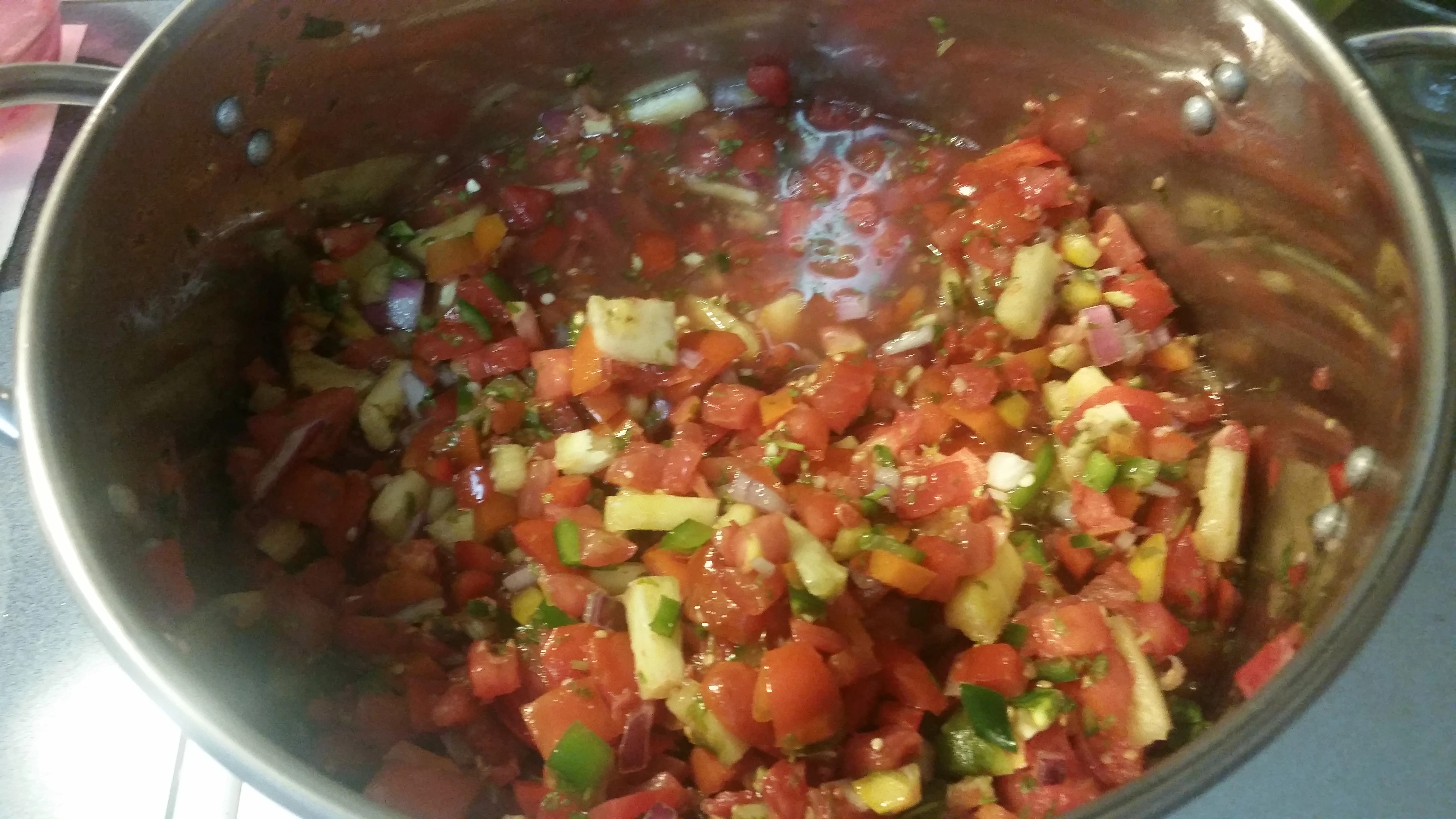 I'm a community manager, and so I do a lot of cultivating of passion and purpose in groups of people. Cultivating for me goes beyond the office, too. I grow fresh tomatoes and bell peppers during the summer. It's a lot of work, but I love getting into the kitchen to make fresh salsa with the fruits of my labor. After all of the chopping is done, I bring my homemade salsa into the office to share with my team. The aroma and crisp vegetables, and smiles, are worth all the time spent preparing this delightful dish.
Pro-tip: You can also add this as a topping to a dish, like sauteed Mahi-Mahi or an egg omelet.
Ingredients
12 medium tomatoes
1 green pepper
1 red pepper
1 yellow pepper
1 orange pepper
1 red onion
1 small pineapple
4-6 cloves garlic
1 medium bunch of cilantro
3-4 limes
3-4 tbsp sugar
4-6 jalepeño peppers
Prep
Use gloves when preparing due to the Jalepeño peppers. Dice tomatoes, peppers (green, red, yellow, and orange), red onion, and pineapple. Add chopped garlic and chopped cilantro. Sprinkle in sugar. Squeeze in lime juice. Blend ingredients by hand using a slotted spoon. Chop Jalepeño peppers and blend into salsa (use gloves). Refrigerate and let ingredients marinate for 2 hours.
Note: Add chili peppers or habeñaro peppers for hotter salsa.
---
Libre Lamb's Quarters Soup
by Beverly Pearl
This soup is a comforting reward after a day of problem solving on my open source project. The ingredients are abundant at my home, near Georgian Bay, Canada, and may be near your home as well. After I learned it was edible, I started harvesting the main ingredient lamb's quarters—a green, also known as pig-weed—around my country home.
I was a single mum trying to feed my family on almost nothing, so it was great to learn that some of the weeds that grew around our country house were edible. Purslane, also used in the recipe, is considered a nuisance garden weed in America but it's cultivated in Europe. Weeds can be so under-appreciated!
Lamb's quarters taste like slightly grassy spinach when raw but when cooked it tastes just like spinach. It is a member of the mint family, all of which are edible whether they taste good or not. Purslaine, for one, is extremely nutritious.
This recipe has since been published in the Enaahtig Healing Lodge cookbook. There are no copyright issues because I allowed them to use the recipe but did not sell rights to them; I always use Creative Commons licenses for everything I do.
Ingredients
Serves four
1 onion
1 tablespoon of fresh ginger, minced
3 large cloves garlic, minced
2 tablespoons extra virgin olive oil
2 tablespoons Braggs liquid aminos or tamari
1 teaspoon Celtic sea salt
1 pinch of cayenne
4 cups lambs-quarters leaves, tightly packed
1 cup fresh purslane leaves
1 tablespoon fresh rosemary leaves
1 tablespoon fresh basil
1/2 cup chopped chives
1 litre fresh water
Prep
Sauté onion and garlic in olive oil over medium heat until onion is transparent. Grate ginger and add to onion and garlic mixture. Sauté for 2 minutes and set aside. Boil water in a saucepan. Add lambs-quarters leaves and simmer until tender (about 1 minute). Remove from heat and stir in all other ingredients. Sprinkle chopped chives on top. Serve immediately.
Note: Except for the cayenne, it is important to use fresh herbs in this soup. For a richer soup, add a tablespoon of sour cream to each bowl before sprinkling with chives.
---
Collaboration Gnocci
by Alex Sanchez
Open source is all about collaboration, and this recipe is a fun one to make with friends and family. Once the dough is ready, call someone over to help you cut it into pieces!
Ingredients
2 large russett potatoes
1 cup all-purpose flour
1 large egg
Prep
Boil a large pot of water. Add salt. Cut potatoes in half and boil for about 45 minutes (Don't peel them yet!). Carefully remove potatoes from water and peel. While they're are still hot, drop them on a large countertop or table and mash with a fork (or a ricer if you're fancy) until lump-free. Spread the mashed potato out across the surface and allow to cool for about 10 minutes. While the potato is cooling, lightly whisk the egg. Once the potato has cooled, pull it together into a mound and slowly add egg and 3/4 cup flower. Knead until dough-like (not sticky), sprinkling in remaining flower as you go. Once the dough is ready, roll it into rope-like pieces about 1/2" in diameter (about 1.25 cm), sprinkling with additional flower as needed.
Friend time! Using forks, cut the dough into 3/4"-long (about 2 cm) pieces.
Cooking instructions
Boil a pot of water and add a few gnocchi at a time. When they're done (they cook fast), they'll float to the top. With a slotted spoon, scoop them into a dish, combine with your sauce of choice, and serve.
---
Veg Out Sauce for Roasted Veggies
by Jason Baker
When we're going through a busy spell at Opensource.com, I like to cook something that's going to last me a few days so I can maximize my time. And microwaved meals are just technical debt. One of my favorites is roast veggies—usually broccoli, sweet potatoes, and garbanzo beans, with this sauce.
Adapted from a recipe on Smitten Kitchen
Ingredients
2 garlic cloves, crushed
1 tablespoon fresh ginger, crushed
2 tablespoons olive oil
2 tablespoons sesame oil
2 tablespoons tahini
1 tablespoon honey
1/4 cup rice vinegar
2 tablespoons Korean miso
Prep
Just blend thoroughly and serve over your veggies. Double, triple, quadrupel, as needed for multiple days.
---
Connetori di peperoni / Pepper Connectors Pasta
by Chris Hermansen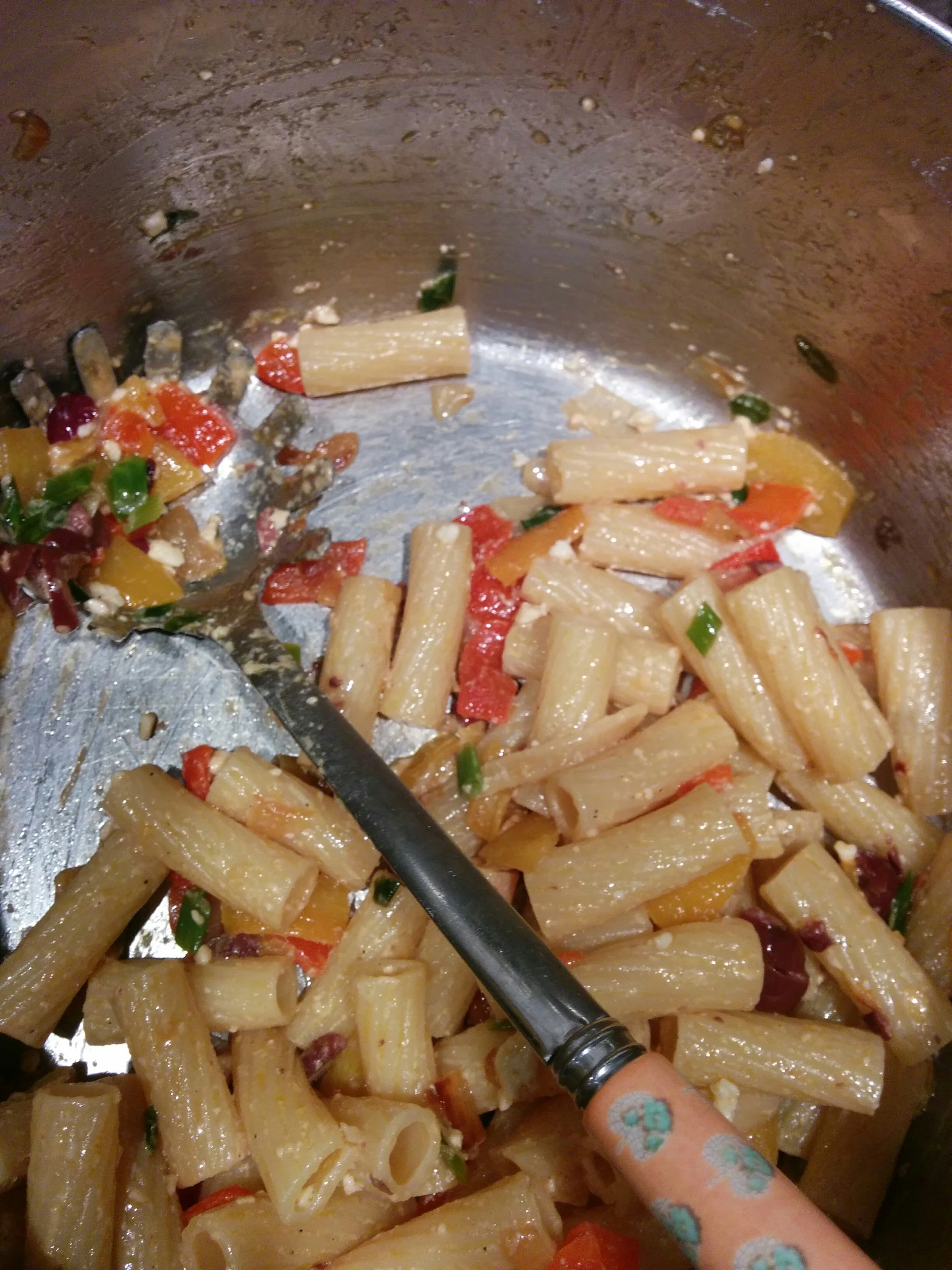 For those days when plans just don't work out. Like, when you're slaving away on a Grails project and the plugins don't work with the current version. And, now it's 5:30pm and the dog wants dinner, and various family members are expecting something delicious and nutricious. That's when I grab this wonderful recipe.
Ingredients
Serves four
400 gms good-quality dried Italian pasta, preferably in a tubular shape (sedani)
4 medium red bell peppers
4 medium yellow bell peppers
1 medium onion
2 cloves garlic
250 gms sheep milk feta cheese
Butter
Olive oil (extra virgin)
Salt and pepper to taste
Prep
Cut the peppers into quarters, remove pith and seeds and such. Peel the quarters with a potato peeler (really!). Cut the peeled pieces into 2x2cm pieces. Peel the onion and chop finely. Put a good amount of butter and olive oil in the pan. When warm add onions and cook over low heat until transparent and soft.
Meanwhile put a large quantity of fresh cold water in a pot and add salt. Put on high heat to boil. When onions are soft, add the peppers and garlic and continue cooking over low heat. The idea is to basically melt everything together. This sauce depends on oil and butter so if you need more add it.
Put the pasta in the water and cook until al dente (firm but not floury).
Meanwhile crumble the feta into the pan with the peppers. When pasta is cooked, drain and add to the pepper and cheese mixture and toss until all is well incorporated. If you use too much cheese you will get glue. If there does not seem to be enough sauce add a bit of olive oil. Taste and season for pepper and salt.
Optional: fresh chives and/or chopped kalamata olives and/or dried hot red pepper.
---
Rikki's Rocktail
by Rikki Endsley
Unlike many of my literary heroes, I've never been the kind of writer who could have a cocktail at lunch and then return to the office and get back to work. But cracking open a beer, pouring a glass of wine, or mixing an Old Fashioned after a long day of writing and editing helped me celebrate a final draft or shift into off-duty mode. The older I get, though, the worse I feel when I drink, and switching to soft drinks isn't an option because sugar has a similar effect on me.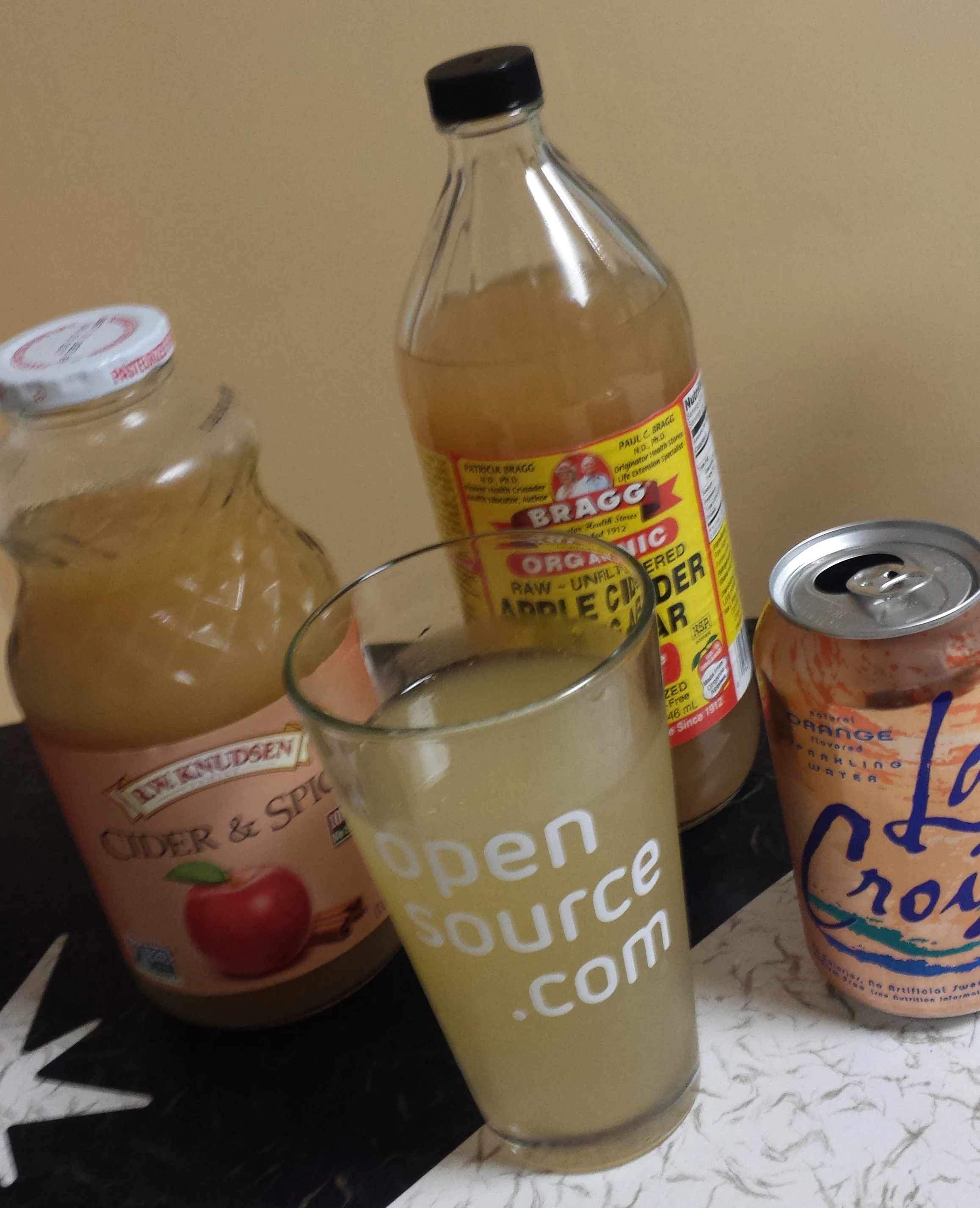 So, when I want to kick back after a day of writing and editing, I still sip on a celebratory cocktail, but without the booze and a bunch of sugar. Here's an after work mocktail recipe that's great for fall or to offer your sober friends at a holiday gathering. Usually I knock it back by the pint, but if I'm feeling fancy, this tastes great in a martini glass, too.
Ingredients
1/2-1 can orange-flavored La Croix (adjust to taste)
1/4 cup spiced cider (regular cider with a pinch of cinnamon or pumpkin pie spice works, too)
1 tablespoon Apple cider vinegar (I'm a fan of Bragg's brand)
Prep
Mix ingredients together and serve chilled or over ice. To make it festive, serve it in a rocks or martini glass, and garnish with an orange twist or a cinnamon stick. 100% delicious with 0% chance of hangover. Cheers!
---
Kickin' Kombucha
by Jen Wike Huger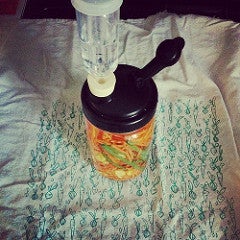 I love food projects that involve fermentation (like kombucha, sauerkraut, and kefir) and regularly have multiple projects going on in my kitchen at any given time. I'm also a big fan of making infusions (think, really strong tea) from plants, like red clover, nettle, and oatstraw.
These "food projects" offer me the opportunity to experiment with different proportions, flavors, and no batch ever turns out the same. The weather, placement of the jar after preparing, and type of tea or milk used are all factors that play into the ever-changing personality of my creations. Fermentations and infusions are also medicinal, so they make me feel good mentally and physically.
When it comes to open source, I feel like my passion for the open method of working collaboratively and by rapid prototyping ideas fits in well with my passion for "food projects" like these.
Here, I share the basics to making kombucha. I encourage you to modify and remix based on your preferences, and try using items you already have in your kitchen. Search around for that strainer or funnel you used once. Try different combinations of ingredients. See what turns up in your cabinet, and on your taste buds!
Ingredients
any kind of black or green tea (in bags or loose leaf)
white sugar (don't use honey or raw sugar)
SCOBY (symbiotic culture of bacteria and yeast)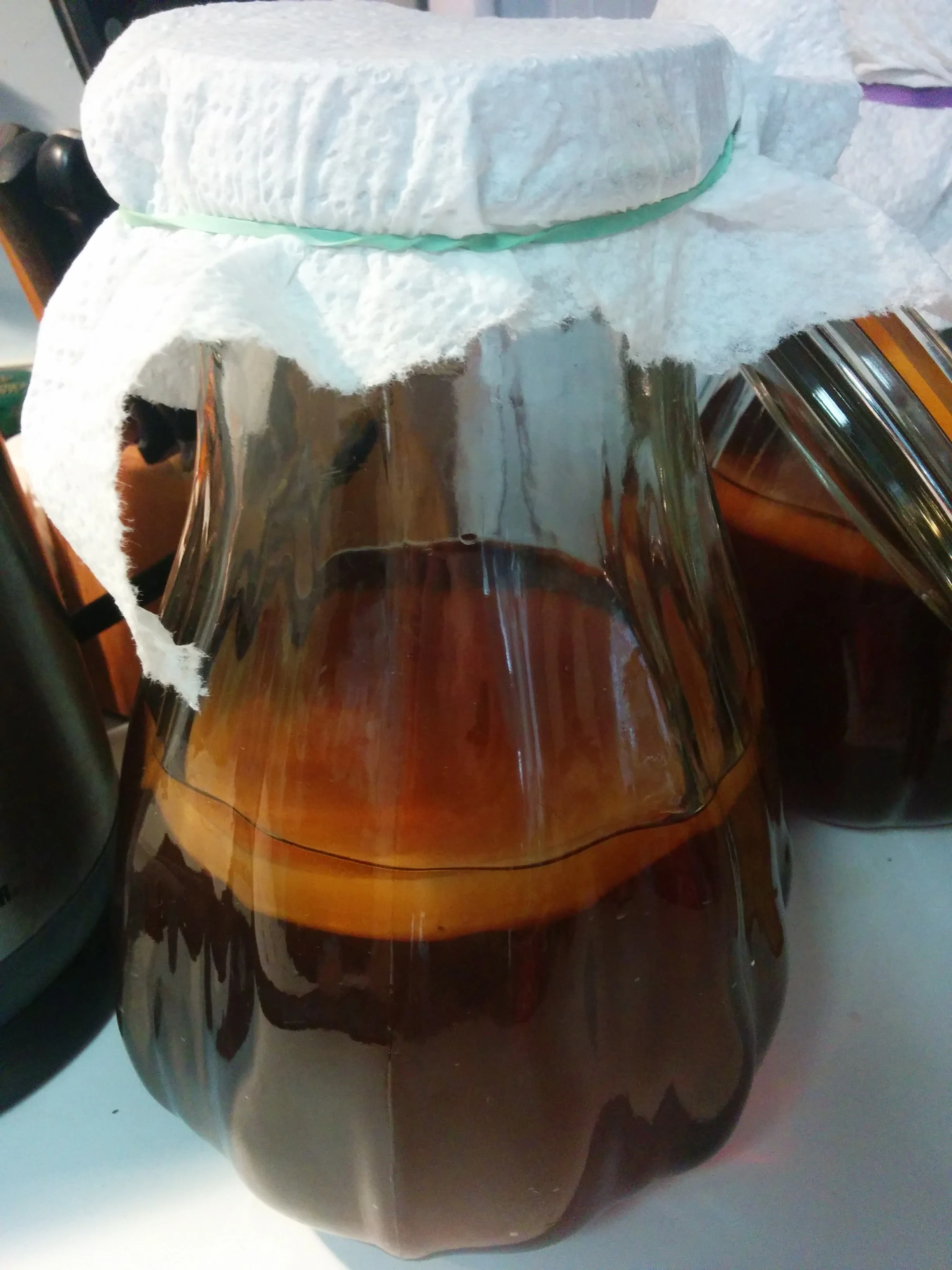 That last one sounds pretty weird, right? It looks odd too, but the SCOBY is what does the work to bring us this deliciously tangy tea. You can get one from an online shop or a friend who brews kombucha.
Prep
Brew sweet tea. Bring a pot of water to boil, add your tea, then steep. Add sugar and dissolve.
You'll want to make sure you have enough sugar and tea for the project to work: the SCOBY needs enough of both to produce the end result. I use the proportions given by The Kitchn. Tip: Don't use a metal spoon. Use wood or plastic.
Let the tea cool to room temperature. Then, pour the tea into a glass container (not metal) big enough to hold all of the tea and the SCOBY, which you will add next. Place the SCOBY on top of the room temperature / cooled tea. It may float down or sideways. That's ok.
Finally, cover with a lightweight cloth or paper towel, and hold in place with a rubberband. Place the container in a place that avoids direct sunlight and is away from debris. Let it sit for 7-10 days.
Over the course of the time you allow it to ferment, give it a taste. See how's changing. The trick now is to remove the SCOBY and bottle to put in the fridge before it starts turning to vinegar (too much fermentation). The weather and other conditions will play a role, so check on it every so often, and at least around the 7 day mark. Salud!
Variations include adding ginger, herbs, fruit juice, and other ingredients to the kombucha after it's brewed.
Jen leads a team of community managers for the Digital Communities team at Red Hat. She lives in Raleigh with her husband and daughters, June and Jewel.

This work is licensed under a Creative Commons Attribution-Share Alike 4.0 International License.