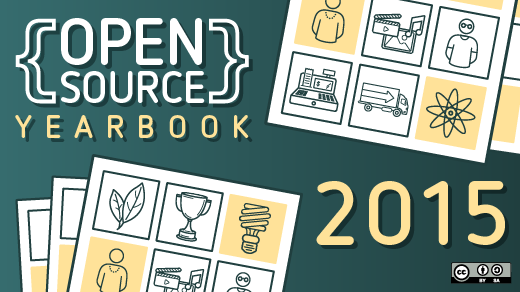 The desktop 3D printing industry continues to grow at a rapid pace. Thanks to its deep-seated commitment to free software, libre innovation, and open source hardware, there is a proliferation of projects, products, and companies that also share these values.
This post highlights five of the top innovative 3D-printing-related projects in 2015, but with so much going on in the community there are bound to be great projects that were not included.
OpenBCI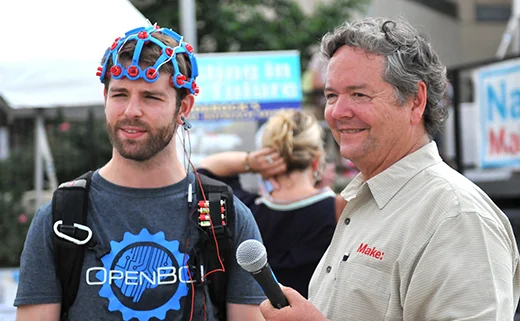 Conor Russomanno of OpenBCO describes his latest project based on the OpenBCI open source brain-computer interface. Photo by old_school_maker. CC BY 2.0.
OpenBCI is dedicated to developing biosensing for everybody. Their flagship product, the Ultracortex, is capable of recording research-grade brain activity (EEG), muscle activity (EMG), and heart activity (ECG). OpenBCI effectively uses 3D printing for prototyping and production of their headsets and included components. Learn more about the Ultracortex Mark 3 (GNU-GPLv3 licensed) in the OpenBCI store.
SatNOGS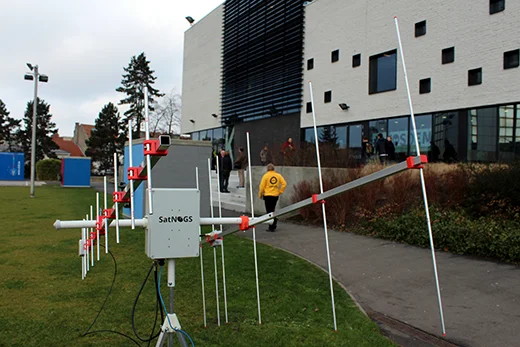 A SatNOGS version 2 ground station deployed during FOSDEM 2015. Photo by Nikos Roussos. CC BY 2.0.
SatNOGS is a modular and scalable stack for Satellite Ground Station implementation. SatNOGS is driven by four sub-projects: SatNOGS Network, SatNOGS DB (launched this summer), SatNOGS Client, and SatNOGS Ground Station. Their team uses 3D printing to prototype hardware components, specifically for use in ground stations. In 2014, SatNOGS won the prestigious and competitive 2014 Hackaday Prize.
e-NABLE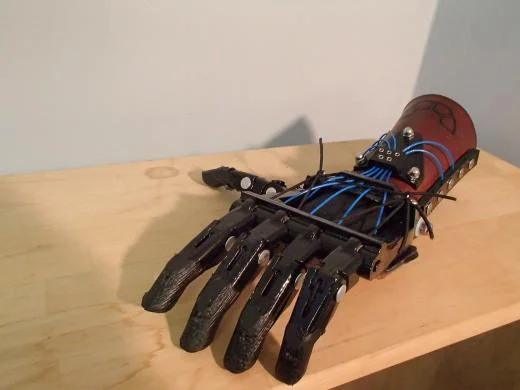 Talon hand, custom e-NABLE prosthetic hand
e-NABLE works together to design, improve, and produce hand devices that empower the user. e-NABLE effectively created a low-cost, distributed way to give a helping hand, and created some of the go-to designs to demonstrate the power of distributed manufacturing through 3D printing. Some of their most popular projects include The Raptor Hand (BSD licensed) and the Talon Hand (GNU-GPLv2 licensed). An exciting related emerging project is the HACKberry by exiii (CC0 1.0 Universal and CC BY-SA 4.0 licensed), a 3D printed bionic hand.
Michigan Tech Open Sustainability Technology Lab (MOST)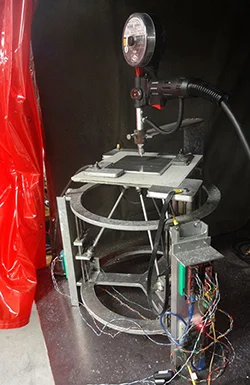 MOST's Magneto 3D printer. Photo by J.M. Pearce. GNU Free Documentation License v 1.3.
MOST is a research group known for conducting some of the most cutting edge research on 3D printing and open source hardware. Earlier this year, their team started to integrate a new set of recycling codes into all 3D printed polymer designs, enabling them to close the material loop in their lab. They also made great strides in low-cost metal printing, addressing the substrate release problem for metal printing. Learn more about the newest design of their metal printer, code-named Magneto (GNU-GPLv3 licensed).
RepRap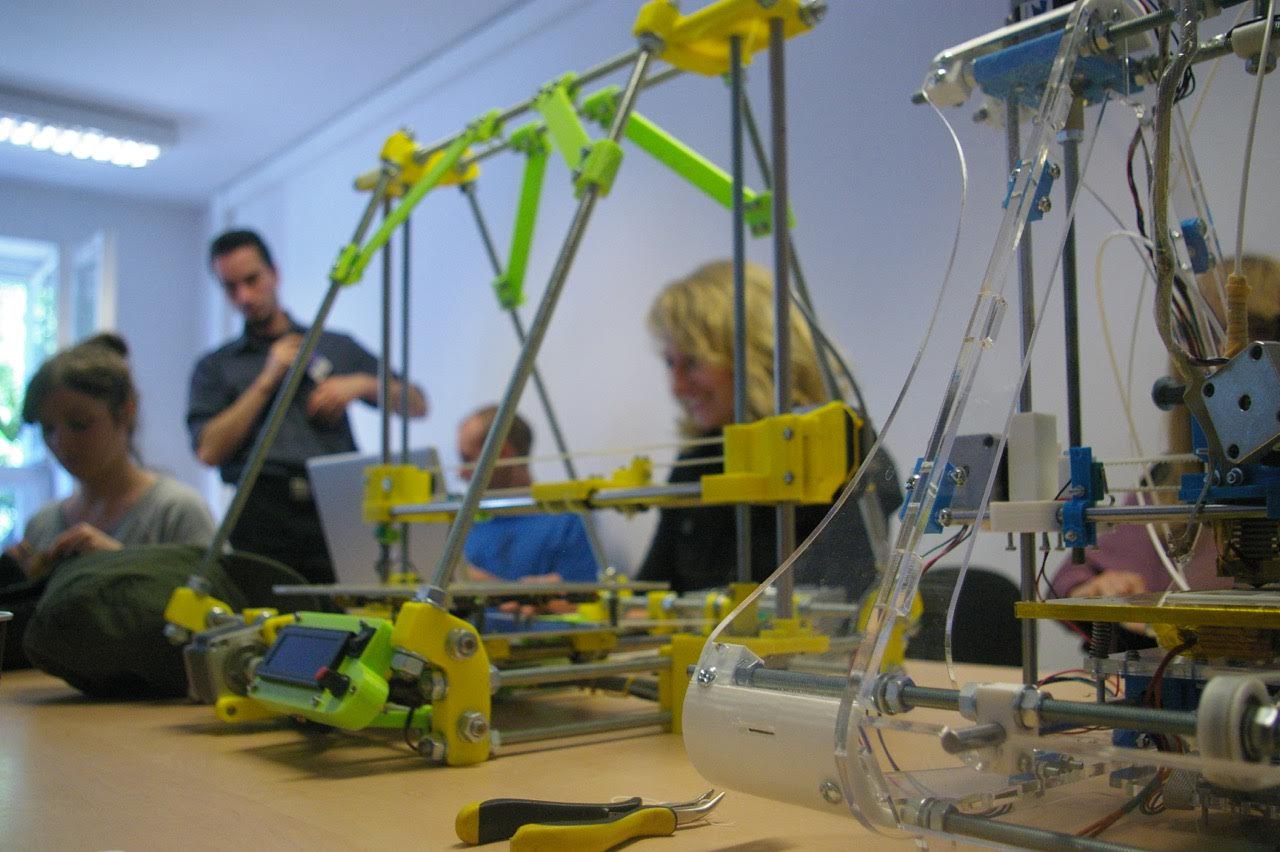 RepRap workshop in Gdańsk, Poland
RepRap has been instrumental to the early and continued free/libre/open development of desktop 3D printing. The community continues to grow this year, with early developers like Josef Prusa's Prusa Research growing, electronics company developer Ultimachine advancing core technologies, software projects like Cura, Octoprint, Slic3r, Botqueue, and MatterControl continuing to grow, and rapid growth in the availability of 3D printing materials.
After a great 2015, projects like this inspire us about the future and what is possible with a collaborative approach that respects user freedom.
Which project are you most interested in contributing to? Which projects did we miss? Let us know in the comments below.
Harris Kenny is the Principal at Kenny Consulting Group, LLC where he helps founders and executives grow their businesses. He is also the Co-Founder of OSHdata, an Open Source Hardware market research service, and the Co-Host of Hello Blink Show, a podcast for technical people who want to start their own company.

This work is licensed under a Creative Commons Attribution-Share Alike 4.0 International License.