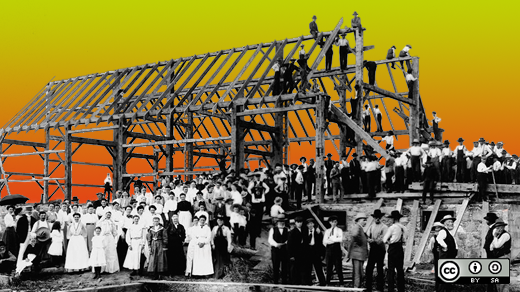 In 2014, cloud hosting provider DigitalOcean decided to encourage contribution to open source software projects, so they sponsored Hacktoberfest. More than 500 participants completed the challenge by making at least 50 commits to projects. This year, DigitalOcean wanted to focus on improving projects.
Partnering with GitHub, DigitalOcean offered free T-shirts to anyone who registered and submitted at least four pull requests to projects in the month of October. Of the nearly 15,000 people who entered, 5,708 earned the T-shirt. In total, participants submitted 48,902 pull requests.
Daniel Zaltsman, social media manager at DigitalOcean, said the team was pleasantly surprised by the volume of participation. A variety of GitHub-hosted projects were selected as featured projects to give people who wanted to contribute a starting point. Over the course of the month, several more projects asked to be a part of the featured projects listing.
However, not all projects viewed the increase in contributions as a good thing. Ian Cordasco wrote a lengthy post about corporate involvement in open source software, which included some criticism of Hacktoberfest. Zaltsman said that while most projects expressed appreciation, others had valid complaints.
"Their experience is something we honor," Zaltsman said. "We're taking their feedback to heart and already using it to influence the direction we go in next year."
Hacktoberfest participants were forthcoming with praise for the program. Many, including Ritvik Gautam, used it as motivation to make their first open source contributions. Others were motivated to increase their participation instead of putting it off until later. Some contributors took the opportunity to learn new skills.
"During this Hacktoberfest, I learned to master the Travis CI-enabled contribution process from the start of the planning for new feature to the actual implementation," one participant told DigitalOcean. A few may have just been in it for the shirt.
Brian Teeman told Opensource.com, "I am so busy contributing that I don't have time to buy clothes, so getting a T-shirt while contributing was a life saver."
According to Zaltsman, this year's Hacktoberfest participants represent nearly 90 countries from around the world. Based on their feedback, they range from new contributors to seasoned project leads. Of the top 10 projects that participants contributed to, two were in HTML, two were JavaScript, and one each of Python, CoffeeScript, C++, Ruby, PHP, and Emacs Lisp. Although DigitalOcean has not yet analyzed the results of the nearly 50,000 pull requests, they plan to do that in order to use that information to improve next year's Hacktoberfest.
Ben Cotton is a meteorologist by training, but weather makes a great hobby. Ben works as the Fedora Program Manager at Red Hat. He is the author of Program Management for Open Source Projects. Find him on Twitter (@FunnelFiasco) or at FunnelFiasco.com.

This work is licensed under a Creative Commons Attribution-Share Alike 4.0 International License.