Hello, open gaming fans! In this week's edition, we take a look at Ouya's potential acquisition, Steam's Summer Sale, new Linux games, and more!
Open gaming roundup: June 7 - 13, 2015
Ouya in talks to be acquired by Razer
Razer, creator of laptops and other gaming hardware, is will potentiallybe acquiring the Android console maker Ouya. Over the past few months, Ouya has had talks with other companies about a possible fit. Being the first in the set-top Android devices, Ouya had many challenges, including broad adoption in the Android set-top market, which saw new challengers Amazon and Google.
Steam's Summer Sale is on!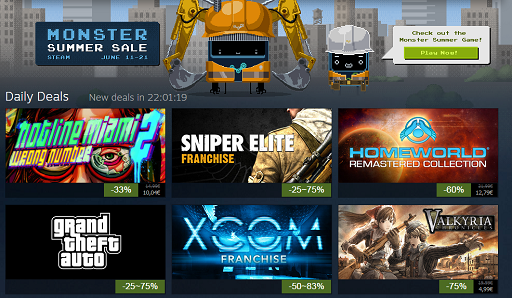 Steam's Summer Sale began this week, with popular, best-selling, and newly released titles on discount, in some cases 75% to 90% off. The summer sale runs from June 11 to 21. Lifehacker has a great guide for you on what types of sales are around, when to buy, how to get the best discount, and more. At the Steam Store, you can also play the Monster Summer Game to unlock tomorrows deals. What will you be buying?
This week's pick: Magarena card game
Magarena is an open source, single player fantasy card game played against the computer. It uses multiple implementations of artificial intelligence to determine the computers moves. Magarena is available on GitHub for all platforms, including Linux.
New games out for Linux
Europa Universalis IV - Common Sense released
Common Sense is an expansion to Paradox's Europa Universalis IV. The expansion pack comes with lots of changes to the core game and gives you new tools to build your global empire.
Common Sense is the fifth major expansion for Europa Universalis IV and focuses on diplomacy and the internal development of nations. This addition allows you to peacefully develop your nation and build a 'tall' empire, whilst also giving you the tools to execute grand diplomacy. Game changing religious features add depth and intriguing complexity to the gameplay.
Armikrog coming to Linux
Armikrog, the successor to classic clay animated adventure game The Neverhood is coming to Linux on August 18.
LinuxGameNews: Armikrog is a humorous, off-kilter adventure game starring space explorer Tommynaut and his faithful alien dog companion Beak-Beak. Armikrog follows the exploits of this unusual duo as they find their galactic travels cut short by imprisonment in a mysterious fortress and attempt to make their escape.

This work is licensed under a Creative Commons Attribution-Share Alike 4.0 International License.