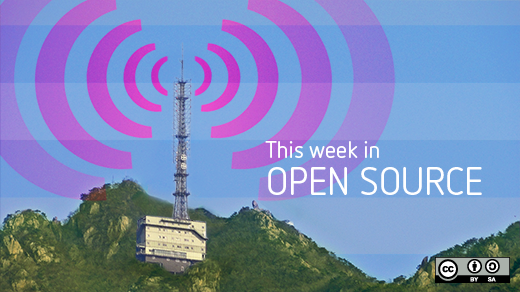 In this week's edition of our open source news roundup, we take a look at Apple open sourcing Swift, ApacheCon splitting into two events, and more!
Open source news: June 6 - 12, 2015
Apple releasing Swift 2.0 as open source
Apple announced at their World Wide Developer's Conference that they would be making their Swift programming language open source. Swift serves as a successor to Objective C for programming applications in Apple's software development ecosystem, but the plans to open source Swift also include support for Linux. At present, specific details, such as which license will be used and exactly how much of Swift will be open, are still unknown.
Apple's announcement has generated a great deal of response this week, ranging from positive to fairly skeptical. Jim Zemlin, Executive Director of the Linux Foundation, views the announcement as a win for developers. In an article for FOSS Force, Larry Cafiero is more skeptical, pointing out that "[Swift is] an internal programming language that currently only benefits...Apple." Cafiero also has concerns with the fact that Apple has not said what license Swift will be released under. Finally, Wired argues that "Open Sourcing Is No Longer Optional, Not Even for Apple" in an article that, in part, explores recent trends in open source programming languages, including Google's Go, Mozilla's Rust, and even Microsoft's recent opening of its .NET framework.
ApacheCon is splitting into two events
Starting with this autumn's ApacheCon in Budapest, ApacheCon will be splitting into two events, ApacheCon: Core and Apache: Big Data. The two conferences will take place in the same location with one event taking place right after the other, but they will have difference focuses. ApacheCon: Core will be a broad-focused event that covers a wide range Apache Foundation projects, while the Apache: Big Data event will focus exclusively on Apache's big data projects, like Hadoop. Expanding big data into its own conference allows for more diverse talks, meaning Apache: Big Data will feature talks that are more end-user focused in addition to the usual sessions for developers and engineers.
OSHWA's Open Source Hardware Certification proposal
Open Electronics reported that the Open Source Hardware Association is working on creating a certification for OSHWA hosted open hardware projects. OSHWA is seeking input on the initial draft of their proposal. June 26 is the deadline for the first round of comments. If necessary, there will be a revised proposal and a second round of comments. The finished certification is scheduled to be released at Open Hardware Summit 2015 in September.
In other news
Thanks, as always, to Opensource.com staff members and moderators for their help this week. Make sure to check out our event calendar, to see what's happening next week in open source.

This work is licensed under a Creative Commons Attribution-Share Alike 4.0 International License.